Zomato's Response to THAT Delivery Incident Receives Praise From Bollywood Celebs
In India, a Hindu man complained against an online food application for sending a Muslim rider to deliver his food. The application took a stand against this complaint and gave the person a befitting reply.
Food brings people together like no one else. While everyone might have a disagreement on their beliefs and thoughts, no one dislikes piping hot cholay bhaturay or steaming biryani. While everything else in the world has been characterized by its background and linkage, food stands strong in its humanistic approach. Jalebi doesn't care for the religion of a person and makes sure it brings a smile to everyone's face. There can be differences in food choices on the basis of religion e.g. Muslims would always prefer halal meat while some castes of Hindus would refrain from having any piece of meat in their diet.
With the increase in the power of technology, online food applications have become everyone's best friends. In today's world where going out or speaking to real humans seems an ordeal, an inline application that helps delivering food at your doorstep is man's best friend. After all, who doesn't love watching their favourite movie while curling in bed and gorging on their favourite pizza resting on the side table? However, not always all stay well with online applications. From the wrong orders to late deliveries, a lot keeps happening every now and then.
Recently a social media post by a similar online application user did rounds on Twitter. This user named Amit had issues with a Muslim rider coming to deliver his food, which he ordered via Zomato. According to him, his rider should have been someone from his own religion.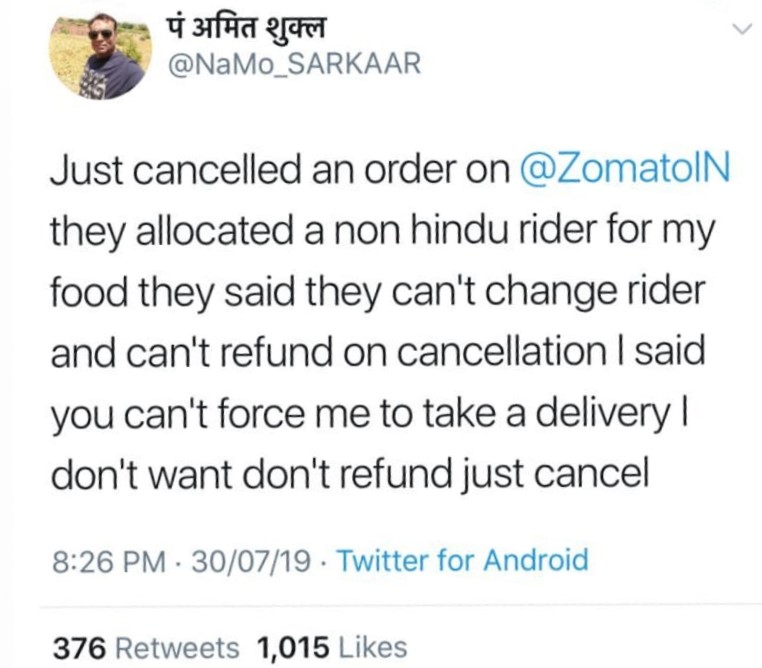 A screenshot of the tweet
His now-deleted tweet went viral in no time (for all the wrong reasons though.) The entire Twittosphere was mad at Amit who showing bigotry and racism blatantly. Zomato then slammed down this user with a befitting reply and won everyone's hearts.
'Food doesn't have a religion. Food is a religion.'
Food doesn't have a religion. It is a religion. https://t.co/H8P5FlAw6y

— Zomato India (@ZomatoIN) July 31, 2019
The same tweet was retweeted by Zomato founder Deepinder Goyal saying that to his organization diversity was important which is the true spirit of India. He said he did not mind losing any business if it was against the organization's core values.
We are proud of the idea of India - and the diversity of our esteemed customers and partners. We aren't sorry to lose any business that comes in the way of our values. https://t.co/cgSIW2ow9B

— Deepinder Goyal (@deepigoyal) July 31, 2019
Many celebrities also reacted to this news which includes Swara Bhasker, Barkha Dutt, etc.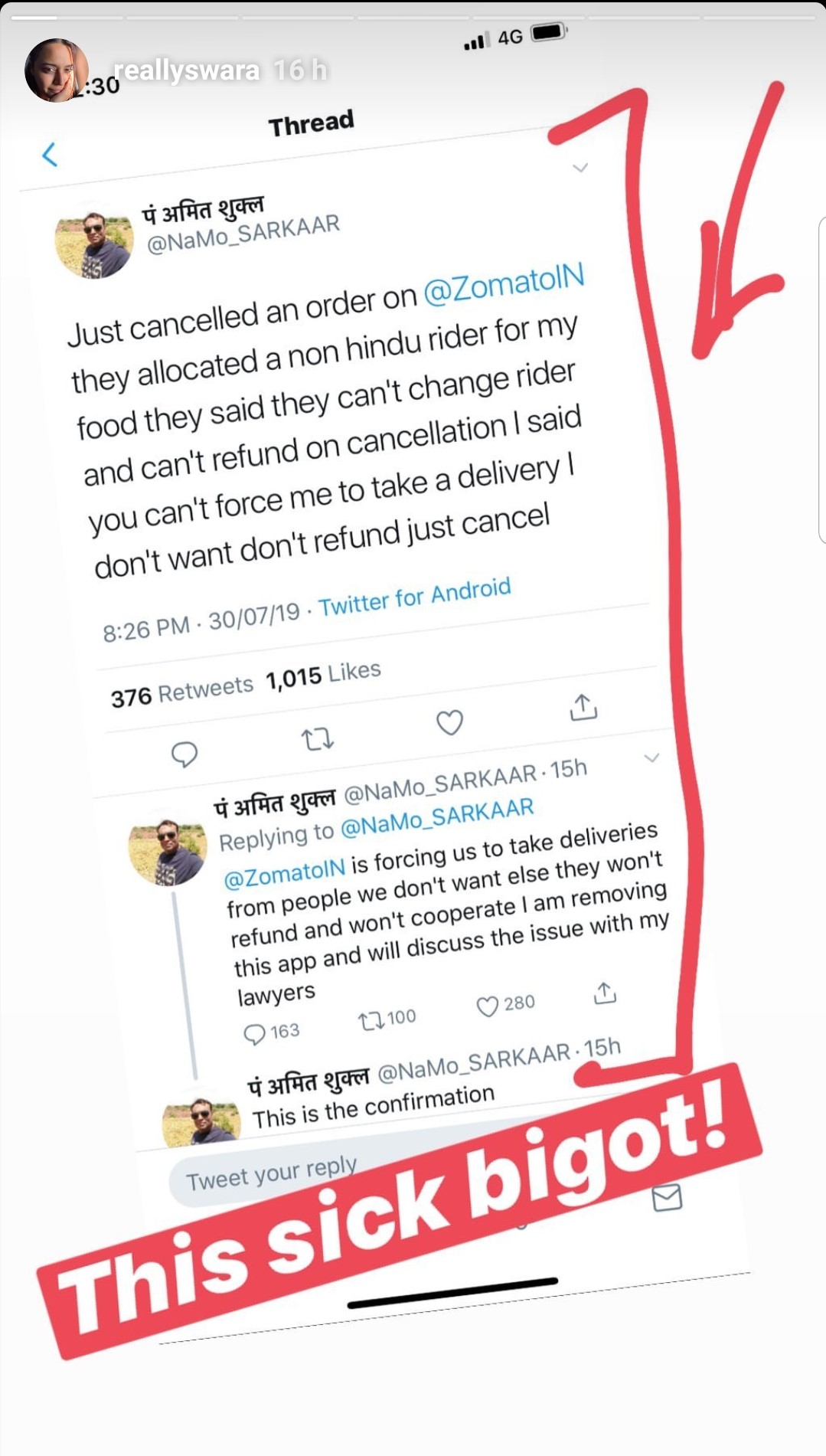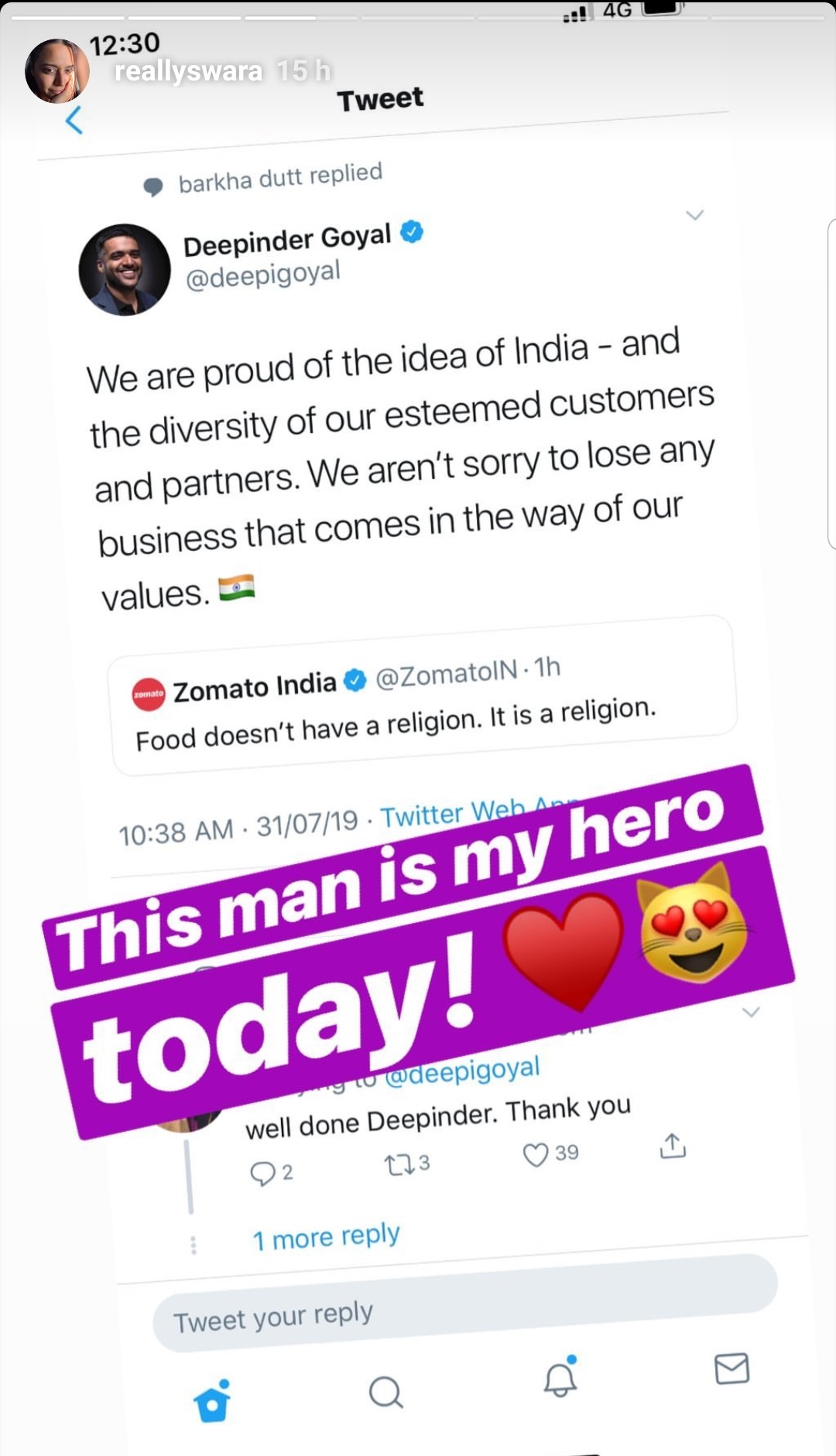 Screenshots from Swara Bhasker's Instagram story
Where are our basic human values lost? Don't let the bad things in the world change you into someone stupid.
Well Handled by #Zomato
Hats off. #ZomatoSaysNoToHate pic.twitter.com/BQwJDAXp50

— Ms. Joshi (@MsBJoshi) August 1, 2019
This guy wants his order to be cancelled because it's a Muslim delivery boy . Why doesn't he sell off all his vehicles and walk on foot till the EVs arrive? We buy fuel from the gulf you moron. It's sad to see thousands supporting him and his religious bias. #ZomatoSaysNoToHate

— rahul krishnamurthy (@rahulk_99) August 1, 2019
Some people also had the opposite opinion. They believed that Zomato was being anti-Hindu and hypocritical.
#Zomato is right to deny a customer's request for a delivery person of a diffrt religion. But wrong (& hypocritical) to claim it dsn't mix religion with food. It fusses over religious clients' halal/Jain food. Curious if it does for all, eg a religious Sikh wanting non halal meat

— Baijayant Jay Panda (@PandaJay) August 1, 2019
Point. Will #Zomato serve jhatka meat just as they serve halal to the faithful? Will @deepigoyal clarify? https://t.co/fDQpfbVKhs

— Abhijit Majumder (@abhijitmajumder) August 1, 2019
"Zomato says we live in a secular country but still shows Halala certificate and Halala is done only by a Muslim so how can both be true ?'#BycottZomato #IStandWithAmit #Zomato pic.twitter.com/kgS14AaXoF

— PANDIT (@tiwari_amit_) August 1, 2019
The rider who was the reason for the man's aggression did not have much to say though, according to a recent interview he had. While this decision of the organization was appreciated by many, it was also taken against the spirit of religious equality. Many people had an issue with the provision of Halal options on the application. Diversity and inclusivity are very important for establishing a healthy and stable society. The imbalance of majority and minority religious groups has resulted in a bipolar society. Everyone is entitled to their opinion but when that opinion starts affecting someone else's life this right becomes null and invalid. The Muslim rider who was rebuked by Amit did not have much to say despite being hurt. According to him, he was poor and had to do his job.