Celebrities
Zindagi Tamasha: Here's What's Going on with Sarmad Khoosat's film
Zindagi Tamasha is an award-winning film by Sarmad Khoosat and it has been in the news lately a lot. Here's what was going on
In recent times, films have often become the target of several accusations and this is something that the cinema in India and Pakistan has seen a lot, as opposed to in Hollywood. Many Bollywood films either land themselves in legal trouble regarding the script being plagiarized from somewhere else, and at other times, it's political and religious communities who feel that the film shows them in bad light. Likewise, an upcoming Pakistani film, has also become a target as protesters have deemed its content to be against Islam.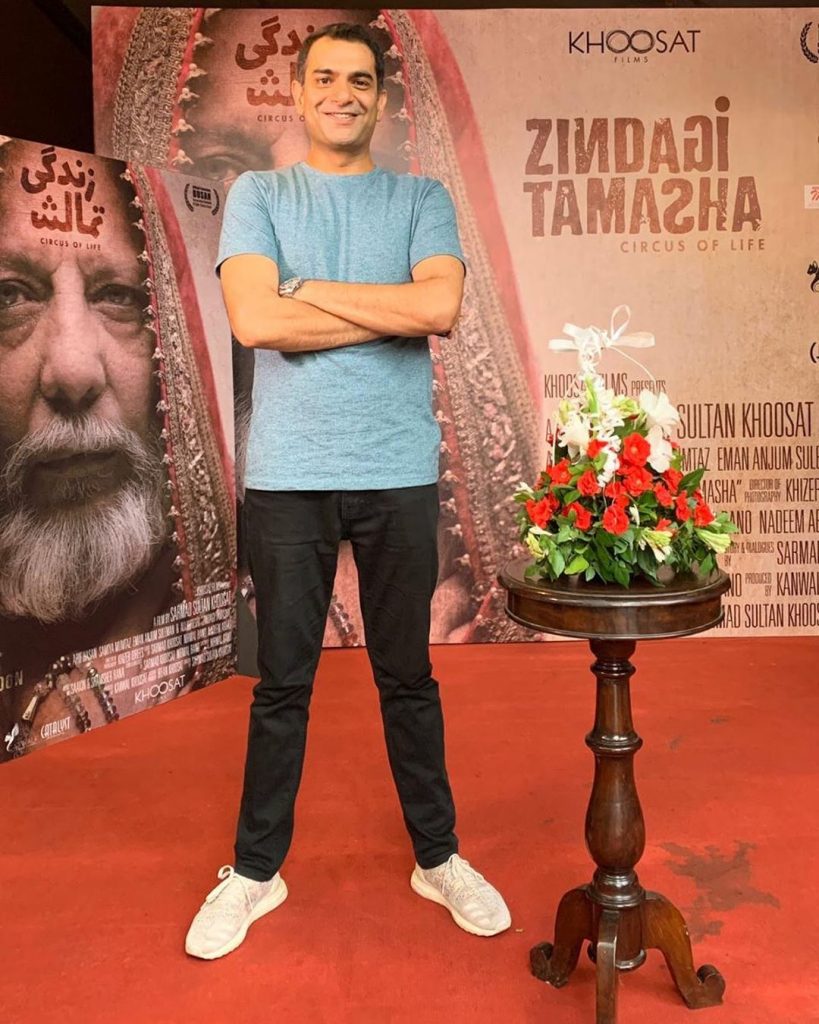 Sarmad Khoosat's film Zindagi Tamasha
Sarmad Khoosat – a famous filmmaker from Pakistan – was all set to release his upcoming film, Zindagi Tamasha, which now has been indefinitely delayed. The issue started a few weeks ago, but little did anyone know that it would escalate to such a level that the film would have to be delayed so much. The trailer of Zindagi Tamasha released late last year, along with the news that the film had won an award at the Busan International Film Festival, however, a few weeks ago, it mysteriously disappeared from YouTube. Many noticed that it was missing and questioned why it was taken down, to which Sarmad's production house, Khoosat Films shared that it was because some people raised concerns over some of the scenes that were featured in the trailer. Khoosat Films also released a statement that read: "It was our decision to remove the trailer from our official channel.  When you view a two and a half hour long film compressed in a few minutes, certain things can be taken out of context."
میں بھی پاکستان ہوں
An open letter to:@ImranKhanPTI@ArifAlvi #Chiefjusticeofpakistan #Chiefofthearmystaffpakiatan#ministerofinformationpakistan@DanyalGilani #censorboardofpakistan #ZindagiTamasha #pakistanicinema pic.twitter.com/D10lS1V1gw

— Sarmad Khoosat (@KhoosatSarmad) January 16, 2020
Sarmad then also clarified that the film was not made in "anger" towards anyone. He said, "I am not expressing anger at all. Perhaps viewing a few short excerpts from an otherwise long film has led some to make assumptions about my intentions. All I am doing is telling a story with a very meticulous approach." After the removal of the trailer, Zindagi Tamasha was called in for a second review by the Federal Censor Board of Pakistan – even after it was earlier cleared by Punjab and Sindh boards. The Federal Board then asked for some scenes to be omitted from the film, to which the production house complied.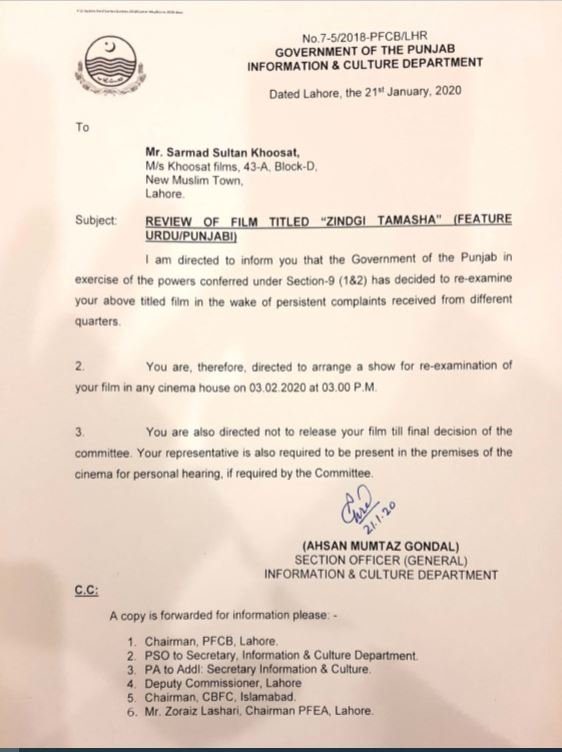 Upon removing some of the scenes from the film, Sarmad explained that he was not disappointed or upset at the decision. He commented, "I am neither angry nor sad over the decision. After the trailer was uploaded we were called by the central board that told us our film will be given for review once more. I respect the institutions, I might have ideological and intellectual differences but I understand where they are coming from. I would've had disagreements if i was making the film for a few people, but my aim is for a widespread release which is how the medium should be approached. Money was never the goal, only to portray certain important themes in our society to as many people as possible was." After the Federal Board's decisions were abided by, a new trailer was uploaded with the release date still scheduled for January 24.
Promotions for Zindagi Tamasha then continued in full swing. The cast and crew of the film held several meet and greets across the country before making their way to Karachi – where they had a few more lined up. However, on January 16 – about a week before the film's scheduled release – Sarmad penned an open letter to the Pakistani PM Imran Khan, urging him to let his film release on time.
In his letter, he wrote, "Like any other film, made in any part of the world, Zindagi Tamasha is a reflection of its setting. My team and I explored themes around gender constructs, class divisions and complex human experiences. There was never any intention to attack, to point fingers at or humiliate any individual or institution. Upon complete, the film was cleared by all three censor boards of Pakistan and had its world premiere at the prestigious Busan International Film Festival and I couldn't be more excited to bring this film to its original intended audience, Pakistanis. January 24 was           set as the release date, however, a 'complaint' was registered against the writer, the producer and myself, based on assumptions made from the two and a half minute long trailer."
He continued, "As a law-abiding citizen and with full conviction that there is nothing offensive or malicious in the film, in response I submitted the film for another review to the censor board. It was cleared once again with a few cuts to appease the complainants. I launched the promotional campaign and now, just a week before the film's release, another attempt is being made by the same group to stop the release of the film and this time, they are hell-bent on using pressurizing tactics. I am bringing this to your notice not just because my team and I are being bullied and pressurized but also because this series of episodes undermines a state institution like the Central Board of Film Censors and strips of its authority and stature. The space for rational and artistic thinking and expression must not be annexed by a few troublemakers for their political ends but I fear this is what will happen if we buckle under this time."
Many fans of the filmmaker who were eager to watch the film then rushed to its defense, asking the Pakistani PM and other official authorities to let the film release without any more trouble. But a few days later, on January 19, Sarmad shared that he was now also getting more threats to pull him film back from cinema halls across Pakistan – which worried him a lot. He shared screenshots of some of the text messages that he had received, with threats stating that his number and national identification number would be leaked to the public because his film taints Islam.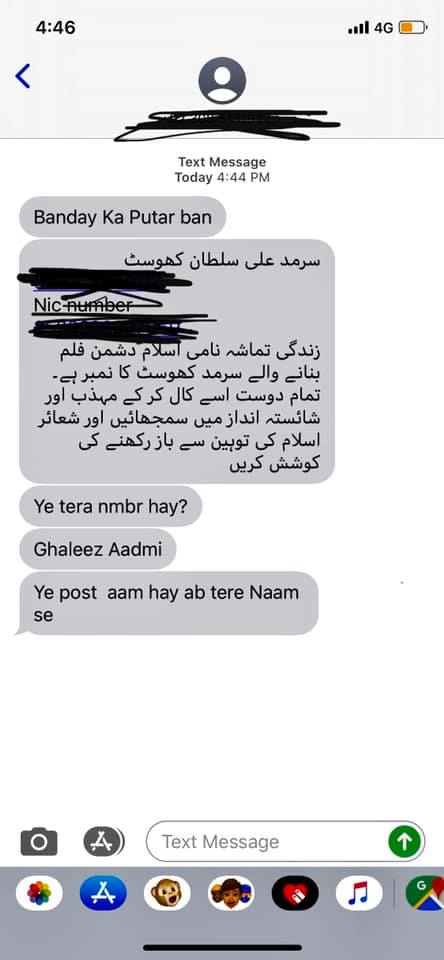 Sarmad then released another open letter. He shared, "I did not make Zindagi Tamasha to hurt, offend or malign anyone. It's a story about a 'good enough Muslim' – there was/is no mention of a sect, party or faction of any sort, neither in the uncensored nor the censored version. As an artist, the last thing I'd ever want to achieve through my artistic expression is anarchy or hatred." The filmmaker further elaborated, "I don't want anyone to have the pleasure of banning my film because legally, officially and morally, no one can. At least they won't be able to hide behind any of those grounds. I have explained in my previous letter that I have always been a law-abiding citizen and I plan to continue being one. Going back to the not-giving-anyone-the-pleasure part, the offices which can use some clause in the legal documents to revoke clearances that I dutifully spent money and time to get, or 'those' to whom this may concern. Shall I withdraw from releasing my film? A film that had been cleared by all three censor boards – twice by CBFC against some 'complaints' and it was recalled for screening at least three times more in official and semi-official capacities. It was cleared by them every time."
Getting dozens of threatening phone calls and msgs. Should I withdraw Zindagi Tamasha? pic.twitter.com/OJB396B1xq

— Sarmad Khoosat (@KhoosatSarmad) January 19, 2020
"The only censor cuts on the original version were some slang and colloquial words expressing anger. It never had any other 'objectionable' content. It was definitely viewed by a whole lot of board members and I am sure these people are all good law-abiding citizens too -  also respected, intelligent and tasteful. In three boards and four screenings, there must have been quite a few of them. So shall I release my film under these conditions? I think I must not."
Many celebrities then rushed to Sarmad's defense. Mahira Khan, Humayun Saeed, Sanam Saeed and Mira Sethi demanded that the film's release should not be halted for baseless allegations made against it. Obviously, in this entire hullabaloo, the meet and greets which were supposed to be held in Karachi, were cancelled. Sarmad's father, Irfan Khoosat also filed a petition in Lahore court against TLP - Tehreek-e-Labbaik Pakistan (TLP), a political party in Pakistan - for attempting to 'interfere in the smooth running and release of the film. TLP had earlier organized protests against the film, across the country. Irfan's petition said that there was nothing objectionable in the film which could damage the reputation of any religious party or group. He explained that the film aims to "bring the soft image of the society among the public at large, to reduce the stress from the minds of peoples of the country and to promote the positivity in the society". It also named the Sindh Film Censor Board, Punjab Film Censor Board and the Markazi Film Censor Board as respondents. It has also clarified that the censor boards were "mere (proforma) defendants and the plaintiff has not claimed any relief against them".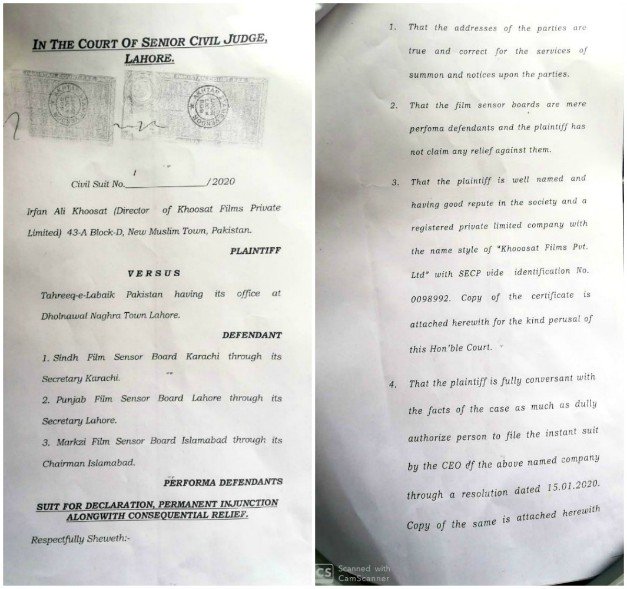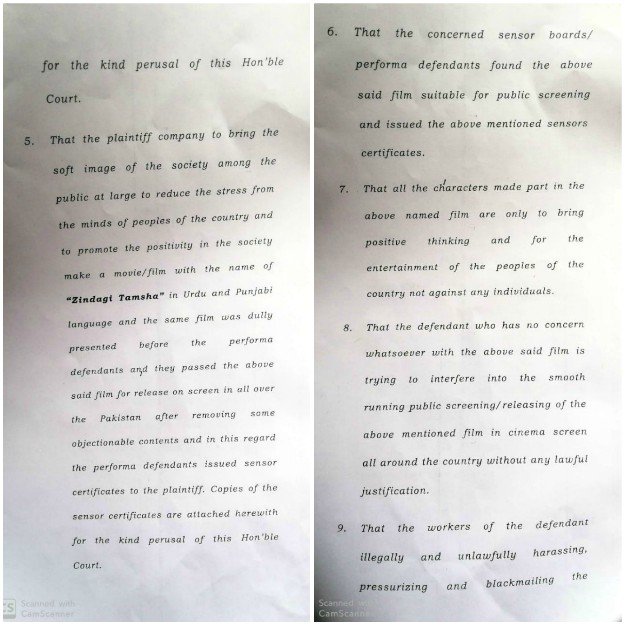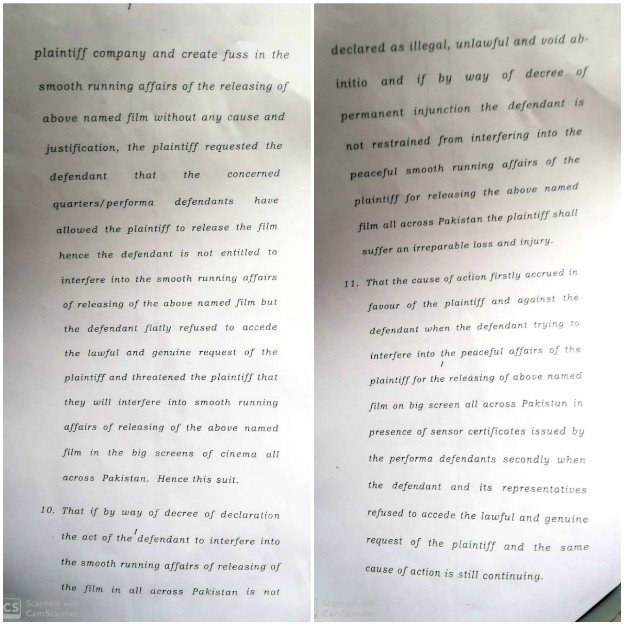 Civil Judge Zia ur Rahman – who had been appointed for the case - issued a notice to all respondents to appear before the court to present their arguments on January 22. However, on January 21, after Sarmad's request and the entire entertainment industry asking for Zindagi Tamasha to be released, the Pakistani government ordered the delay of the film's release.
مرکزی فلم سنسر بورڈ نے فلم "زندگی تماشہ" کا تنقیدی جائزہ لینے کے لئے فوری طور پر اسلامی نظریاتی کونسل سے رجوع کرنے کا فیصلہ کیا ہے۔ پروڈیوسر کو فلم کی ریلیز مؤخر کرنے کی ہدایت بھی جاری کر دی گئی۔

— Dr. Firdous Ashiq Awan (@Dr_FirdousPTI) January 21, 2020
Special Advisor to PM for Information and Broadcasting, Firdous Ashiq Awan shared the news, adding that the government would be approaching the Council of Islamic Ideology for its view over the film. Moreover, according to The Express Tribune, the Pakistani Information Ministry decided that CBFC will once again hold a board members meeting to review the film. However, in this meeting, a representative of the - and a representative of the information ministry will also participate. But after this meeting was announced, it called off its protests. A source told the publication, "Film will only be cleared if the members of the religious party and government officials approve of the content." Following the announcement, other censor boards including the central and provincial have also been instructed to delay the certification process.
More and more celebrities have since come out in support of the filmmaker and Zindagi Tamasha, sharing how the interference of unconcerned parties harms a country's cinema and its development. Laal Kabootar actor, Mansha Pasha said, "It is so difficult to make and release a film in Pakistan! What's the point of using big words saying 'We want to promote Pakistani cinema' by banning Indian content when you can't ensure the smooth release of films that are being made despite all the difficulties? The government needs to do so much more to promote the arts in Pakistan which are currently going through a huge credit crunch due to lack of advertising revenue. One can forget about original Pakistani content if now they also start caving into outside pressures." Veteran star Samina Peerzada added, "What a sad day for freedom of expression for democracy. Art is to help human spirit be free without judgement. Live and let live, dear people."