Bollywood News
Zareen Khan Receives Support Online After Getting Body-Shamed for Stretch Marks
Zareen Khan has been defended by many after recently getting body-shamed by internet trolls for having stretch marks but shut them down. See below.
Many Bollywood actresses have been body-shamed on the internet. Most recently, Indian actress Zareen Khan was attacked by trolls on the internet after she posted a photo of herself in Udaipur (Rajasthan), captioned "City of Lakes". Several netizens trolled her after the post because her stretch marks were showing in the picture. However, Zareen decided to fight back against the body shaming and replied to them on Instagram, "For people who are very curious to know about what's wrong with my stomach, this is the natural stomach of a person, who has lost 50 kgs of weight, this is how it looks when it is not photoshopped or surgically corrected. I've always been someone who believes in being real and embraced my imperfections with pride rather than covering it up," she wrote.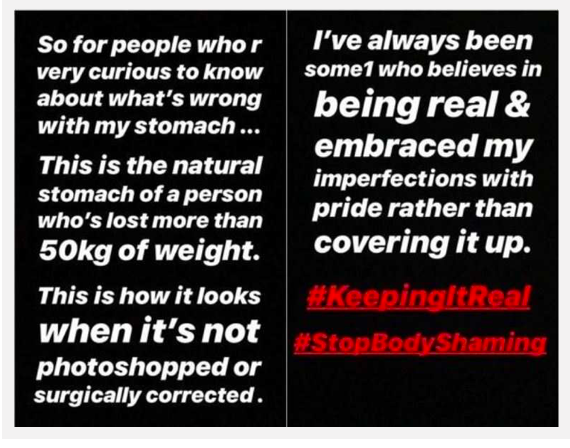 Screenshots from Zareen's Instagram story
She also appreciated fans and media publications that defended her. One fan wrote, "You are an inspiration ... you are someone who has fought the odds! You have motivated me to lose weight and live a healthy life and your stomach is a proof of the struggles you have had .. you are real zee! Wondering how people are reacting like this when they are the one's always wanting to see the real side of the celebs and here is one who is doing exactly this and now they are trolling you ! Shame on them and love to the ones who understand @zareenkhan you are amazing!"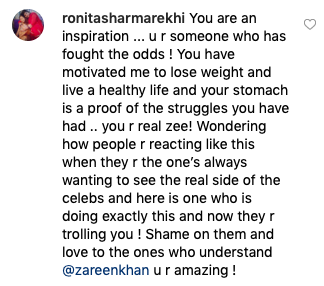 Many other commenters joined in to support the actress and fight against the body-shaming she was facing.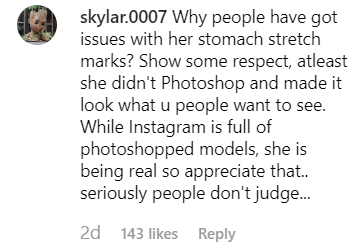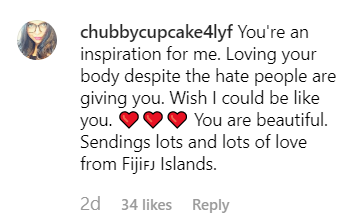 Bollywood actress Anushka Sharma also jumped to Zareen's defence and shared her thoughts via an Instagram story, " "Zareen, you're beautiful, brave and strong just the way you are."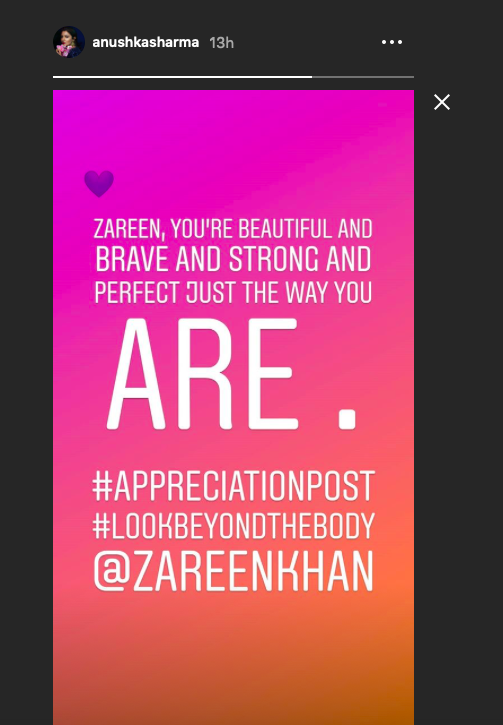 Screenshot from Anushka's Instagram story
On the professional front, Zareen -- who has been recognised in films like Housefull 2 and Hate Story 3 -- will next be seen in the film Hum Bhi Akele Tum Bhi Akele, directed by Harish Vyas.