Celebrities
Zaira Wasim: Social Media Reacts to Dangal Actress Quitting Bollywood
Zaira Wasim has announced in a social media post that she will be quitting the Bollywood industry, citing religious reasons for her decision. The news has received an explosive response from social media, ranging from critical to supportive. Check out some of them below
Earlier today, Zaira Wasim announced that she will be leaving the Bollywood industry after almost 5 years of being in films. In an open letter that she posted across her official social media profiles, Zaira confessed that she had not been truly happy in her line of work and that she felt that being in the industry served as a threat to her sense of imam, in other words, her religious beliefs.
The Dangal actress' confession has understandably created a ton of buzz across social media. As of her post being published, 'Zaira Wasim' and 'Dangal' are currently among the top 10 Twitter trends in India. Her decision has been met with a lot of opinions online as the controversy has hit the news cycle:
@ZairaWasimmm #ZairaWasim #DangalWithBollywood
Give her some space and let her follow her own heart. pic.twitter.com/DLWUlC1ewN

— Javid Nisar (@javidnisar_) June 30, 2019
I respect Zaira Wasim's decision to quit Industry, pic.twitter.com/0TZ3vblAJK

— Naseer Matt (@NaseerMatt) June 30, 2019
#ZairaWasim 's decision to dissociate with film industry ('because it interferes with her faith') should be understood and respected as much as Nusrat Jahan's Sindoor-Bindi.
That did not make Nusrat immoral as this does not make Zaira more moral.
*Freedom to choose is supreme*

— Arfa Khanum Sherwani (@khanumarfa) June 30, 2019
Relationship with religion can't be threatened due to the work you do! I don't buy that! Wonder what pressures operate in conservative settings.. I disagree but respect #ZairaWasim 's decision.. but we need to encourage more girls to work & not quit Mr Omar Abdullah https://t.co/lunyrwHeT0

— Shehzad Jai Hind (@Shehzad_Ind) June 30, 2019
Zaira Wasim is a mature lady and knows what she is doing. She is free to decide the path she wants to take. Her decision must be respected. However, this shouldn't become another pretext to troll & harass women who wish to pursue their career in acting or modelling.

— (@ShameenMir) June 30, 2019
There were plenty of responses that were positive of Zaira's choice, supporting that it was her decision at the end of the day.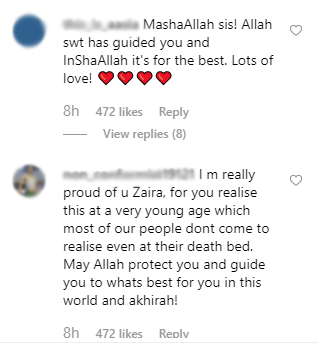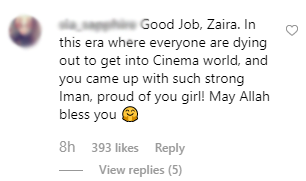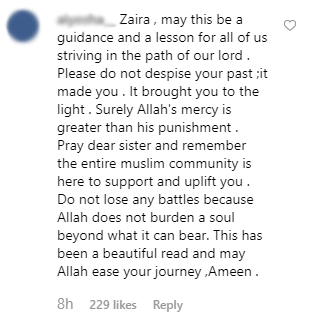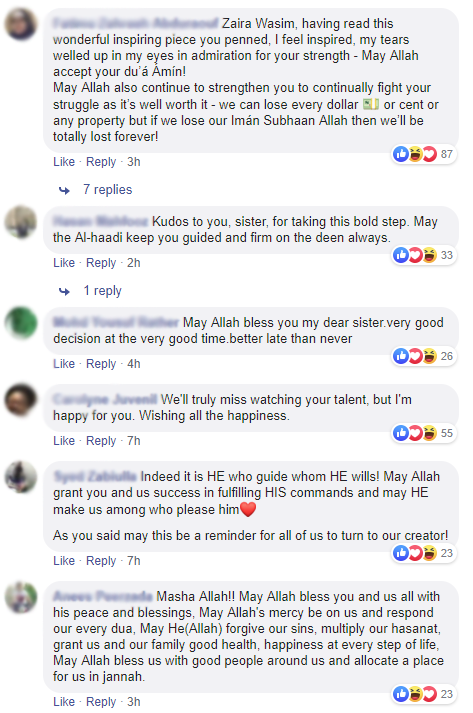 Well-known celebrity photographer Viral Bhayani publicly reacted to Zaira's exit on his Instagram page with a post of the actress and an accompanying caption. Viral stated that he would miss her but also wished her all the best for the future.
Writer and human rights activist Taslima Nasreen labelled Zaira quitting the industry due to religious reasons as a "moronic decision."
Oh My Goosebumps! Bollywood's talented actress Zaria Wasim now wants to quit acting because she thinks her acting career almost destroyed her faith in Allah. What a moronic decision! So many talents in Muslim community are forced to go under the darkness of the burqa.

— taslima nasreen (@taslimanasreen) June 30, 2019
While others reacted negatively, with some referring to Zaira's stream of success and that it was a shame she would no longer be appearing in films. Since the actress also cited religious reasons for her decision to quit, there were many references to it too.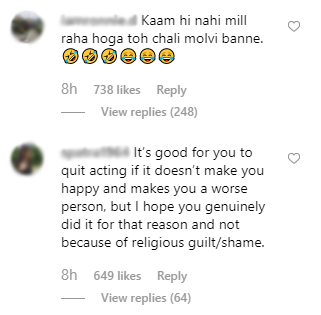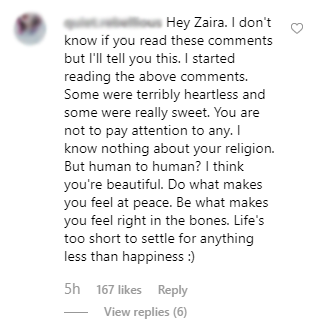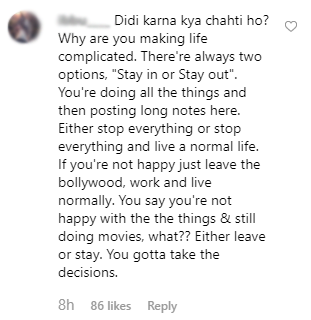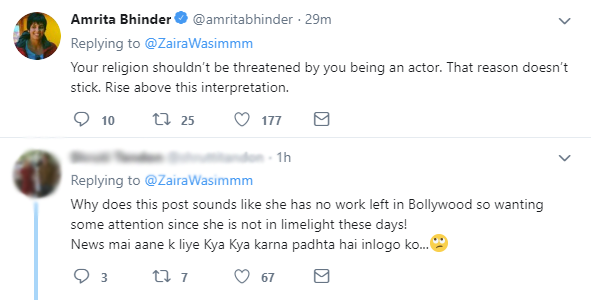 In response to Zaira's decision, there were also many Islamophobic tweets after her decision that emerged on social media.
Inshalla, #ZairaWasim, Mullahs brainwashed you well. pic.twitter.com/rmG3W8nrNe

— APJ Abdul Kalam (@HinduWithABrain) June 30, 2019
Inspired by zaira wasim pic.twitter.com/ObwcsEKQO4

— Retweet wala (@Rathwa19) June 30, 2019
However, users also called for allowing opinions to flow and give room for debate.
There are both good and bad in society, no need to generalize. Both have right to have their opinion. Some are progressive and some are regressive, it is fine, things change with time, just have patience.#ZairaWasim#NusratJahan pic.twitter.com/zwsGc1pAwt

— Karan (@TakeactionAS) June 30, 2019
Zaira shot straight to fame with her debut in the Aamir Khan-starrer and biopic Dangal, which ended up becoming the highest-grossing Indian film of all time. Her role as a young Geeta Phogat, a prolific wrestler who was the first female Indian wrestler to qualify for the Olympic Summer Games, was widely praised. Zaira continued to achieve yet another hit when she bagged the starring role in the film Secret Superstar, also featuring Aamir Khan in a supporting role. Her performance in the film, which saw her as a young Muslim girl with a passion for music and singing but struggling with an abusive father, received several film award nominations.
The actress was expected to hit big once again when her upcoming film The Sky Is Pink, also starring Priyanka Chopra and Farhan Akhtar, hit theaters later this October. The biopic will see Zaira portraying real life Indian author and motivational speaker Aisha Chaudhary, who was born with an immune deficiency disorder and had pulmonary fibrosis until her death in 2015. Now that Zaira has taken an exit from Bollywood, this will qualify as her final film.