Bollywood News
Zaira Wasim Quits Bollywood, Gauhar Khan is Shocked at Raveena Tandon's Tweets About Zaira Wasim
Gauhar Khan spoke on Barkha Dutt's show and talked about how the reactions from the industry had disappointed her, she pointed at Raveena Tandon's tweets about Zaira Wasim
Actress Zaira Wasim quitting Bollywood has created a major havoc in the industry. From Anupam Kher to Raveena Tandon, everyone has spoken up about Zaira's decision. Recently Barkha Dutt hosted a television show in which she opened the floor for debates and called the discussion, "Individualism or indoctrination" in which she called various political leaders. On her panel was also Gauhar Khan who is another noted Bollywood actress.
Barkha asked Gauhar Khan's take on Zaira Wasim's quit and Gauhar spoke about how Raveena Tandon had said that girls who are ungrateful and are only 'two films old'. Without naming Raveena Gauhar said, "I see a very strong young girl who is speaking her mind and is not afraid of giving out a specific reason for her choice of leaving the industry. She could be a doctor or any other profession. Why is it being looked upon as regressive? I'm shocked at the kind of the tweets I saw from in the industry, women who I've looked highly upon, and they have said, 'some girls who are two films old'." Since then Raveena has deleted the tweet.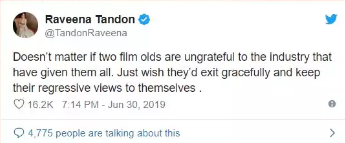 Gauhar went on to talk about how the definition of progressive and regressive is defined arbitrarily. "My only point being how do we actually define what is regressive and progressive?" said the Ishaqzaade actress. "For me, My mother who had no career who looked after five kids very well and had a very open mind as a Muslim lady, who was not very privileged to be from different strata of society. But she brought us up with great progressive thought. If she (Zaira) cites her reason to be her faith or her religion, that's absolutely her choice. In this country, even food choices are being influenced by people's faith, how can we question her professional choice that is coming from her faith? What is wrong with that?"
Actor Zaira Wasim quits Bollywood over her faith, her decision sparks debate, polarises opinion; watch live with @bdutt https://t.co/avVdcs8FxW

— HTN Tiranga TV (@NewsHtn) July 1, 2019
Gauhar was cross questioned by Barkha regarding what constitutes progressive and regressive thought and Gauhar said that there was no 'force' involved here and Zaira did it out of her free well. "My only problem is every time when the word Muslim comes up," said Gauhar, "there is a dissection that comes around and people say what about this what about that. Why isn't the question raised when other people make choices based on their culture and based on their faith, whether it's got to do with food choices, cultural, life choices? She should be applauded for the fact that she's spoken about it. The great Vinod Khanna Saab chose Osho Ashram while he was at the peak of his career, why is this lady being subjected to this hatred? I don't think it's regressive. What's wrong with that?"
Zaira Wasim put out a 2000 worded post earlier this week in which she cited that she was quitting Bollywood because it was interfering with her faith. Since then many Bollywood actors and directors and even politicians have weighed in on the decision. Zaira rose to fame through Aamir Khan's film Dangal in which Zaira played the role of the young Phogat daughter who won the Olympic gold for India. Later she appeared in Secret Superstar, another Aamir Khan film, and is going to appear in Shonali Bose's Sky is Pink which is based on a true story. The Sky is Pink stars Priyanka Chopra, Farhan Akhtar and is going to release in October 2019.