TV/Streaming Reviews
Ye Dil Mera Episode 23: Neelofar And Humaira Clear Their Misunderstandings
In Ahad Raza Mir and Sajal Aly's "Ye Dil Mera," their characters take a backseat as the show continues to delve into the past and Mir Farooq's crimes against their mothers
"Ye Dil Mera" continues to fill in the gaps for viewers in terms of Mir Farooq's past misdeeds towards Amaan's family – and Neelofar, his own wife.  Episode 23 largely focuses on Neelofar (Mira Sethi) and her growing uneasiness with Mir Farooq's (Adnan Siddiqui) behavior towards her.  Having overheard Farooq and Humaira's (Zarnish Khan) tiff in pieces on the night of Aina's birthday party, Neelofar begins to suspect that Farooq and Humaira are having an affair.  She grows increasingly upset throughout the episode, confiding in Nargis Bua (Naima Khan) about her suspicions and her anger towards Humaira.  Fortunately, this misunderstanding is cleared up quickly when Humaira comes to visit Neelofar the night after Farooq attempted to assault her.  While Neelofar is dismissive and taunts Humaira, Humaira asks her for two minutes in private where she asks her to keep Farooq away from her and her family.  She informs her of the attempted assault and Neelofar is shocked, upset at her mistrust towards Humaira and her inability to recognize the sort of man Farooq is.  She promises to defend Humaira and her family.  Seems like these may have been famous last words from Neelofar.  We already know what happened to Humaira, Obaidullah and their daughter, but it has yet to be revealed what happened to Neelofar.  Judging by this episode, Neelofar is also a victim of Farooq's ruthless behavior.
We also see Amaan (Ahad Raza Mir) still ill while Aina (Sajal Aly) takes care of him.  Having a nightmare about his family, Amaan is seen crying uncontrollably in his sleep as Aina attempts to console him and get him to relax.  Ahad Raza Mir's performance in this one scene is outstanding and really displays his talent and ability to leave a mark despite only having two scenes in this episode.  Sajal Aly is a natural, as always, but doesn't get a chance to shine this time.  Later, Nargis Bua is seen calling Aina to hear her voice, still haunted by her actions in the past, but is unable to speak.  Aina recognizes her voice and tries to speak to her, but Nargis Bua hangs up, knowing she's bound by loyalty – and therefore, silence.
This episode focuses heavily on Mira Sethi and she does a great job.  She holds almost 90% of the episode on her own shoulders and the viewer does not feel bored for even a moment.  Zarnish Khan also gives a solid performance in her two scenes.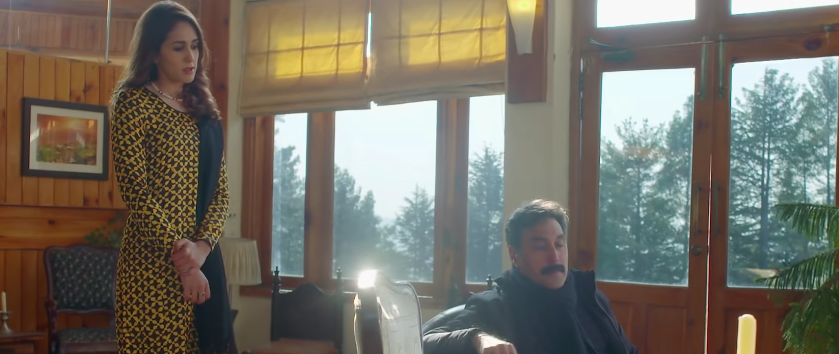 Adnan Siddiqui and Mira Sethi in Ye Dil Mera
These two ladies not only are underrated actresses, but also share a warm, believable chemistry on-screen as friends, which makes their scenes enjoyable to watch.  As a viewer, I did not mind for a moment that Sajal Aly, Ahad Raza Mir and Adnan Siddiqui were relegated to the background in this episode (though they made their presence felt, particularly Ahad), because the focus was on the story progressing rather than stars – and this is important for good storytelling.  The entire cast performs well in this episode, including Naima Khan as Nargis Bua, who also receives a good amount of screen time this time around. The preview for the next episode looks haunting and intense with Amaan informing Aina of his family's murder – and the person responsible.