TV/Streaming Reviews
Ye Dil Mera Episode 21: Aina Confronts Amaan With His Lies
Ahad Raza Mir and Sajal Aly give stellar performances as their characters, Amaan and Aina, come to a head over Amaan's deceptive behavior
"Ye Dil Mera" has been a show that gets better with each episode – storyline wise.  Unfortunately, this is also a show that has been suffering at the hands of poor editing and execution decisions.  Despite these glitches, the solid writing by Farhat Ishtiaq and the great performances by the team, particularly Sajal Aly, Ahad Raza Mir and Adnan Siddiqui, make the show not only worthwhile, but gripping and keeps the audience on their toes waiting for each episode with anticipation.  As we last saw, Aina is now aware of Amaan's lies and has begun to question his motives for marrying her.
Episode 21 opens with Aina (Sajal Aly) in bed with Amaan (Ahad Raza Mir) and as he sleeps, she is thinking about his actions and his reasons for keeping so many secrets.  Quite honestly, this scene is incredibly annoying, because her thoughts aren't heard, but are in Urdu script and if you are not a fast Urdu reader, forget it.  This was a poor choice and the team should have gone with the voice over option to keep things simple (and comprehendible).  As the day begins, Amaan is given a shock when Sajid informs him of Saira's (Rabia Butt) death.  This revelation has visibly jolted Amaan and he's left both angry and sad, thinking about how fickle Mir Farooq is and how little the value of human life means to him.  Furious at how easy it is for Farooq to commit murder, Amaan decides to take another step.
Meanwhile Farooq (Adnan Siddiqui) discovers that Amaan has sold his company completely – and yet, when Farooq calls him to question him about work, Amaan calmly states that things are great, making Farooq question Amaan's intentions and motives.  Amaan's day goes from bad to worse when he realizes Aina has been snooping in his study and some of his things are missing.  When he confronts her or, rather, questions her on why she's spying on him, she asks him about his lies – why is he not going to work?  Why did he lie about Sajid?  When the argument gets heated, she tells him she's going back home to think about their relationship.  This is where things become confusing, because Amaan stops her from leaving and tells her that she chose to marry him – and will now remain married to him forever, because it's a commitment.  He then locks her up in the room.
We're taken back into a flashback scene, which have always been interesting on this show, particularly because Zarnish Khan and Mira Sethi just light up the screen as Humaira and Neelofar.  As Aina's childhood birthday party takes place, Farooq is seen pursuing Humaira in an inappropriate way and Humaira (Zarnish Khan) gives him a much-needed wakeup call when she informs him that she's very much in love with Obaidullah and is happy with her family life.  Unfortunately Neelofar (Mira Sethi) overhears this conversation and is left hurt and confused, realizing her husband is still pining over someone else.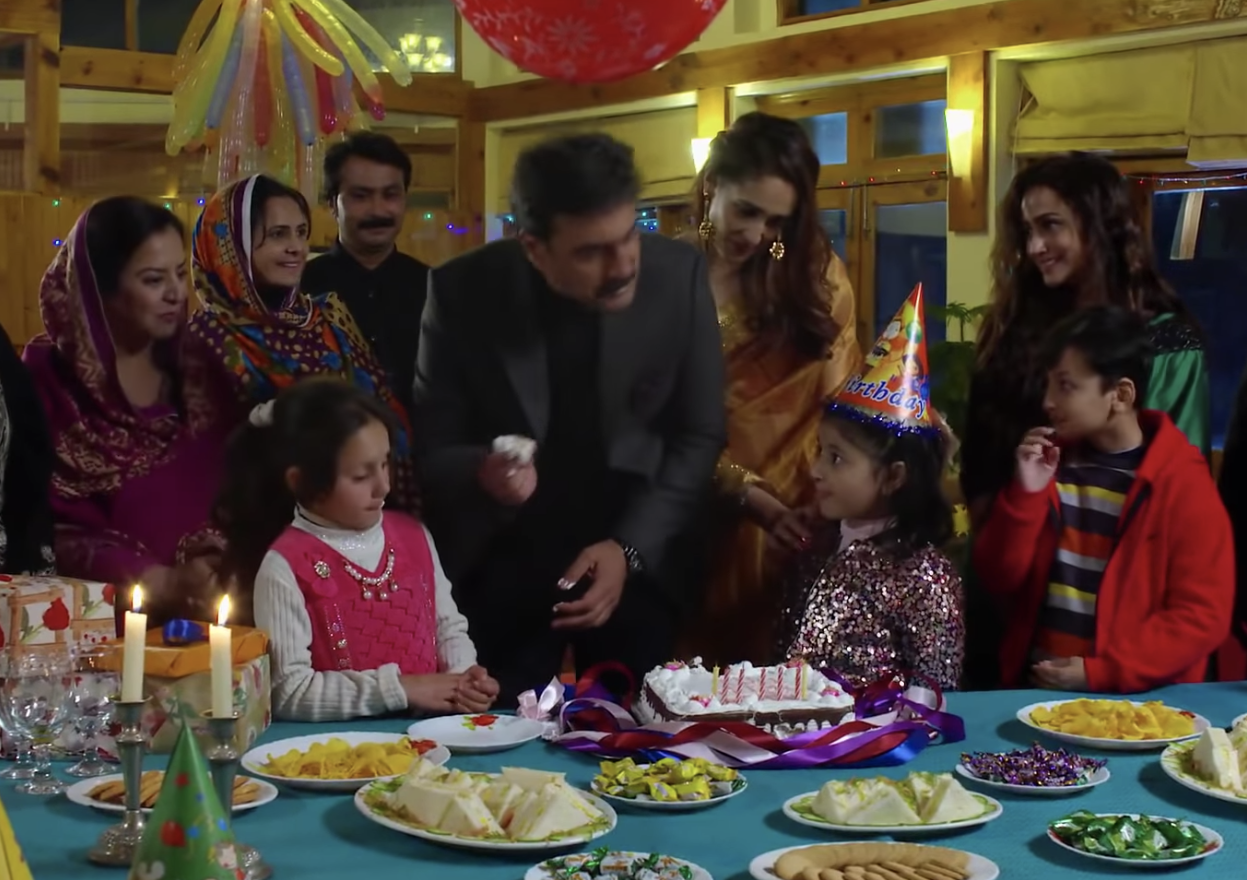 Flashback scene in Ye Dil Mera
However, things don't end here as Farooq is unwilling to take no for an answer and visits Humaira's home with gifts and Amaan witnesses Humaira's angry exchange with Farooq over the inappropriateness of his behavior.  This scene makes the necessary impact as it shows that Amaan has been negatively affected by Farooq's nature since before his parents were even murdered.
Ahad Raza Mir is just fantastic in this episode, playing the loopy, confused, angry, vulnerable Amaan to perfection.  Amaan is a character that the viewer sympathizes with because he has been through a lot.  He's a character that viewers despise because of what he's doing to Aina emotionally and mentally.  He's a character that viewers cannot quite figure out, because he's constantly playing a balancing act between loving, hateful, sad, angry.  To call him complex would be an understatement and Ahad brings these complexities to life.  Sajal Aly and Adnan Siddiqui also perform very well in this episode, but to be real, this episode is owned by Ahad Raza Mir and he makes the most impact. 
With episode 21 of "Ye Dil Mera," things really pick up and show that Amaan is ready to put his plan into action – though honestly, the viewer is left wondering what that plan is exactly?  His intentions have suddenly become less than transparent – and that works in the favor of the show as the viewer is left intrigued and wondering what's next.