Bollywood News
Will Varun Dhawan, Sidharth Malhotra and Ranveer Singh Replace Shah Rukh, Salman and Aamir Khan?
Soumyadipta Banerjee looks at the rising trio who are most likely to replace the Khans from their exalted position
In Bollywood, people say that the three reigning Khans – Salman Khan, Shah Rukh Khan – who are very different people with different personalities. I have frequently interacted with the three of them time and again, and to me they have more similarities than dissimilarities which we have discussed before.
• All the three Khans are great meat lovers. Their favourite dishes are made of mutton - Shah Rukh loves Goat Raan, Salman loves Mutton Rogan Josh while Aamir loves Mutton Biryani.
• All three of them are extremely religious and support both Hindu and Muslim religious festivals in their own homes. None of them are on Whatsapp and forget about answering calls, all three hate carrying a mobile phone with them. All three of them use their mobile phones as missed call devices, just to see who called them and whose call needs to be returned.
• All of them have very unusual personal email IDs where they use their childhood pet names as their user names.
• All of them are actually extreme loners and spend hours and hours on their own singing (Shah Rukh in his bathtub), painting (Salman in his studio) or watching films (Aamir in his bedroom).
• All of them are very emotional and failures/personal losses deeply affect them. All of them were heavy smokers at some point of time and are still struggling with the habit in some way or the other (Yes, Aamir sometimes lights up when he is in extreme stress while Salman is still a smoker. Shah Rukh is a chain smoker).
• The biggest point of similarity is that all of them are exactly of the same age - 51 years. They are all born in 1965 (Aamir in March, Salman in December and Shah Rukh in November).
THE SITUATION TODAY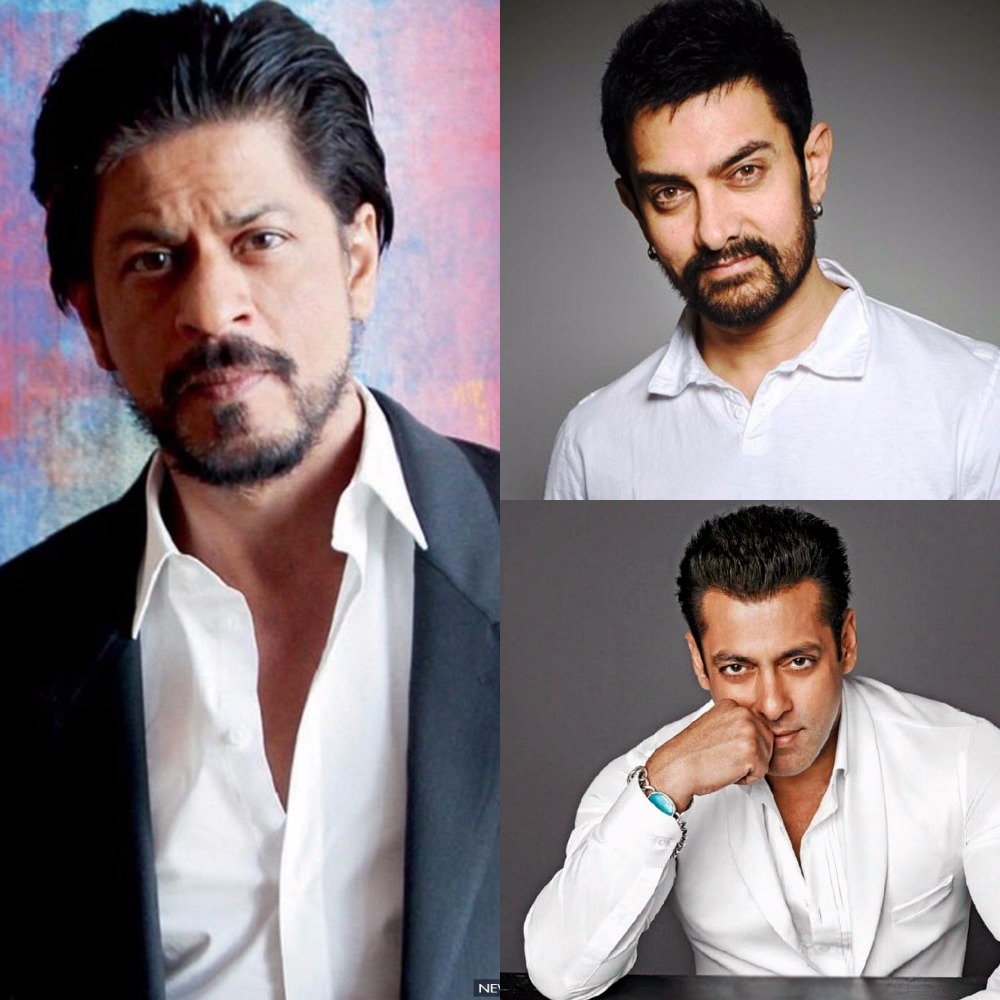 This is where I begin today -- all the three Khans in Bollywood who are called the Ruling Trinity have crossed 50 years of age. Any Bollywood historian will tell you that they are nearing an age when they find it increasingly difficult to fit into certain roles where younger blood is required. Also something has happened recently that has jolted Bollywood and this has never happened in the history of the three Khans. Never before, have Salman Khan and Shah Rukh Khan had to pay money from their own pockets because their films have been disasters.
Salman Khan generously compensated distributors and exhibitors for Tubelight while Shah Rukh Khan paid some amount of compensation to the same people who distributed and bought Jab Harry Met Sejal, that flopped badly. Aamir Khan has of course scaled heights with Dangal (he had a flop in Talaash in 2012) but the fate of the Khan films are unprecedented. But the worst sufferer was Salman Khan, who was looking at a major setback after 10 straight super duper hits.
It is now an immaterial discussion whether Aamir Khan will too see a similar fate, he might or might not, because his next big film is Thugs of Hindostan produced by Yashraj with Amitabh Bachchan and Katrina Kaif for the first time and it is not a solo hero film.
SO WHAT NEXT?
The discussion that is now ripping apart Bollywood is -- who is going to take the place of the Khans once they finally shift towards more mature roles?  "Look we all know and even the Khans know that they have to change gears in Bollywood. The chocolate boy romantic roles are not for them anymore. Aamir who was the original chocolate boy of Bollywood has moved away from the genre (romantic roles) a long time back. Salman has shifted to action. Only Shah Rukh was looking for some kind of balance in doing romance because he is still known as the king of romance. He was looking to do some kind of new age romance with Jab Harry Met Sejal. Now, the audience response shows that it is clearly not working," said a Bollywood insider, who used to work with two of the three Khans.
The contemporaries of the three Khans (like Saif Ali Khan, Hrithik Roshan, Akshay etc.) could never replace them as they always had a towering presence over others. Hrithik, Akshay, Saif etc. formed their own niche and kept going but somehow the throne of the superstars always belonged to the Khans, much like when Lata and Asha were the singing superstars in Bollywood. There were other singers but somehow none of them could replace the superpower of the two Mangeshkar sisters.
However the scene is different now -- Bollywood will soon see a vacuum when all the Khans gravitate towards roles that suit their age. Aamir has already played a father in his last film, Salman and Shah Rukh (as sources suggest) are already looking for mature roles and hunting for similar scripts. This means, there is now a space for a Prince (or Yuvraj) who will heir to the three Kings of Bollywood.
THE PRINCES
What will happen when the three Khans abdicate the throne of the being eternal Romantic hero? Who are the ones who will be king next?
There are three names that are doing the rounds: Varun Dhawan, Siddharth Malhotra and of course, Ranveer Singh. There is no doubt in anybody's minds that the three will be the best superstars of Bollywood.  The three are approaching at break-neck speed towards the finishing line and most people agree that the above three will score superstardom given their amazing strike rates (See below).
They say, each one of them is very different to each other. The funny part is: Just like the three Khans, the newcomers are also very similar to each other.
• First of all, the three are very close to Karan Johar. Varun and Siddharth are known in the industry as the Godsons of Karan Johar while Ranveer Singh and Karan Johar are thick as thieves.
• Another strong resemblance between them is that all of them are method actors. They like to remain in their characters for a long time. Siddharth is known to brood over his characters for a long time. Both Varun and Ranveer Singh had to take a help of a psychologist during filming an intense film. Varun needed help during Badlapur while Ranveer needed it during Padmavati.
• They are all friends and they are active on social media, especially Twitter and Instagram.
• All three are hooked to their phones and known to be gadget freaks.
• All three were really good in their studies. Varun Dhawan: Business Management from Nottingham Trent University, Siddharth has studied in Bhagat Singh College and while he left studies for a career in modelling and acting, he was known to be a topper in school. However, Ranveer Singh also completed his Bachelors Degree in Arts from Indiana State University and has studied cinema formally.
• Regarding choice of films- All three are very sure about what kind of films they want to do. They are all choosing solo hero movies.
• All of them are fitness freaks and boast of a great body with washboard abs.
WHAT INDUSTRY EXPERTS ARE SAYING
1. Taran Adarsh
"I can say this with some sort of certainty that Varun Dhawan is going to be the next superstar of Bollywood. He has all the qualities to be one. He has the looks, the star backing from mentors like his father (David Dhawan) who produced two successful movies with him, and there's Karan Johar who solidly backs him up too. To top that, he has great comic timing as well. He is definitely the next superstar in the making. He gets the highest marks from me. The two other stars who are closely following him are Siddharth Malhotra and Ranveer Singh. I will place Ranveer Singh as number two. Ranveer has all the qualities of an Aamir Khan. Please note that I am not saying that they will replace the Khans but surely they have the potential to be the next superstars in Bollywood. Ranbir Kapoor has all the potential too and we will have to closely watch him."
2. Amode Mehra
"Let's look at the figures that tell a story.  Judwaa 2 did three times the business of Jab Harry Met Sejal (till now) and double that of Tubelight. Varun Dhawan is definitely going to be the next superstar of Bollywood. He has all the required qualities in him. He has the knack of choosing the right scripts. He is on top of my list followed by Ranveer Singh and Siddharth Malhotra. 
(Additional Reporting by Shama Bhagat)