Bollywood News
Will The Kangana Episode Bring Hrithik and Sussanne Back Together?
Sussanne comes out in support of her ex-husband
In case you've missed it, the one and only name on everyone's mind since the past few days has been Kangana Ranaut. Known to be one of controversies most loved child, the Queen seems to have jumped from frying pan to fire this time. 
In a series recent interviews, Kangana brought to light intimate details of her alleged relationships with Hrithik Roshan and Aditya Pancholi. In light of her affair with Pancholi, she spoke of how she was a minor during the time and was victim to an abusive relationship. Considering she has spoken about her relationship with Aditya in the past, this wasn't new news for people listening in. However, what did catch everyone's attention were the claims she made about her rumoured affair with Hrithik Roshan.
In a tell-all interview, Kangana spoke about how the actor told her he would never accept her in public as he was married to Sussanne and it was only after the latter separated from him that he assured Kangana of a future together. She went on to accuse him of several other things including, trying to cash in on her fame after the success of her film, Queen.
Hrithik chose to maintain silence throughout the fiasco, but his ex-wife Sussanne had something to say. Previously known to stand up for her ex-husband, Sussanne rose to the occasion, indirectly trashing Kangana's allegations. She tweeted: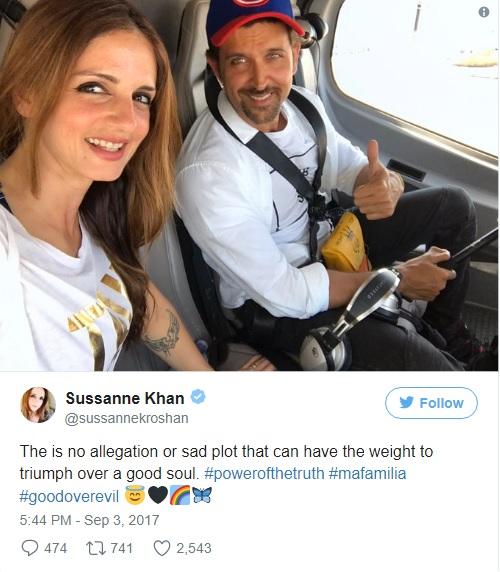 This isn't the first time, Sussanne stood up for Hrithik. When the spat with Kangana had just broken out, with pictures being leaked of the duo together from a party, Sussanne pulled up the images for being photo shopped, trashing all allegations.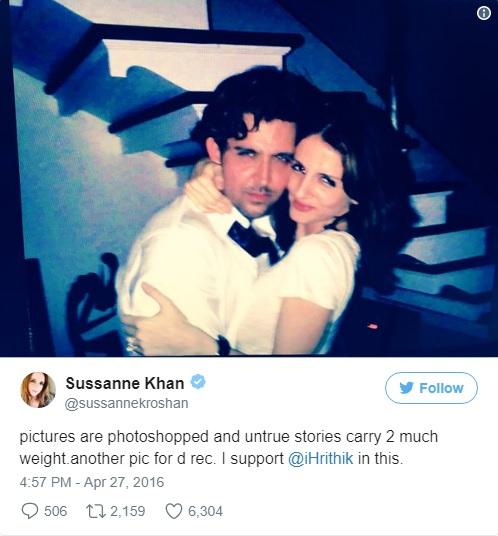 Apart from constantly standing by his side, Sussanne has recently been spotted with Hrithik and their sons, bonding, on various occasions. From movie outings to family vacay's the duo has been making it a point to spend quality time together, giving all of us a little hope for a reunion.
Do you think this spat with Kangana will bring the estranged couple back together?