Bollywood News
Why Madhur Bhandarkar is VERY Angry with the Censor Board
CBFC strikes again
In the last year or so, a number of filmmakers have had problems with the Central Board of Film Certification (CBFC) and its chief Pahlaj Nihalani in particular.
Now it appears, Madhur Bhandarkar is the latest director who has vented his ire on the Censor Board. The reason: his forthcoming film 'Indu Sarkar' has been subject to 24 cuts and the Fashion filmmaker is certainly not happy about it. Set in the backdrop of Emergency, the film talks about the extreme measures taken by then Prime Minister Indira Gandhi and her son Sanjay Gandhi (played by Neil Nitin Mukesh in the film). The Emergency was imposed on June 25, 1975 and lasted till 1977. With democracy suspended, a lot of civil rights were crushed and protestors had been jailed. To date, it is considered a dark period in the nation's history.
The film has courted controversy ever since the trailer was launched. The Congress party objected to the movie and demanded a screening which Bhandarkar refused. Interestingly, the trailer was released without any cuts and Nihalani himself had praised it. Some writers had pointed out that the film's trailer got a certification easily while other films with less sensitive content had been targeted. But now that the movie is up for release, the Censor Board has raised issues. What's more interesting is that some of the dialogues that had been approved in the trailer has been cut in the film!
Bhandarkar is obviously seething and has vowed to fight it out. See his tweets.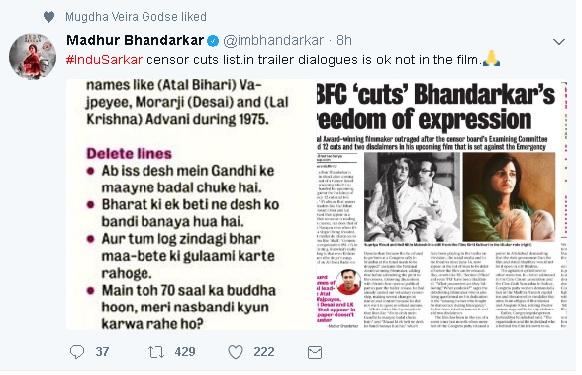 Can he win this 'emergency' war with the Censor Board? Wait and watch! The film is due to release on July 28.