Bollywood News
Why it is WRONG to Stalk Suhana Khan!
A horrific report on teenage stalking
It all started with a photo that a close friend of Suhana Khan uploaded on Instagram. It showed Shah Rukh Khan's daughter in a swimsuit along with her baby brother. I guess, she was only 14 years old then. Within seconds, the mainstream media was filled with those pictures, begging audiences to have a look at her body. I am not using the word 'body' myself but this is how a large number of websites described that picture.
The viral nature of the photo soon attracted the attention of SRK's staff who immediately circulated a mail requesting media to pull down the photo. The mail also brought to the attention of editors that Suhana is underage and a minor. Most web editors immediately realised their mistake and pulled the photo down. But some editors of a few reputed media houses didn't and the photo is still up on their webpage and continues to draw hits if you search with the right keywords.
That was just the beginning of the downfall of Bollywood mainstream media and they are free-falling as they have discovered that the name Suhana Khan is great as click bait. Media ethics be damned.
Sometime back, a prominent media house put up a collection of photos of Suhana, with an indecent headline (right side of the picture). But this time, Twitter acted as a force and attacked them for publishing photos with such a headline. In response, they changed the headline, but kept the photos as they were.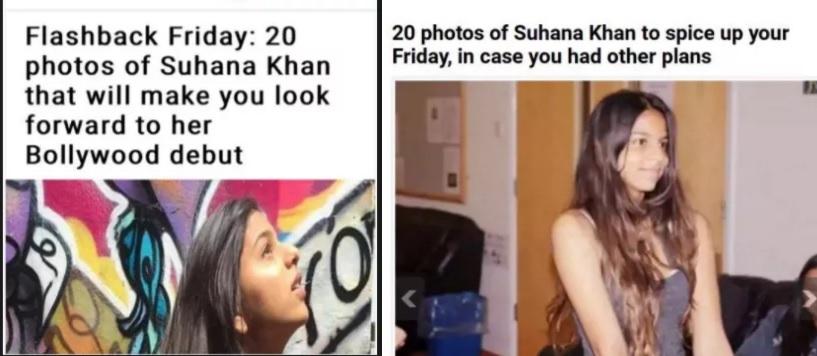 However, what happened in the basement of a movie theatre beats all senses of professionalism, propriety and reason. A group of paparazzi photographers hounded and chased Suhana down as she prepared to get into the lift after parking her car. As she increasingly grew comfortable, the cameras inched even closer. She tried turning around, she tried moving her face away… but the cameramen continued with their 'work'. The guys kept on shooting and clicking, even as Suhana entered the lift.
Check out the video and see how things panned out:
Nobody in their right senses would feel that there is any bit of professionalism involved in this. Shah Rukh Khan also reacted to the incident but he sounded like a helpless dad who can only request the media with folded hands not to stalk his teenage daughter.
Considering Suhana Khan is just 16 years of age, such stalking is unacceptable and should be addressed. Editors should also be more careful about what they allow up on their sites, because after all, not everything is about a bunch of website clicks.