Bollywood News
Guess Who Has Turned Out To Be Salman Khan's Most Genuine Supporter on Twitter?
Hint: Katrina Kaif is what they have in common
Rishi Kapoor was one of the first Bollywood bigwigs to voice his support for the Khan family on Twitter before the Salman verdict yesterday. He did manage to raise a few eyebrows with some questioning why the actor was so vocal about his support considering his future daughter in law, Katrina Kaif was Salman's ex. Despite all the speculation, Rishi's tweets do sound like a heartfelt note from the Kapoors to the Khans. 
However, last night, the actor was enraged by the primetime programming on a news channel. According to Rishi Kapoor, the show featured some struggling 'wannabe' celebrities who wish to be in Salman's good books but fail to even argue their point with valid justifications.
Rishi vehemently voiced his anger towards names like Dalip Tahil, Naseer Abdullah, singer Abhijit and actor Ajaz Khan who is a former Bigg Boss contestant ( a show hosted by Salman). He also added  that Salman in a tweet to author Shobha De that these were 'unemployed' actors were not true spokespersons of the Hindi film industry. 
Actor Ajaz Khan reacted to his tweets and what ensued was a very engaging but hilarious Twitter war of sorts. Here is an excerpt from what both of them said.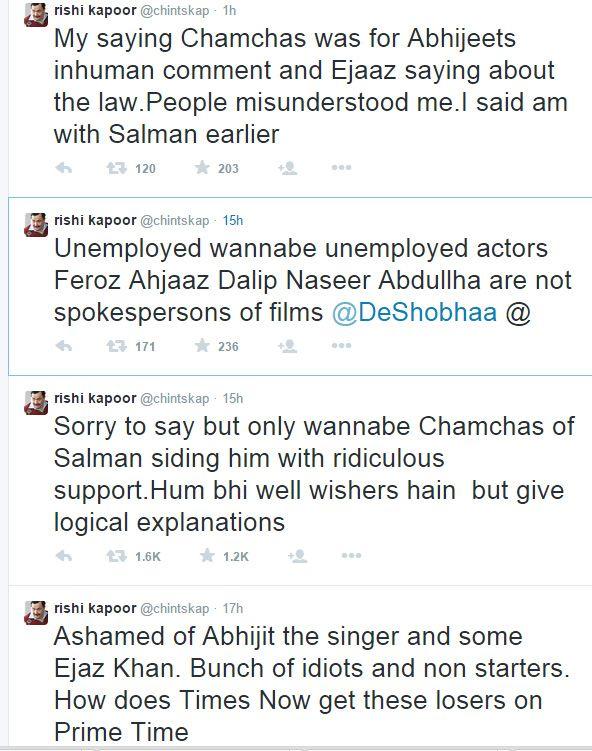 And then Ajaz Khan took to Twitter to try and justify his remarks.