Bollywood News
When Lata Mangeshkar And Mohammed Rafi had a Fight and Stopped Singing – Blast from the Past
Two of Hindi cinema's greatest singers once had a difference of opinion because of which they stopped singing together
According to me, there was only one voice which could match Lata Mangeshkar in the  duets, and that  was  Mohd Rafi. His voice and range  possessed the  emotional bandwidth  to  give his duets with the Nightingale the gender equality that  they needed and deserved. One  can't  imagine  their duets not happening. And  yet they didn't happen.  The two voices, the yin and  yang  of  Hindi cinema  separated  over  the issue of royalty for  singers   for nearly three years  in the 1960s. The  composers were  shocked. They  had  to choose between  the  two monumental singers. Sophie's Choice, indeed!
Those who  chose Rafi Saab had to replace the  female vocal  with the Mangeshar soundalike Suman Kalyanpur (that's how  two of  Kalyanpur's biggest  hits  Tumse ho haseena kabhi  mohabbat na maine karni tthi in the film Farz and Aaj kal tere mere pyar ke charche  in Bramhachari came  her way). And those went  with Lataji had to make  do with the  poor's  man's Rafi Mahendra Kapoor  in the duets.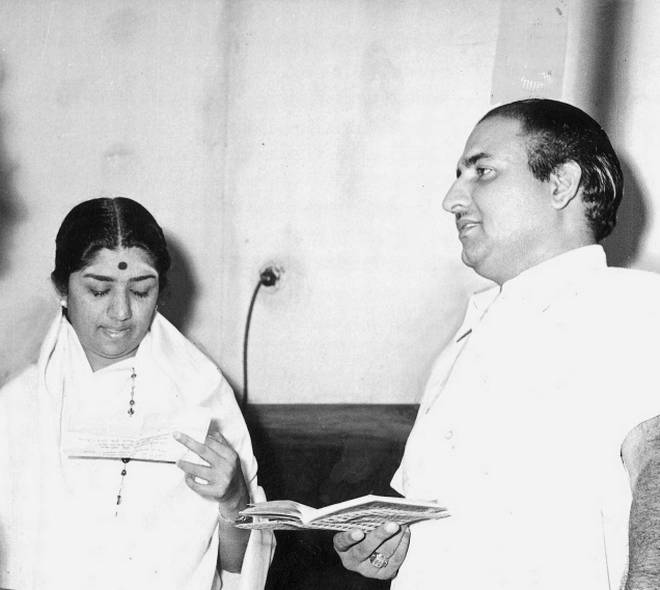 Lata Mangeshkar And Mohammed Rafi
 Every  composer breathed a sigh  of relief when Hindi film music's biggest cold war came  to an end . In her  biography  on  Rafi Saab  entitled   Mohd Rafi My Abba A Memoir  his daughter-in-law Yasmin  Khalid wrote,  "Their differences arose over the issue of royalty payments on the songs sung by them. Lata wanted to be paid royalty and raised the issue with the producers; she expected Rafi to support her point of view, which was in fact justified. "But contrary to her expectations, Rafi took a different stand. He opined, 'When the producer pays the fee the singer demands for a song, thereafter the singer should not have a share in the royalty.' This was probably a hasty decision, taken without careful consideration."
Mercifully the two  magnificent  singers ended their  feud  before more damage was done. Imagine  Mahendra  Kapoor or  Suman Kalyanpur  plodding through  Chup gaye saare nazare in  Do Raaste  or Patta patta boota boota in Ek Nazar.