Bollywood News
When Hema Malini Was in Financial Trouble…
Hema Malini led an exceptionally eventful life that saw highs and lows. Here are a few excerpts from the award winning autobiography of the eternal dream girl
In a career spanning over five decades, Hema Malini has captured the collective imagination of a sub-continent with her beauty, blockbuster films, TV shows and political activities. Her eventful life has seen controversies, accolades, tragedies and great achievements and it is this mesmerising journey that has been captured by journalist, TV producer and writer Ram Kamal Mukherjee in his biography Hema Malini: Beyond The Dreamgirl.  The book has travelled far and wide since it released (it was launched in the UAE last year) and has even fetched the Best Author award to Mukherjee at the Rajasthan International Film Festival. 
Here are a few excerpts from the biography…
On how Hema was the only female actress who could pull off an action scene with ease!
• Pretty early on in her career, it had been evident that action sequences were second nature to Hema. From riding motorbikes to tongas, playing bandits to cops, doing swordfights to lashing out with a whip, directors had a gala time experimenting with this leading lady, for whom no stunt was off-limits. Director B. Subhas remembers how smoothly Hema carried off the sword-fighting scenes in his film Aandhi-Toofan (1985). 'Hema-ji was an experienced actor. We didn't have to work much on her. She was very particular about her shots and used to rehearse a lot. The sword-fighting sequence with Danny (Denzongpa) in the film is awesome. She moves like a butterfly from one place to another. Holding the heavy sword was not a matter of much effort for Hema-ji. In fact, Danny, who is brilliant at action sequences, was surprised by Hema-ji's flexibility.'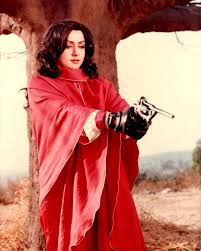 Amitabh Bachchan, who worked with Hema in Naseeb and Andha Kanoon (1983), recollects her action sequences in those films. 'Hema, being a dancer, was very comfortable with her body movements. Action sequences in films are well composed, like the dances. So, it wasn't a tough job for Hema to execute. Moreover, she looked extremely smart and intelligent as a police inspector. In fact, she was doing action sequences since my first film Gehri Chaal with her.' He adds, characteristically, on a lighter note, 'Rather, I used to be always relaxed in films with Hema. She used to share the burden of action sequences with me! Hema is probably the only actress who did action sequences in my films.'
Why she did certain films even when they didn't enhance her career as an actress
• Despite Hema pulling off these roles with aplomb, the fact remains that most of the films she did in this phase did nothing to enhance her reputation as an actor. For someone who has often placed a premium on her performances, even within the constraints of mainstream cinema, it begs the question: what made her take on clangers like these? The answer lies in the financial soup she found herself in in the 1980s. Not having paid her taxes on time, she was expected to cough up close to a crore, no ordinary sum even for someone like her. Dharmendra offered to help, but she would have none of it. It was her mistake and she would do whatever was needed to make amends.
'My father would keep reminding Amma that we need to pay the taxes, but my mother, being naïve, felt it was unfair to expect us to pay so much tax since her daughter was working so hard to earn that money. They would often have arguments about it. Unfortunately, only after my father's demise did we realize that we had got into a financial soup over the years. We had to clear a lot of pending taxes.' She recollects how Sunil Gupta, a chartered accountant, helped her out in several ways. 'He not only sorted out my financial issues, but also got back the extra money we had paid the government as tax,' she adds.
On bagging the iconic role in Kamal Amrohi's Razia Sultan even after being married 
• When Kamal Amrohi signed Hema Malini for his magnum opus, Razia Sultan (1983) – based on the story of the only female queen of the Delhi Sultanate – it left the industry puzzled. Hema was still, no doubt, a name to be reckoned with, but there were several other promising talents he could have considered. Also, during its production, Hema Malini had opted for marriage and, as the industry wisdom went, must have lost some of that earlier charm. But the director was certain. 'I can't think of anyone else other than Hema as Razia Sultan,' he had said, echoing Gulzar's words when he had signed her on for Meera.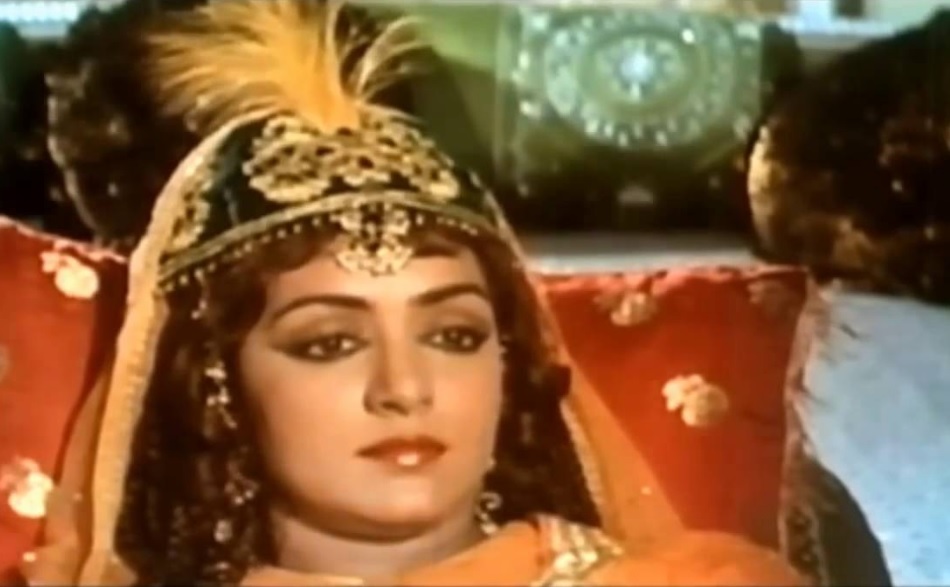 The thought of casting Hema for this film had apparently occurred to Kamal Amrohi much after the decision to make it. At first, he had considered giving the role to a newcomer. It is believed the director had changed his mind after he chanced upon a description of the historical Razia Sultan by a foreign traveller. 'Agar Razia ke ruksar ke kareeb ek genhu ke bal ko rakhte toh ek hi palak mein jal kar raakh ho jata (If you held dried wheat close to Razia's cheeks, it would turn to ashes in a second!).' 'Who else other than Hema Malini would have done justice to this compliment?' Kamal Amrohi's son, Tajdar Amrohi, recalls.