Celebrities
When Amitabh Bachchan Asked Sanjay Leela Bhansali to Choose Between Him or Kareena – Blast from the Past
An interesting anecdote on why Kareena Kapoor missed working with Sanjay Leela Bhansali and what Amitabh Bachchan had to do with it
Lately, Amitabh Bachchan has been completely taken up with Ranbir Kapoor. I remember he's been praising the star since his debut in Sanjay Leela Bhansali's Saawariya when he had exulted about the debutant, "Ranbir is the storm. Sonam is the soft breeze. The narrative is almost like a Beethoven symphony, where the thunderous sound of the orchestra is always followed by the soft thin flute,  a symbolic interpretation of gentle desire and overpowering destiny. Have you heard Beethoven's symphony? There's a loud orchestra followed by a thin flute sound...This was the genius composer's interpretation of desire and destiny...The destiny loud and ominous, the desire soft and gentle. It's like the two protagonists in Saawariya."
Last year when the megastar got a  chance to finally work with Ranbir in Karan Johar's Brahmastra, the senior actor said, "Without saying much he manages to say everything. His face is God's blessing. He doesn't seem to make any effort to convey emotions whereas I've to constantly struggle to express myself, ask the director to help me. He needs none of that," Amitabh Bachchan shared.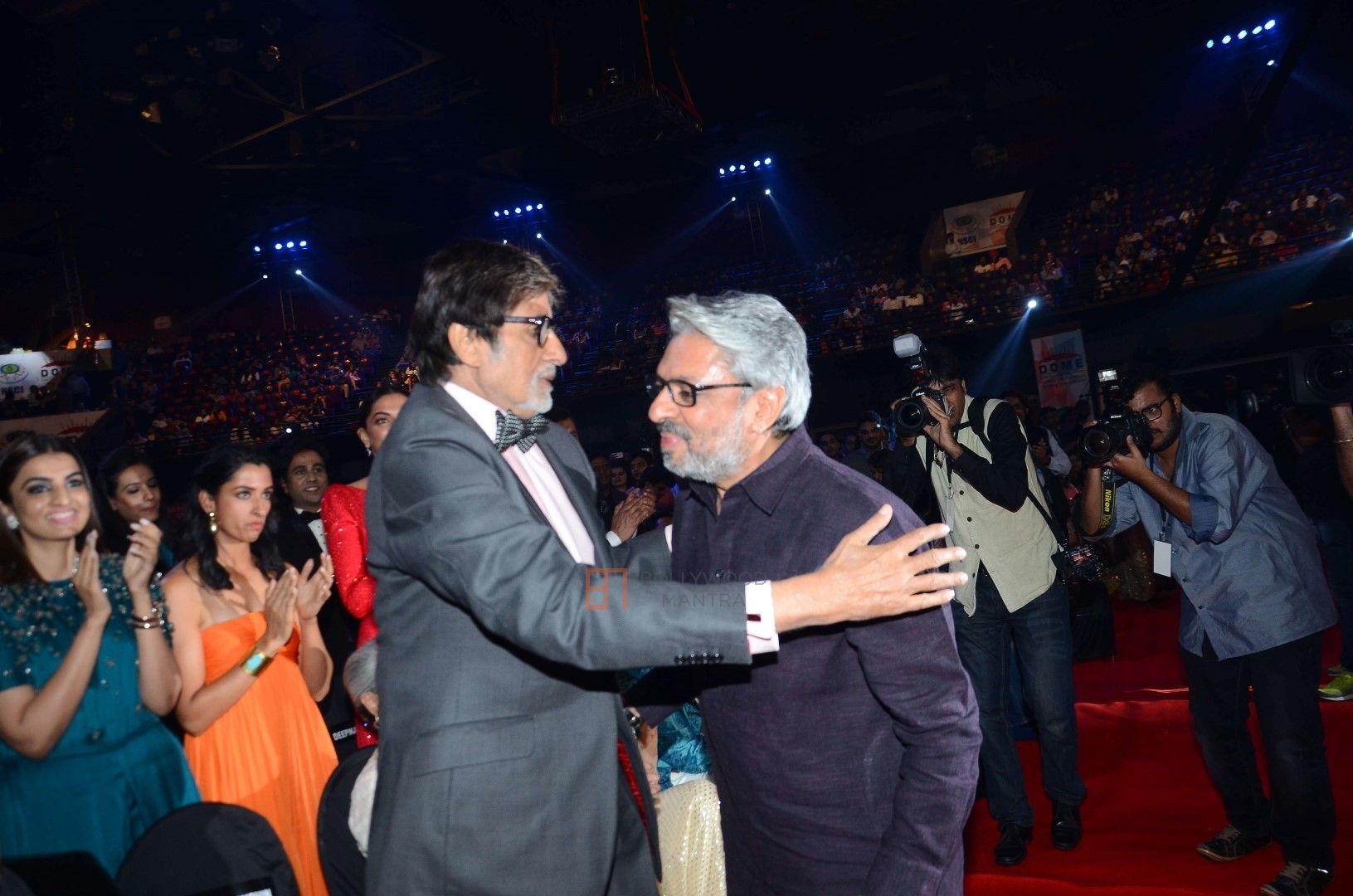 Amitabh Bachchan and Sanjay Leela Bhansali at an event
Just working in director Ayan  Mukerjee's Bramhastra with Ranbir, said Bachchan Ji, is a learning experience. "All his films have been a learning graph. I find it very unusual the way he reacts. He doesn't move any muscle and to convey so much feeling is a tough job. I always notice when he performs he doesn't do much. And it's not just his films, it's even in his ads. Mr Bachchan went on to add that he envied  Ranbir's effortless acting. "Because I can't do it."
But this praise for Ranbir is actually quite ironical. That's because there was a time when the hostilities between the Bachchans and the Kapoors ran high. This was after Abhishek Bachchan broke up with Karisma Kapoor in a rather bitter way that soured the relations between the families. Amitabh found it hard to forgive the Kapoors for hurting his son, so much so that he actually refused to work with Kareena, Karisma's younger sister. This is known to only a few people privy to the goings-on Bollywood but when Sanjay Leela Bhansali was planning Black, he had Kareena Kapoor in mind for the part of Mr B's deaf and mute student. The role was eventually played by Rani Mukerji. However, in the planning stages, Sanjay wondered, "Would he  work with her, considering?…."
However, the answer from Sr Bachchan was clear – a flat NO. "He can choose between her and me. If she is in it, I am not," Mr B told me curtly. And that was the end of that. Kareena was dropped and Rani was signed on. The film went on to becoming a huge blockbuster. However, that was the first of many occasions when Kareena missed working with  Bhansali.