TV/Streaming Reviews
What the Love! with Karan Johar: Why the Show is an Epic Fail
What the Love! has been inspired by Netflix's other show, Dating Around, where six singles go on five blind dates each – and instead of prep dates, make up, and upping the costume game, they simply go out for drinks and dinner, followed by a tête-à-tête after-hours session
India is a new country. No, no, don't come at me with sticks. I mean it in a very superficial manner. We've been struggling to adapt the Western standards of living and loving for more than three decades now. We want to be independent, but we also hesitate to step out of the houses built by our great grandparents.
Millennials, who prefer to live in nuclear families, are viewed with suspicion and condescension. There's an awful lot of patriarchy involved in our customs and traditions, too, but that's for another day. When it comes to handling relationships the Indian way, an average Joe has to navigate through many corridors of familial and societal pressures.
The man wants his girlfriend to be "homely" – a woman who doesn't question her in-laws, and, more specifically, the men, and takes care of the cooking-and-cleaning part, along with raising the kids – and also somebody whom he can dance with at parties. If you find that kind of slotting absurd and stupid, then you're not an average Joe [I'm throwing my hands up in the air to indicate surprise and wonderment.]
While watching Netflix's disastrous show, What the Love! with Karan Johar, I was reminded of something that an award-winning playwright and actor said in an interview a few years ago. He stated that we (meaning: Indians) use western toilets and yet wash our bums with health faucets, instead of tissues, as we're always on the precipice of finding a balance. He added that even though this method leaves the toilet seat dirty and wet, we won't touch the tissues because we aren't ready to go so far.
So, it seems like we want the best of both worlds and we're at loggerheads with ourselves in trying to catch hold of something that speaks to us.
Now, coming to the series, let me with start with Karan Johar.
Karan is an uber-cool conversationalist; there's no doubt about that. He can make anybody from Shah Rukh Khan to Vijay Deverakonda feel comfortable on his Koffee couch. He can also make people from the regular walks of life feel alive with his sense of humor. He comes from a film family (the key word here is "privilege"). Naturally, his growing-up years would have been starkly different from the six people he grooms in What the Love!
He encourages the selected batch to let go of their inhibitions by taking them through his life-story and a general bunch of fables. It appears as a Bollywood movie. And that's the main problem with the series. You understand more about Karan's persona. What's the use of that? Shouldn't you actually be thrown into the midst of the chaos that rides on the wave of insecurity? Why are folks in their twenties afraid of falling in love? Why do they want to keep it casual? Why are they labeling love as just a myth?
By making Karan the God of Love™, what the makers miss is the very point they're wishing to make. Despite him keenly listening to the participants and doling out advice, he's not a therapist. He can't bring his friends from the movie industry, like Arjun Kapoor, Saif Ali Khan, Sunny Leone, Arjun Rampal, etc., and expect the confused folks to act normal. One of the young men was startled to be seated next to Sunny and he seemed to slowly lose all the color from his face. Again, this is a cultural misfire for him. He had no clue as to who was going to be his prep-date. In fact, he opened his speech with him being a chartered accountant. [Although I'm tempted to pump CA jokes here, I'll refrain from making them.] 
That's why even the idea of scripted dates sounds ridiculous. When the singletons go on dates, they're taken aback, initially, at the amount of homework that has gone into each of them. They're oh-so-romantic from the beginning itself – playing in the pool, exchanging coy glances on the top of a truck, dancing away the night at a rooftop bar, and going up-and-up in a hot air balloon. They made me think that I was watching a badly-written and poorly-edited rom-com. I don't know what the participants experienced in those glitzy blind dates, but, for me, it was just another Karan Johar film, replete with a happy ending.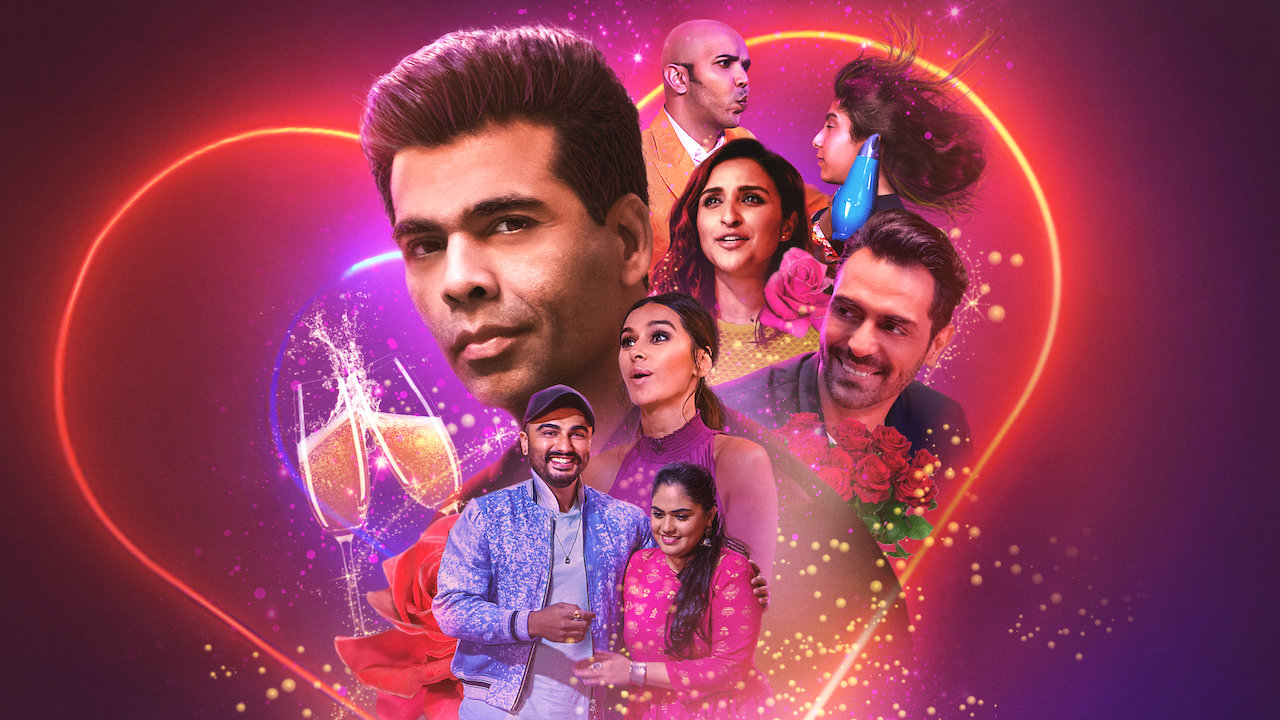 What the Love! has been inspired by Netflix's other show, Dating Around, where six singles go on five blind dates each – and instead of prep dates, make up, and upping the costume game, they simply go out for drinks and dinner, followed by a tête-à-tête after-hours session. Within those three vivacious sections, you'll get plenty of information regarding them. There's zero effort put into making the blind dates bloom like a visit to a theme park. The conversations flow smoothly, and, you kind of guess whom the singletons are going to pick for their second dates, within the first ten minutes, since you get the basic framework of their personalities.
This is exactly what What the Love! should have done! The show should have allowed the millennials to find their rhythm via free-flowing methods. Bollywood-ising the concept was absolutely unnecessary. And, I hope, now, you understood why I gave you the example of toilets and health faucets! We want to go on dates and find the "one". We don't want our parents to find partners for us – ew, that's disgusting! And while we're at it, we also want big, fat blind dates where everything goes right. And, in case a mishap occurs, we want Karan Johar to cushion our fall, with his mantras.