Bollywood News
Watch Out! Kendall Jenner's Sassy Response After Her Mother Kris Jenner Leaves Her Out of Mother's Day Tribute
Kris Jenner, who has so many children and grandchildren that it could get tough to keep up with, recently forgot to include Kendall Jenner in her Mother's Day tribute post on social media
Kris Jenner, who has so many children and grandchildren that it could get tough to keep up with, recently forgot one of her daughters in her Mother's Day tribute post on social media.
On Sunday, the mama bear took to her Instagram, to share a loving post dedicated to her daughters that have children of their own, which meant while Kourtney Kardashian, Kim Kardashain, Khloé Kardashian and Kylie Jenner all go to be in the collage, the 23-year-old Kendal Kardashion didn't make the cut.
Sharing a collage of sweet pictures of her daughters and grandchildren as well as her own mother Mary Jo "MJ" Campbell, Kris wrote "Happy Mother's Day to all of the beautiful Moms out there, and to the women who are mentors and mother figures to someone special,"
Not only was Kendall missing from all the pictures, she didn't even get a shout-out from her mother in the caption.
Soon to remind her mother of the omission, the model left a playfully sassy comment on the post.
 "Love you too mom!" Kendall wrote.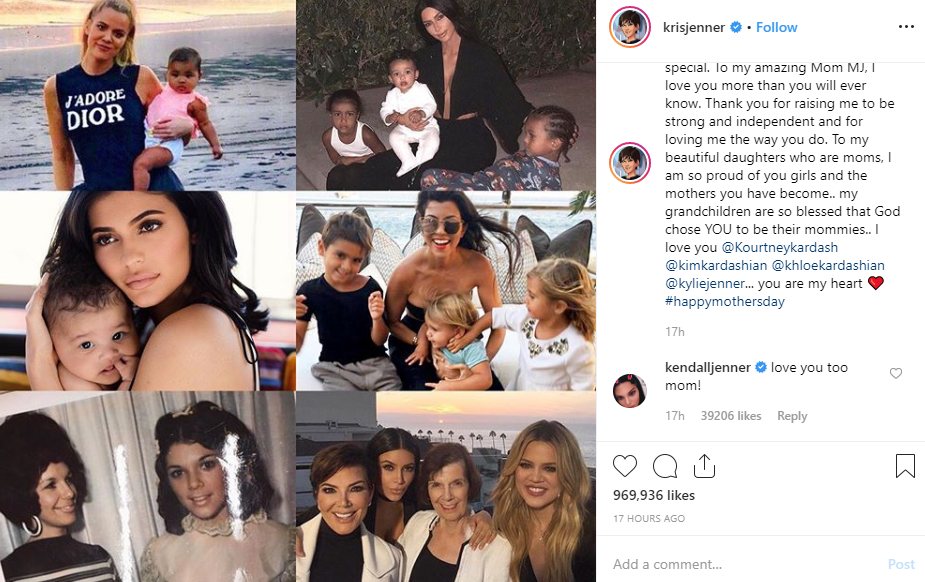 Additionally, Kris' son and Kendall's brother, Rob Kardashion was also missing from the post.
Unlike her sisters, Kendall thinks differently about motherhood and is the only KarJenner family member who doesn't yet have any children and she totally fine with that - in fact, she's fully embracing it.
Last thanksgiving, the model shared a picture of herself sunbathing and wrote, "All my siblings posting their babies and s—t and i'm just like…""
Last December, Kendall opted out of the very popular Kardashion/Jenner family Christmas photo because she "thought it was cuter that it was just the babies and the mommies."
Meanwhile, the Kardashion/Jenner family Mother's Day tribute continued.
Taking to their social media handles, Kourtney, Kim, Khloé and Kylie shared a sweet post, wherein they paid tribute to their children.
"My heartbeat." Kourtney captioned a picture, in which she can be seen posing with her three children with Scott Disick – Mason, 9, Penelope, 6, and Reign, 4.
"The best thing I've ever done, my greatest role in this life," Kylie shared a picture of her herself with Stormi Webster.
[node:emdia_embed_3]
[node:emdia_embed_4]
"It's Mothers Day!!! Happy Mother's Day," Khloé shared a smiling picture of herself with her 1-year-old, True Thompson.
On the other hand, Kim shared a series of pictures of herself with her mother Kris Jenner, and may we say they look nearly identical twins! "To the best mom in the entire world, Happy Mother's Day! Thank you for the being the best inspiration for all of your kids and showing us to work hard and love harder! I love you so much!!!," Kim captioned the post.