Bollywood News
Was Constant Trolling the Reason for Abhishek Bachchan's 2-year Sabbatical From Bollywood?
Abhishek Bachchan kept his distance from the industry for two years, here's why!
A troll once remarked about his daughter Aaradhya in a meme. Abhishek Bachchan has revealed that he is still hurt about it.
In a candid interview with Anupama Chopra, Abhishek admits that the brutal criticism he has received over the years on Twitter is one of the contributing forces that led him to take a 2-year-long "sabbatical" from Bollywood and work on his craft. This meme has affected him so severely, he admitted. "On Twitter, a lot of times, I get a lot of these guys who like to take a swing at me. And I'm fine with that. Because I'm here man. I'm a public property. Go for it. But if you're going to take a swing at me, bro, I'm going to swing back. And be prepared for that. It's just that my way of doing it is different. My sense of wit is different. I have a bit of wry and dry sense of humour. And at the end of the day also you can't take yourself seriously. You have to learn to laugh at yourself. They are either going to do it on your face or behind your back," Bachchan adds.
But no one likes getting constantly trolled on Internet, right? Bachchan admits that the mean words aimed at him on the microblogging site do bother him. "It upsets me when somebody writes something negative about me. Be it in a joking way. Or they are trying to belittle you or whatever," he adds in the interview with Anupama Chopra. Bachchan then goes on to mention how a distasteful meme directed at his daughter Aaradhya further angered him as the meme poked fun at how his daughter Aaradhya would not like watching Drona and Jhoom Barabar Jhoom and also wondered why Aishwarya Rai married him.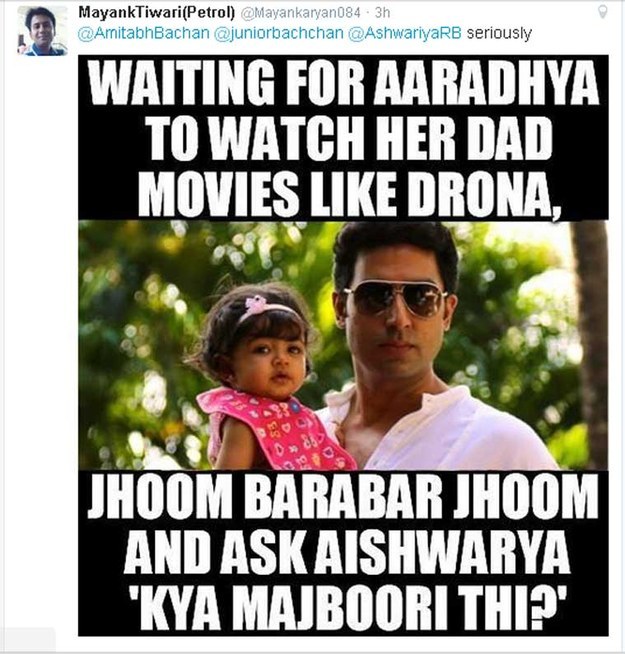 There was a twitter exchange that followed. The apologised and the meme was deleted. But AB Junior couldn't pardon him. Here is what happened: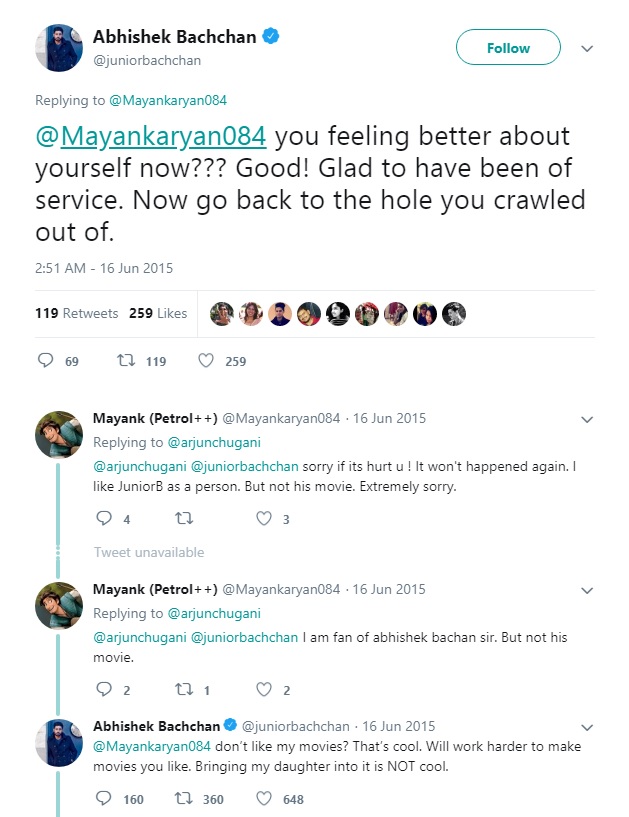 Isn't it so unfair that stars are constantly targeted by these trolls?