Bollywood News
War Movie Review: Hrithik Roshan is a Star and Tiger Shroff is Just as Good
War movie review is in and Hrithik Roshan and Tiger Shroff star in this wobbly but paisa vasool vehicle
Movie Name

War

Director

Sidharth Anand

Actor

Hrithik Roshan, Tiger Shroff

Rating

Rating 3/5 Stars
Rating 3/5 Stars
It was what we had all been waiting for. Tiger Shroff and Hrithik Roshan coming face to face in a high-adrenaline action-packed flick that promised all the steroids and the muscles we could have ever dreamed to see onscreen. The athletic stunts, the impossible action sequences and not to mention two super good looking men trying to kill each other. You can see where I'm going with this movie review. Or can you? Well. War will confuse you. Then amuse you. Then you'll be left questioning what exactly happened in the 150 minutes.
Watch our video review below.
The Plot:
Hrithik Roshan is Kabir. A spy/commander gone rogue from the Indian Army. Khalid is the son of a traitor. But Khalid is really committed to fighting for his country. About 300 slo-mo shots later, the two are in a weird bromance/frenemy zone. Hrithik is overly tanned and breathtakingly beautiful (as he always is ... beautiful, not tanned!). Tiger is sweet and respectful. It's almost as if the protege/mentor dynamic is being played from real life.
Together they make such good chemistry it lead me to think what it could have been like if Tiger or even Hrithik's character was played by a woman. Bollywood still not there yet to introduce a Lara Croft type character to stand shoulder to shoulder to a man as muscly as Hrithik and still manage to take him down? Yeah, probably.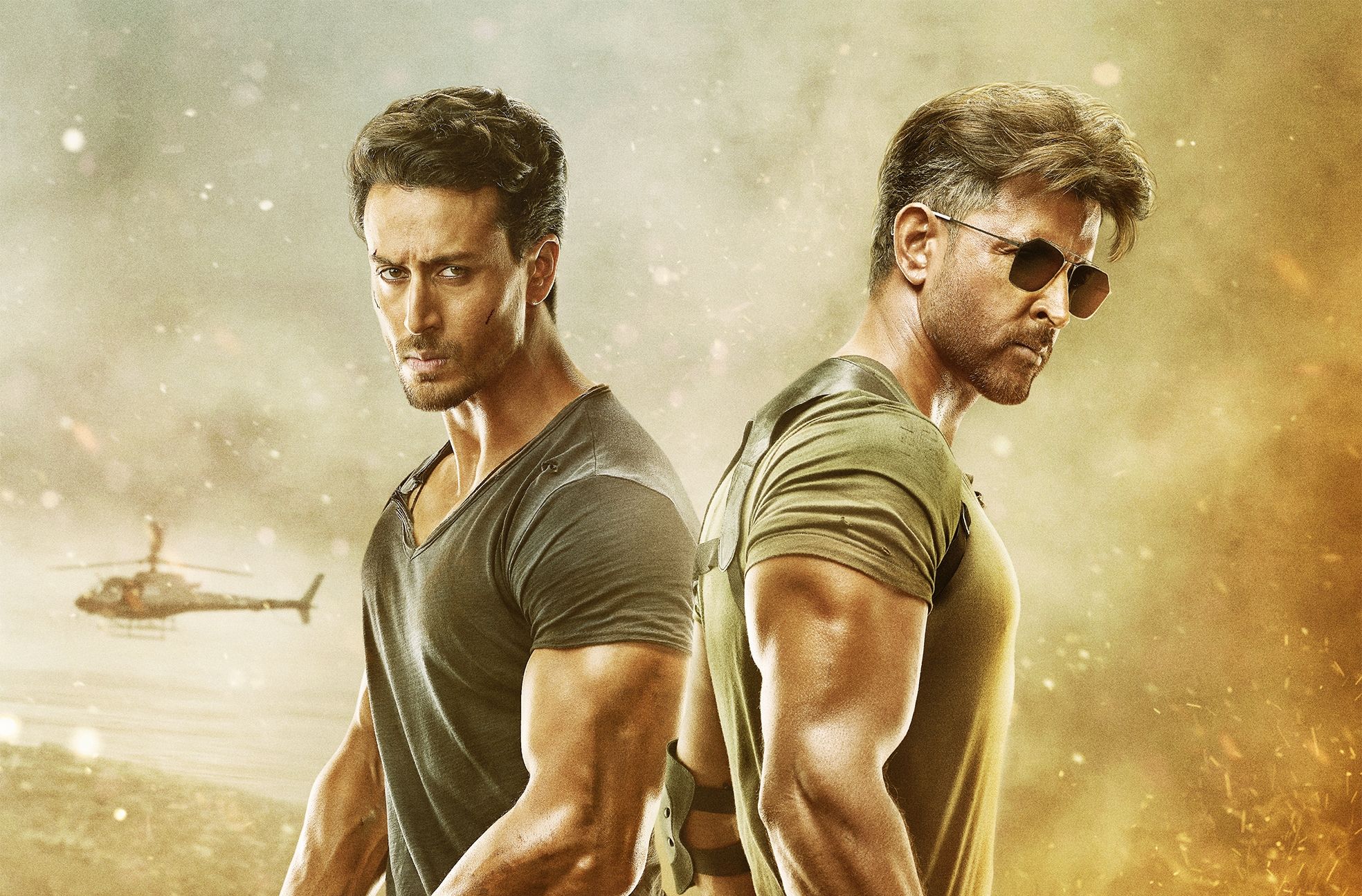 Tiger Shroff and Hrithik Roshan in War
Many bullets and bombs (and a Holi song in the middle of nowhere, with club lights and background dancers) later, Hrithik is now being hunted by the Indian Army. Khalid is in hot pursuit. Because they're all trying to figure out - why has this great, magnificent, beautiful man - oh, I mean soldier - gone rogue?
The Fault in 2019's Bollywood films:
For a moment everything in the film reminded me of Kesari. The evil Muslim villains (Kabir is chasing a man named Ilyasi who is a terrorist) who are butchering women, offering prayers, saying 'Salam' (it's actually Assalam o Alaikum, please consult Muslims when you're writing Muslim characters, guys) and generally proving that they're either ready to die for the country or almost about to blow the country up. The only gray (and very short) character in the film belonged to Vaani Kapoor who played Naina. She was the honey trap for the audiences - oh I mean the villain.
The Good Stuff:
The good news is that despite the gaping holes in the screenplay (some of the plot points will remind you of bad soaps of the mid-2000s), the film is still paisa vusul. Some stellar action sequences and crisp cinematography by Ben Jasper, the film stays relevant and focused on its main theme: deception. It's only when it relies on the Islamic terrorism bogey and the giving away the plot fairly soon, is when the film becomes insufferable. Tiger and Hrithik do their best to bring comedy and drama to this ride and they succeed, for the most part.
The Verdict:
No one can stop you from watching this if you are a) a Hrithik/Tiger fan and b) if you're into deliciously bad action films. It's Kesari meets Face/Off meets all those generic Steven Seagal and Richard Gere films that weren't boring and sporadically stylized enough to keep you on your seat. Watch the trailer of the film here.