Bollywood News
Wait! What? Have Simi Garewal and Karan Johar Fallen Apart?
The two talk show hosts might have had a fall out!
One thing that's common between Karan Johar and Simi Garewal is their flair to host amazing chat shows. With Simi's show, Rendezvous with Simi Garewal, being the first of its kind to rule television sets in the 1990s and 2000s, Karan soon decided to follow suit with his controversially entertaining chat show, Koffee With Karan.
Reports suggested that all wasn't well between Simi and Karan, referring to a clash they had because of their shows being similar to each other. While these were only rumours until now, a recent tweet by Garewal, has brought light onto the matter, proving that the feud between the two is for real!
She tweeted, "After I finished hosting IFFM Awards @karanjohar told Festival Director 'Next year I want to host the awards'! Another takeover?!" Uh-oh! Take a look at the post, and the comments it attracted. With some fans rooting for Garewal to make a comeback next year, others were rather brash, referring to Karan as 'cheap' and 'lousy'!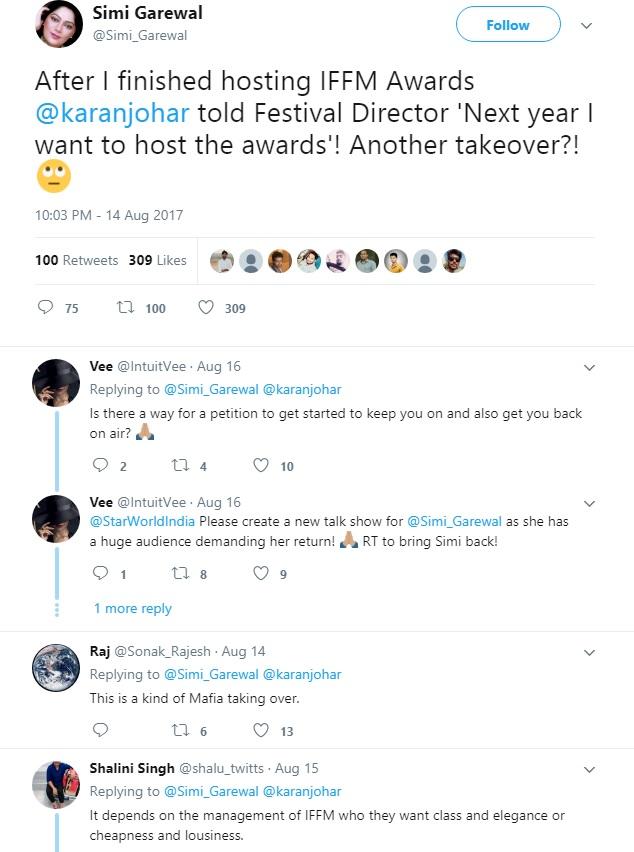 Garewal has been hosting the Indian Film Festival Melbourne Awards since its inception and is clearly in no mood to pass on the baton to Johar.
Commenting on Karan's completion with Simi, a prominent actress revealed to Bollywood Hungama, "He has a thing about Simi Garewal. He feels he can take on her elegant eloquence and beat her at it."
Well, we don't know about Karan taking over her elegance, but we sure do hope this feud comes to an end soon!