Bollywood News
Upen Patel and Karishma Tanna's Media Gimmick Has Ruffled Some Feathers!
Good cause or a publicity stunt? Read on to find out!
The inseparable UpMa, as the celebrity couple Upen Patel and Karishma Tanna are fondly called, may have ruffled some feathers with their latest media gimmick! The celebrated couple who are extremely popular on reality dance show Nach Baliye 7 have impressed all the judges and literally have them eating out of their palms, but the couple tried to pull a fast one on the media, that hasnt exactly been successful in garnering much affection from that quarter!
To explain what happened let's start at the beginning. It all began with a simple tweet: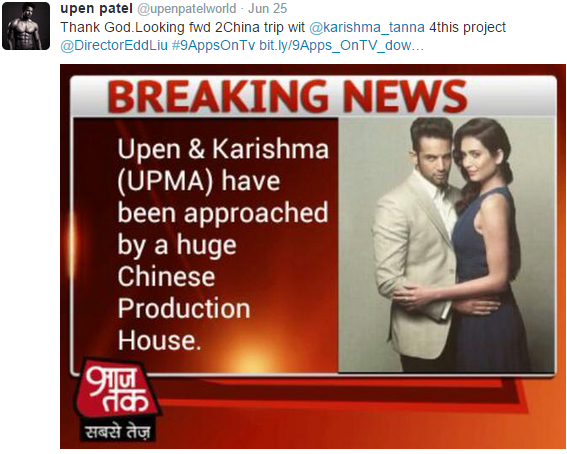 As per an article on Bollywoodlife.com,  the last hashtag reading #9appsOnTV is for a particular app meant for people owning Android phones. With this app, one can customize TV programs on their mobiles.
Interestingly, this link and hashtag was used by Karishma to break the news. She attached the link with her tweet so that people could visit it and download this app on their phone.
A few hours after, Karishma tweeted, "Confession time! V r touched by ur response bt currently r not part of a Chinese movie.V created this story for a very special reason &cause"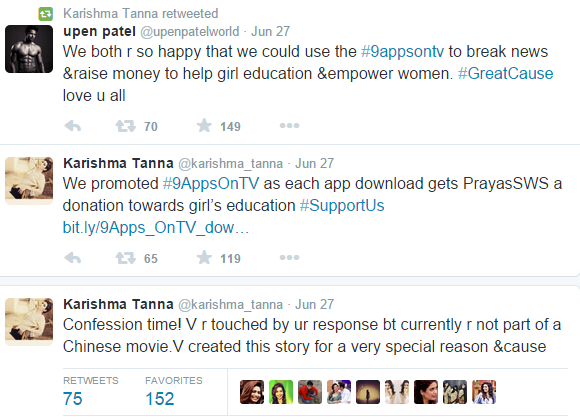 Just as folks began wondering what the cause was, Karishma and Upen both tweeted saying that the cause was to raise money for the education and empowerment of girls!
Well, while we're all in for a good cause we're beginning to think that this plug about acting in a Chinese movie is sort of lame! Would n't it have been just simpler to tweet about their cause in a fair and square manner? After all, media doesn't take to kindly on being tricked with false news!