News
Meet the Man Behind the Soon-to-be Launched Farzi Cafe in Dubai
Zorawar Kalra, the founder of Massive Restaurants, is on a mission to globalise Indian cuisine in his own way. We chat with him ahead of the launch of his acclaimed Indian fine dine Farzi Café in Dubai
Much before Sanjeev Kapoor and Vikas Khanna attempted to place Indian cuisine on the global food map, there was Jiggs Kalra who did the same with a flair and panache that was unique, to say the least. His contribution towards reviving, restoring, recording and reinventing desi khana not only earned him the title of 'The Czar of Indian Cuisine' and 'Tastemaker to the Nation' but also led him to be inducted into the prestigious Gourmet Hall of Fame, the first for an Asian. 
Jiggs Kalra's remarkable legacy is thriving and flourishing thanks to the efforts of his son Zorawar, whose signature fine dine concepts Masala Library by Jiggs Kalra and Farzi Café have carved a very special niche on the food scene in India. Call it his personal mission to place our cuisine on the global palate, Zorawar's ventures, aided by the tips of his legendary father and his own acumen, have succeeded in making the world look at Indian cuisine through a different prism. 
And now for some more good news. Farzi Café, a modern Bistro that boasts of serving up food that is global in nature but with a unique progressive Indian twist, is all set to launch in Dubai this year. How will this impact the Dubai's dining scene? Hear it from Zorawar himself!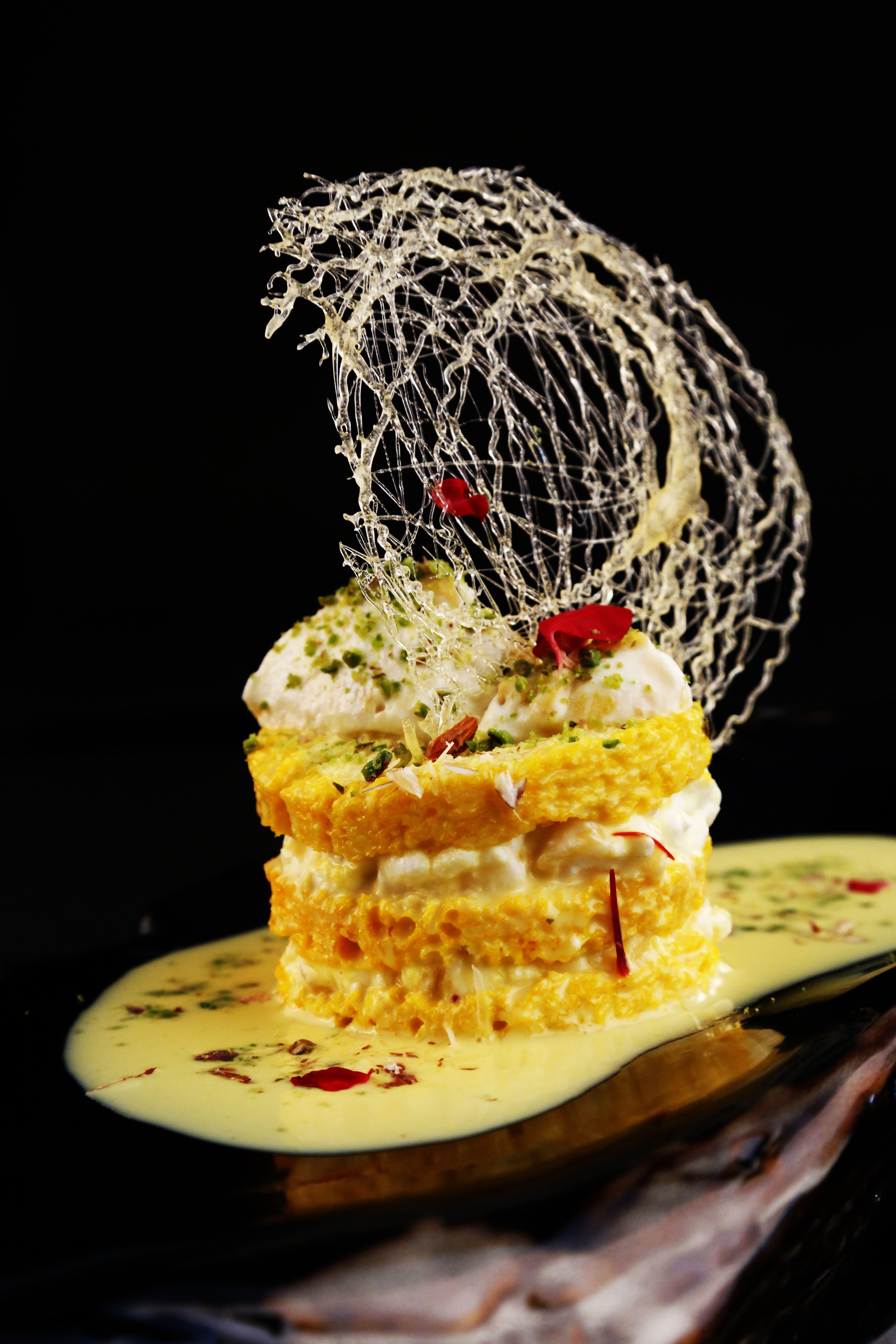 What are your earliest memories of tasting your father Jiggs Kalra's food? 
Coming from a typical Punjabi family, my grandfather was from the Indian Armed Forces and a stickler for discipline. But like any other Punjabi household, we have been associated with food for generations, with my grandmother — her mutton beliram still remains my favourite — and mother being the finest cooks I've ever known. Food was a continuous topic during our family dining conversation; as a child, I never understood that much, but the anecdotes were quite interesting! 
Growing up with him exposed us to a lot of travel across India and overseas, dining at some of the best restaurants and hotels as well as exploring local cuisines in those countries. However, growing up with a legend in the family has a price which one needs to pay. 
Why would you say that? 
Well, though dad didn't join the armed forces, our lifestyle was no different. It was highly disciplined with specific timings that we had to follow. I was happy to see him on screen during the period. His show, Daawat, which probably was the first ever reality show on food, would be on air, but we would miss him around at home. It wasn't until one day when someone remarked that I was "Jiggs Kalra's son" did it dawn upon me the celebrity status of my father. Much against popular perception, dad isn't a chef and nor has he had any formal training to be one. Over the years, during a personal mission he had undertaken to restore and revive the legacy of Indian food (purely out of his penchant for the cuisine and his disappointment on the "destruction" it faced across many quarters), we got to try many dishes, which weren't even heard of in those days. One such dish was the galawat ke kebab, the revival of which has been attributed to him and has a story behind how it was almost lost in time, if it wasn't for him.
What are the lessons you learnt from him as far as food and the business of food are concerned? 
My father is a treasure trove of knowledge on anything related to Indian food! Sometime back, I happened to ask him about the kind of rice best suited to make pilaf, and before I could say anything else, he told me the names of seven rice varieties, many of which I never knew even existed. That's Jiggs Kalra for you! Even with the challenges he faces today, he doesn't have to depend on Google or any other material to instantly come up with inputs on food, irrespective of the cuisine you would talk to him about.
When I decided to start my own venture, it dawned on me that I had big shoes to fill. Everywhere I went, everything I did, and to some extent still do, gets compared to dad. I have leaned heavily on my parents, especially my father for advice. But it wasn't easy. He had his ideas and I had my own vision. I have always maintained that he is the best menu planner the country has and hence, soon we found a mutually agreeable ground to cohesively coexist, where he would plan the menu while I executed it, keeping in mind the audience and the economics of running a restaurant. This partnership exists till date, where dad is the culinary mentor for all the brands owned and operated by Massive Restaurants and helps us develop and fine-tune the cuisine served. There isn't one day that goes by when I don't continue learning from his vast experience. 
What made you bring Farzi Café to Dubai? 
Simple. Dubai forms one of the key centres of modern international trade and leisure and a hub of gourmet cuisine. It not just has remarkable infrastructure and presence of almost all international business houses; it is also the perfect melting pot of cultures and traditions, making it a true global city.
 Additionally, there are quite a few similarities between the culinary cultures of the Arabian Peninsula and India, making it a preferred destination for the first phase of our international expansion. 
From among Masala Library and Farzi Café, what made you choose the latter to bring to Dubai? 
While international expansion of our brands have been on the cards for a while, and we almost launched Masala Library by Jiggs Kalra in Dubai last year if it wasn't for an unfortunate experience that we faced, we felt that this time was right for us to introduce our funkier, quirky dining concept Farzi Café. Farzi Café is all about making dining out fun and interesting, while offering uniqueness through its culinary innovations, focusing on the dining traditions of the region it is introduced in. Therefore it is a modern Spice Bistro which has undergone extensive research and development and incorporates cutting edge cooking techniques to craft a one-of-its-kind experience. Adding a new dimension, the guests will experience Arabic influenced global cuisine in a way that will bring about new levels of excitement to the cuisine.
What was the idea behind the concept of Farzi Café? 
 The idea behind Farzi Café was born out of observation of largely the Indian dining space and consumer behaviour. We realised that whenever we chose to dine out, Indian cuisine always featured at the bottom of the pyramid of our choice of cuisine, a trend which always intrigued me personally. As an avid lover of the strength Indian food offers, we have always believed that it is up to us Indians to make the effort to elevate Indian food and reintroduce it to the world in its modern avatar while retaining its traditional roots, and this had to begin from our homeland. The endeavour to bring Indian cuisine back in vogue for modern day, well heeled, discerning diners and reintroduce it to the world, gave birth to Farzi Café, which is not just known for its innovation in cuisine and mixology. 
While Indian cuisine has made a huge impact on the world culinary scenario, where do you think we lack? 
The impact of Indian cuisine on the rest of the world can be seen with the presence of innumerable restaurants / cafés / dhabas serving various varieties of the cuisine in all the key culinary districts of the world. Rotis, Tikkas, Tandoori and Curries  have become the buzz words in the food world and the Chicken Tikka Masala is considered as the National Dish of the UK! 
However, mostly, the concept of Indian cuisine outside of India, is focused on the northern part of India and does not necessarily represent the culinary landscape the country has to offer. Whether it is the by-lanes of New York or the upmarket Regent Street in London or Tsim Sha Tsui, a major food district in Hong Kong or simply the dining options in Australia, New Zealand, South Africa and so on….that's the impact the cuisine has had on the world. Yet, despite having such a global presence, the cuisine has lacked authenticity, standardisation and a sense of panache. I think the reasons for this are a few – no record keeping of recipes, every royal khansaama chose not to share their secret recipes with anyone thus killing the cuisine; presence of numerous regional cuisines, with sub and tribal cuisines, and more importantly non-Indians showcasing the food in the name of Indian cuisine. As a unified region, we have never focused on taking pride in our cuisine and presenting it in the right manner to the rest of the world. 
What is the quintessential difference between the progressive and modern cuisine? 
It is imperative for us to understand the difference between Fusion Cuisine and Progressive Cuisine while talking about innovation. Some years back, restaurants successfully introduced the concept of fusion cooking and now conscious efforts are being made to take various cuisines to the next level adopting the concept of Progressive Cuisine. Fusion cuisine combines elements of various dining traditions while not fitting specifically into any and has been in existence for many years, whereas progressive cuisine focuses on preparing and serving traditional cuisine, while using ultra-modern culinary techniques like molecular gastronomy and contemporary presentations, showcasing the food in a whole new avatar. It is a relatively newer concept offering patrons a true avant-garde dining experience.
But there has been a huge change in recent years with interesting innovations carried out by talented chefs…
Yes, I am glad that we have made conscious efforts towards taking a more modern approach in preparing and presenting a completely renewed Indian cuisine experience to diners from across the globe, thereby actually showcasing its true strength and vastness.
You are often credited with making Indian cuisine 'cool'. How exactly would you define 'cool desi food'?
(Laughs!) That is truly humbling to hear. I wouldn't really say that I've made Indian food cool, per se, what the team has definitely done is of showcasing the robustness of Indian cuisine, making it more appealing to today's generation.
Are you a good cook yourself? 
Not at all! And the only reason for that is because I truly lack the patience for the art of cooking. I make, at best, a pebble smooth gourmet omelette, which I picked up for survival during college in Boston, sometimes for my kids.
RAPID FIRE 
•
Favourite food…
Indian and Japanese, any day, any time, any place
•
Your favourite Indian restaurant outside India…
It's an unfair question actually; I can't be unbiased (laughs!)
•
The Indian dish that has been given an innovative twist…
There are many, but a few would be:
•

Galouti Burger at Farzi Café, Gurgaon
•

Bombay Bhel Version 2.0 at Farzi Café, Gurgaon
•

Karela Calamari at Farzi Café, Gurgaon
•

Ras malai tres leches at Farzi Café, Gurgaon
•

Pesto Kebab at Masala Library by Jiggs Kalra
•

Bhindi Jaipuri at Masala Library by Jiggs Kalra
•

Braised Lamb chops at Masala Library by Jiggs Kalra
•

Jalebi Caviar at Masala Library by Jiggs Kalra
•
Your comfort food…
a home cooked, gourmet meal by my wife