News
UAE Weather: Fog Leads to Low Visibility in Dubai and Abu Dhabi
Fog blanketed many parts of the UAE on Sunday morning, especially in Dubai and Abu Dhabi, with visibility as low as 50 metres in some places. Learn more
The UAE witnessed a foggy morning on Sunday, causing poor visibility of less than 1,000 metres on the roads, especially in Dubai and Abu Dhabi. The National Center of Meteorology (NCM) issued a yellow and red weather alert in internal and coastal areas. Al Ruwais and Sweihan in Abu Dhabi, the area around Al Ain airport, Al Maktoum International Airport, Al Minhad and other areas of Dubai were blanketed by a thick fog in the morning till 10 am. The NCM advised all drivers to be cautious while driving and to follow all traffic regulations. Abu Dhabi Police also issued a similar warning, asking drivers to be careful about the modified speed limits displayed on electronic boards.
Meanwhile, Dubai Police tweeted that due to the foggy conditions in Abu Dhabi, trucks would not be allowed to pass "until further notice." This decision was taken to reduce the chances of traffic accidents.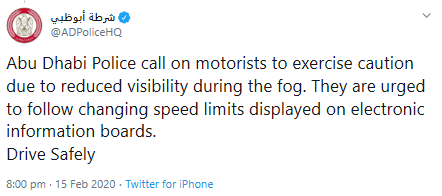 Motorists witnessed slow moving traffic on E11 between Abu Dhabi and Dubai, with visibility as low as 50 metres in selected places. However, roads within the city of Abu Dhabi were clear.

Skies across the country will remain partly cloudy during the day while temperatures are expected to be around the range of mid to high 20s in Dubai and Abu Dhabi. In the internal areas they are expected to fall to 12°C, to 13°C in the coastal areas and to 6°C in the mountains at night.

Winds are expected to blow continuously at a speed of 18-30 km/h, occasionally reaching a speed of 40 km/h. Conditions are predicted to be rough in the Arabian Gulf while the Oman Sea is expected to be calm. The humidity level in the country is expected to increase during the night with similar foggy conditions expected on Monday morning, especially in the western areas.