News
UAE Rainfall: Dubai and Abu Dhabi to Experience Cloudy Weather, Light Showers Again
Dubai and Abu Dhabi may yet again receive light rainfall on Monday night, according to the latest forecast by the National Centre of Meteorology
After a few days of stable weather, Dubai and Abu Dhabi are experiencing partially cloudy weather again, which is expected to lead to light rain showers on Monday night. The temperature in Dubai is currently around 18°C and 19°C in Abu Dhabi. It is expected to peak at 26°C in both the emirates while humidity levels will increase on Monday evening and Tuesday morning, according to the latest forecast by the National Centre of Meteorology (NCM). As a result of the humidity, residents are likely to experience mist and foggy weather on Tuesday morning, leading to low visibility on the roads. The Arabian Gulf and the Sea of Oman will be moderate to rough today. 
During the day, winds are expected to blow continuously at a speed of 25-30 km/h, occasionally reaching around 45 km/h. Similar weather is expected in the northern parts of the UAE. According to the latest reports, the Jais mountain in Ras Al Khaimah is currently experiencing rainfall.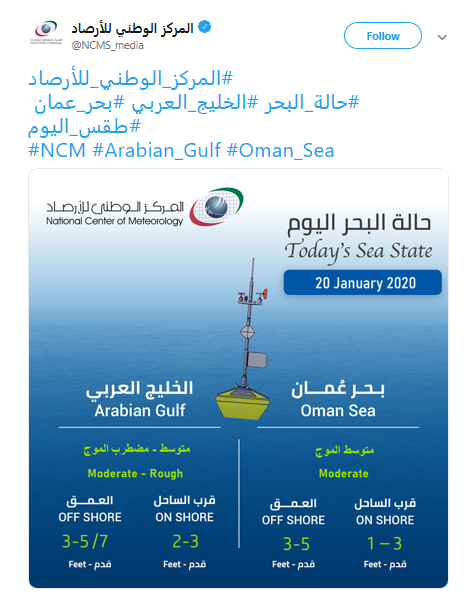 The UAE has experienced very heavy rainfall this month, which led to the flooding of many roads, school closures, flight delays, etc. The country's cloud seeding operations have boosted the amount of rainfall received by up to 35 percent. According to a Gulf News report, Omar Al Yazeedi, the director of research, development and training at NCM, said, "There is [still] no technology to measure the cloud seeding results precisely, so I cannot tell you how much a cloud will rain on its own and how much seeding will help [increase precipitation]. But cloud seeding gives 30 to 35 percent increase in precipitation, and we try to get the maximum amount." 
The UAE has been conducting cloud seeding since over a decade. The country launched a research programme for rain enhancement science in 2015, and has so far allotted a total of AED 55 million to nine projects.