News
UAE Rain: Drivers Face Traffic Congestion Due to Waterlogging and Accidents
Dubai Police has urged drivers to be very cautious when driving in rainy weather and to maintain a safe distance from the other vehicles. Learn more
Heavy rainfall continues in the UAE. Dubai, Sharjah, Ras Al Khaimah and Fujairah received heavy showers on Tuesday night, 14th January. They also witnessed stormy weather in the early hours of Wednesday morning. The rain has led to waterlogging on several roads across the country. Heavy traffic, accidents and tailbacks have been reported on Dubai-Sharjah roads and on the main highways. The Dubai Police issued a warning after several accidents led to traffic jams. In one tweet, Dubai Police wrote, "Traffic jam on Sheikh Mohammed bin Zayed Road towards Dubai from the exit of Al Warqaa due to waterlogging of rain."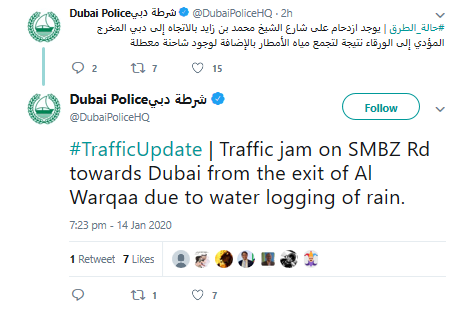 In another tweet, Dubai Police reported a traffic jam due to an accident on Sheikh Zayed Road after Al Maktoum roundabout towards Dubai. Another traffic jam was reported on Al Ettihad Rd towards Galadari intersection. The police also advised drivers to leave safe distance between their vehicles and the vehicles in front of them.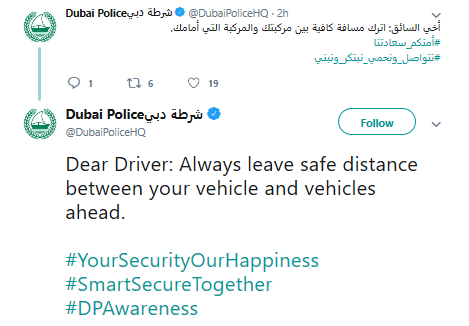 On Tuesday night the Roads and Transport Authority (RTA) in Dubai reported a  smooth traffic flow in the emirate despite "continued instability in the weather and sporadic rains in the city." The RTA also reported that there were some pools of water on the roads this morning and shared that Emergency Response Teams had been mobilised on ground to monitor the situation.
More rainfall is expected in the country today and tomorrow. The National Center of Meteorology (NCM) has issued an orange alert for residents to keep monitoring the weather forecast. Rough seas and strong winds, blowing at a speed of  60km/h and carrying dust, are expected during the day. Temperatures across the country are between 12°C to 17°C. According to reports, cloud seeding operations are still taking place in the UAE which have contributed towards increasing the amount of rainfall received this year.