Bollywood News
Have the Newlyweds Karan Patel and Ankita Bhargava Hit a Rocky Patch in Their Marriage?
What! Not another one!
Yeh Hai Mohabbatein hero Karan Patel was for the longest time in a steady relationship with Bigg Boss participant Kamya Punjabi. And just when everyone was expecting them to make an announcement, Karan Patel married Ankita Bhargava and left everyone speechless!
Rumours about his relationship with Kamya soon quietened since Karan had not admitted officially that he was in a relationship with Kamya and the duo had always maintained that they were "just good friends"!
But the rumours mills are working overtime now as whispers of some trouble in paradise gave way to some talk about issues in their marriage.  Thus, picking up the last resort Ankita Bhargava wrote an open letter recently to the media, which in her opinion is out to destroy her marriage, clarifying that all's well between the couple. Mrs Karan Patel writes explicitly, "We don't come from backgrounds where Divorce, Separation and Extra maritals have ever taken place! Itz not in our System!"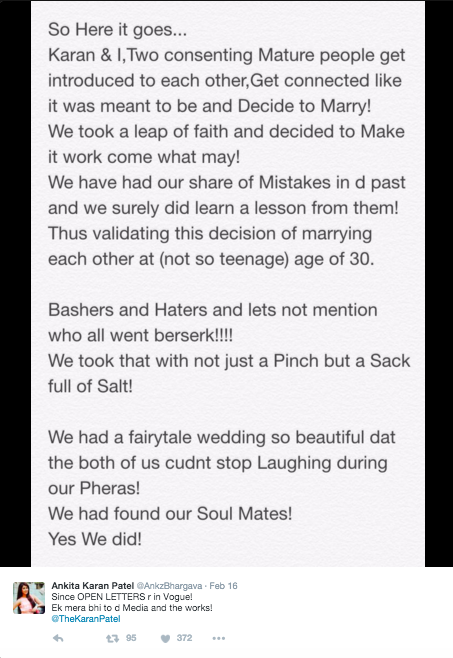 Following Ankita's tweet, Karan too tweeted that all's good and that people should believe them, instead of the gossip!
From what we can tell, these two sound like fighters! All the best to them!