News
Traditional Ramadan Recipe: Hyderabadi Nihari Gosht by Chef Satish Arora From MAHEC at Le Meridien Dubai
Top Indian chef, Satish Arora shares his favourite Ramadan recipe for you to try!
Ramadan in the UAE is very different from the one back home in Pakistan or India. In Dubai, it's all about lavish iftars in hotels (delicious no doubt), glamming up for the evening or throwing fabulous get-togethers for friends and family. However, back home, an iftar is a true celebration of food and the traditions surrounding the month of Ramadan. Indeed, if you want to feel right at home during the Holy Month, our suggestion is to give the Arabic delicacies - a staple feature in every hotel iftar menu - a break and make some authentic desi delights at home.
Masala! spoke to top chef, Satish Arora, the mastermind behind MAHEC at Le Meridien Dubai Hotel, to guide you through the process...
Favourite Ramadan Memories
Being inquisitive, I constantly try to explore different cuisines, cooking methods and am always craving good food. I am inspired by regional and culturally inspired dishes and the best flavours of the Hyderabadi and Mughlai cuisines can be sampled during Ramadan in India. Often, I would take my chefs with me to Bhindi Bazaar and Mumbra Masjid in Mumbai to sample a variety of local delicacies that are available only during Ramadan. Despite being coated with a layer of oil, it's hard to resist the rich flavours of Paya Soup (bone marrow soup), Nihari Nalli (baby lamb shank), Surva Murgi, Kichda, Haleem, Gosht ki Chaamp (Lamb rack). Phirni served in earthenware pots, Kulfi Falooda and Malpua with Sera and Rabdi still make my mouth water! 

The ideal iftar menu is
Since fasts last for 12 hours or more, it is important that iftar dishes should not be too heavy and must be consumed gradually. An ideal iftar menu should include Ajwa dates, as they are extremely sweet and act as an energy booster, followed by coolers like Rose milk and khus mocktail. For the main course, have a variety of flavoured Kebabs cooked to perfection in a clay oven, with rice, assorted breads and multiple curries. Since no meal can be complete without a good Indian dessert, I would conclude my iftar with Kulfi Falooda.

This recipe is my favourite because
I love the texture of slow cooked lamb and the smooth, saffron enriched flavour of the Nihari gravy. Nihari is relished by diners across different age groups. Cooking lamb shanks to perfection is an art in itself and the meat of a well-prepared Nalli Nihari should be succulent and must easily slide off the bone.
HYDERABADI NIHARI GOSHT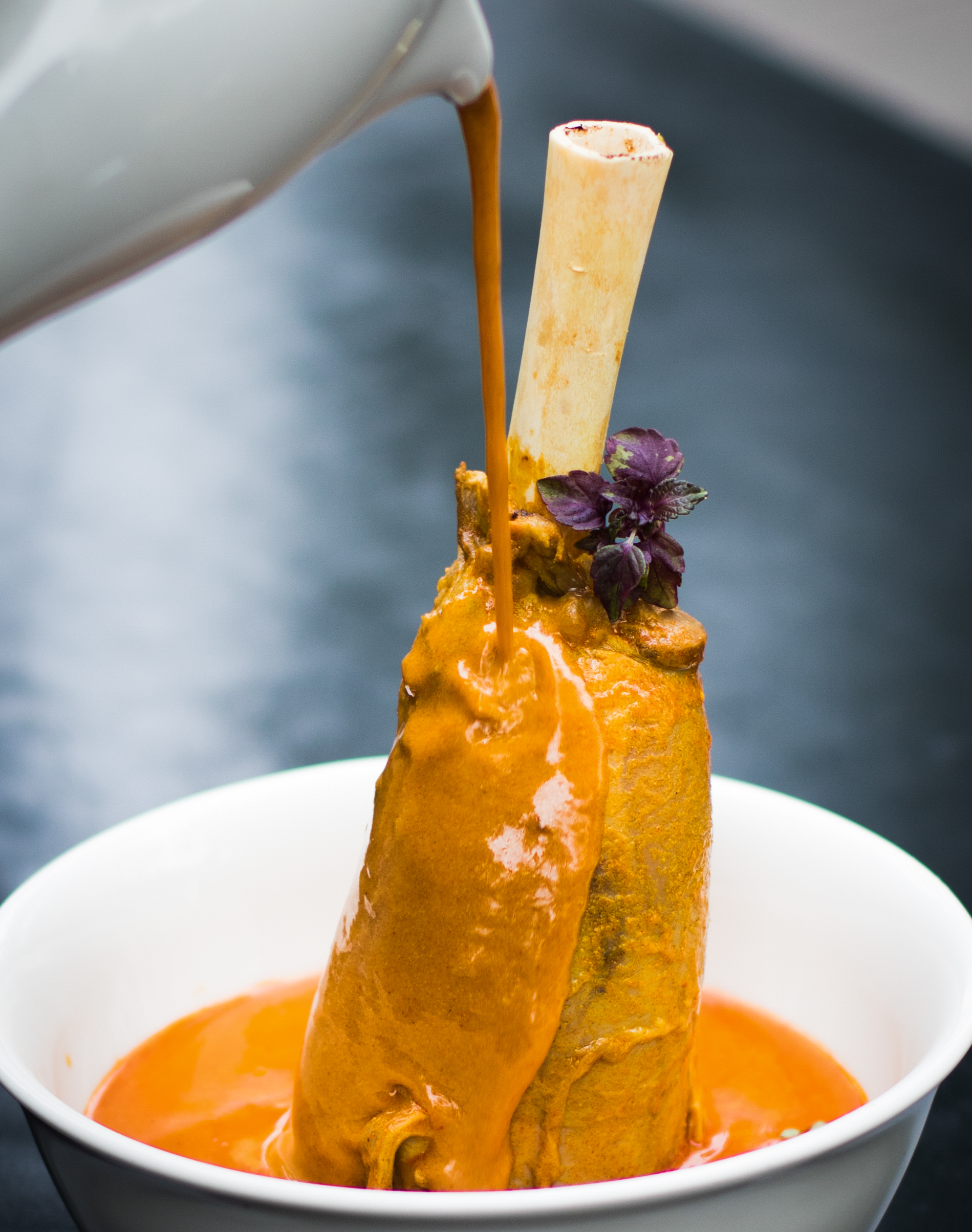 Ingredients
• Lamb shank – 1800 gms
• Ghee – 150 gms
• Oil – 100 gms  
• Sliced onion – 920 gms
• Ginger garlic paste – 360 gms 
• Coriander powder – 16 gms
• cumin powder – 08 gms
• Turmeric powder – 02 gms
• Red chili powder – 06 gms
• Whole green chili – 40 gms 
• Yoghurt – 800 gms
• Rose water – 80 gms
• Kewra water – 80 gms
• Saffron – 01 gms
• Cinnamon powder – 02 gms 
• Garam masala powder – 02 gms                                      
For Nihari masala
• Mace – 10 gms                                                                                                                                     
• Cloves – 10 gms
• Fennel seeds – 40 gms
• Cinnamon sticks – 10 gms
Method
• In a heavy bottom pan, heat ghee and oil. Add sliced onion and sauté. Add ginger-garlic paste and cook.
• Add coriander powder, cumin powder, turmeric powder, red chili powder, salt, Nihari masala powder and water.
• Add lamb shank, yoghurt and whole green chilies. Cook till lamb shank start cooking from the outside.
• Now add Lamb stock and cover it with silver foil and cook in the oven for 90 minutes.
• Now take out from the oven and remove  cooked lamb shanks from the sauce.
• Blend the remaining sauce and strain it.
• Put lamb shank back into sauce. Add saffron, rose water, Kewra water, cinnamon powder and garam masala powder, Once it starts boiling, check the consistency of sauce and remove from fire.
• Check seasoning and serve hot with rice or Bread.