Tollywood Superstar Vikram's Son Dhruv Arrested by Police
Dhruv, the son of actor Vikram was arrested on charges of driving his car rashly and injuring an autorickshaw driver on T.T.K. Road in Alwarpet during the early hours of Sunday
The son of Tollywood superstar Vikram, Dhruv, was arrested by police for rash driving. The Adyar traffic investigation wing arrested the son of actor Vikram on charges of driving his car rashly and injuring an autorickshaw driver on T.T.K. Road in Alwarpet during the early hours of Sunday. He was later released on bail, reported the Hindu.
According to the police, Dhruv, the actor's son was returning home through T.T.K. Road, after meeting a friend around 4 a.m. on Sunday. "He lost control of the vehicle and rammed the vehicle against an auto rickshaw parked by the side of the road," said a senior police officer. Kamesh, the auto driver, who was pasting posters on the wall was injured in the accident. Ban His vehicle was also damaged. After the accident, the car went and hit a wall a little distance away.
In a release that was reported by The Hindu, M. Surya Narayanan, President, Actor Vikram and Dhruv Fan Welfare Club, claimed that Dhruv himself took the injured auto driver, later identified as Kamesh, to the Government Royapettah Hospital. Meanwhile, a video shot after the accident went viral on social media. It shows a youngster named Rahul who, the police say, was with Dhruv in the car, arguing with the police claiming he was not in the car, The Hindu reported.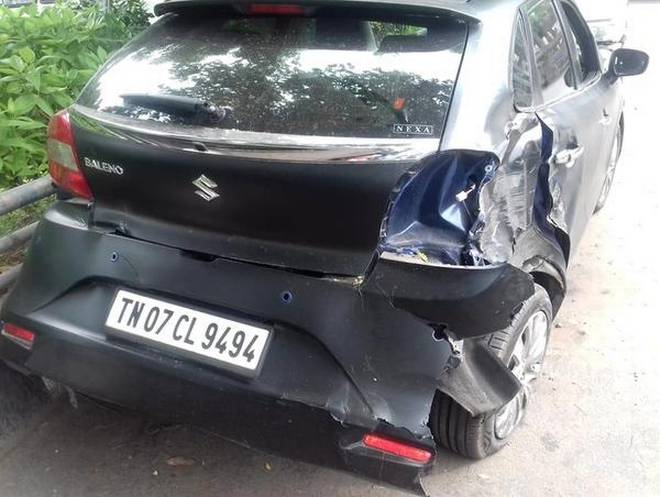 Picture courtesy: The Hindu.