Bollywood News
Tiger Shroff's Comment Leaves Tara Sutaria and Ananya Pandey in Shock on Koffee With Karan
Find out what the handsome hunk Tiger Shroff said about his 'Student of the Year 2' co-stars Tara and Ananya that left the divas mouth open with shock
What makes Koffee with Karan so appealing? Is it the host, the witty and controversial Karan Johar? Is it the unmitigated gossip session that goes on for an hour? Or is it the vicarious pleasure of seeing A-listers crack subtle and not-so-subtle digs at each other, giving rise to entertainment headlines for the rest of the week?
On the latest sneak peek into the next episode of Koffee With Karan, the ace filmmaker and host Karan Johar reveals that the star cast of the upcoming Bollywood film Student Of The Year 2, Tiger Shroff, Ananya Panday and Tara Sutaria will be making their mark on the Koffee Kouch by sharing pictures from their photoshoot and later in the evening, the promos featuring the stunning trio were making headlines on the internet.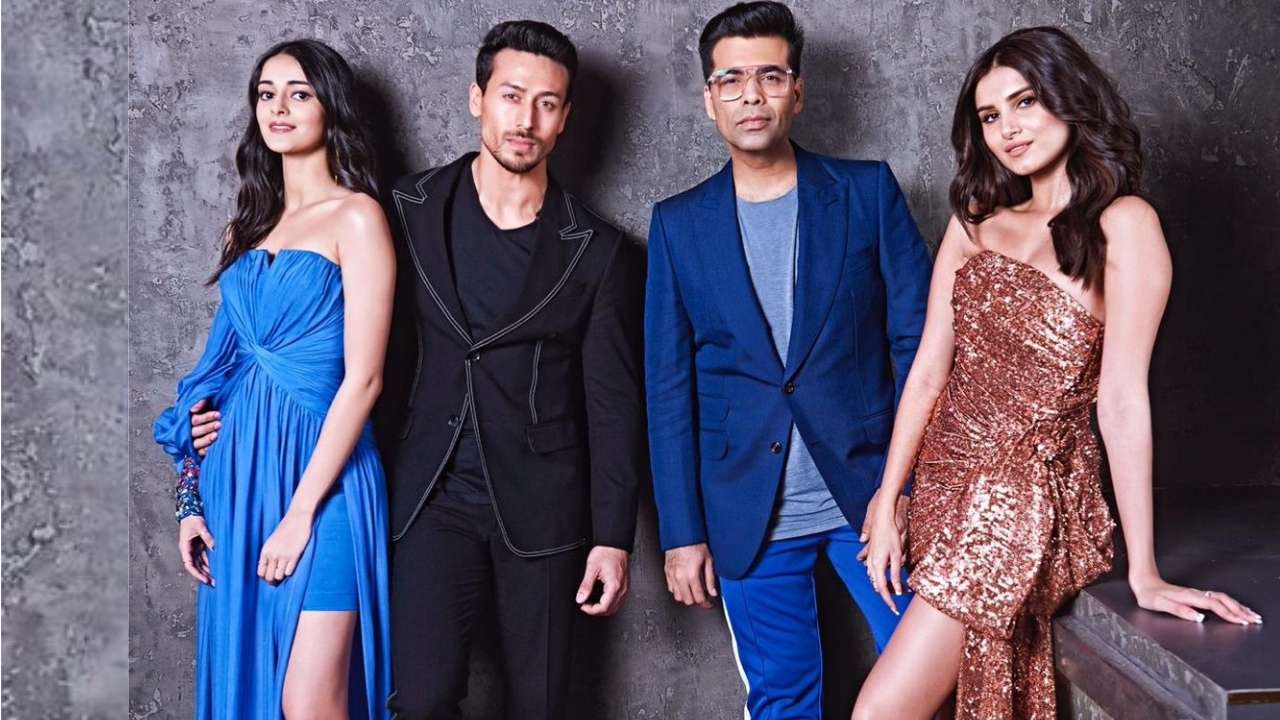 Ananya Panday, Tiger Shroff, Karan Johar and Tara Sutaria
Tiger Shroff, Tara Sutaria and Ananya Panday, 'the new students on the block' as filmmaker Karan Johar likes to call them, appeared on the most entertaining and controversial chat show Koffee With Karan season 6. The video clip shared by the channel Star World  India sizzled with fun and controversial secrets being revealed. In one of the videos, host Karan Johar asks Tiger Shroff that if he believes that his co-stars Ananya and Tara are fake with each other, to which Tiger responds saying 'Absolutely'. This surely leaves the divas mouth open with shock. Later, the handsome hunk even asks them 'Did you guys (Tiara and Ananya) rehearse and come for the show?', to which the actresses quickly reply saying 'NO!'.
Tara Sutaria also reveals that she doesn't have a crush on Tiger, but Ananya confesses she does! Tara also told Karan that the "other girls" don't seem to like her too much. We wonder why so? When she along with Ananya has clearly painted a very rosy picture for the world.
On the other hand, when Karan asked who takes longer to get ready, in unison the divas replied, 'TIGER'.
In another promo, Karan tells Ananya that a certain section of people question that why is Ananya Panday on the show Koffee With Karan, to which the newbie replies that she agrees with them and that she hasn't done anything as yet to deserve that. Additionally, Tiara reveals that though she doesn't have a crush on the 'current student' but she does on 'an ex-student'. Well, that leaves us with two options - Varun Dhawan and Sidharth Malhotra!
Will it be another controversial episode for Koffee With Karan? Well, we shall wait until next week to find out!