Bollywood News
Throwback Tuesday: Check out this Cute Image of Javed Akhtar and Shabana Azmi
One of the golden couples of Bollywood
Twitter can be a great place for discovering hidden gems. Check out what RJ Siddharth from 92.7 Big FM tweeted – two images of Javed Akhtar and Shabana Azmi, as he relived their love story and companionship. The B&W images show a much-in-love couple looking tenderly at the camera and are a great throwback to an era when Bollywood stars didn't hide their relationships.
The love story of Javed and Shabana is the stuff urban legends are made of. It's said that Javed Akhtar would often visit the Azmi residence to narrate poems to Kaifi Azmi, the well-known poet and Shabana's father. It was in one of these meetings that he met Shabana. They were gradually drawn to each other. Unfortunately, Javed was a married man so nothing could come out of it. In fact, it's said Shabana's parents were against the match initially.
But the liaison continued for a few years through Javed's marriage to Honey Irani who he eventually divorced. The couple then got married in 1984 after his divorce came through. Javed had two children from Honey, Zoya and Farhan, and he remained on good terms with his family despite the separation from his first wife. Farhan and Zoya went on make their mark in Bollywood.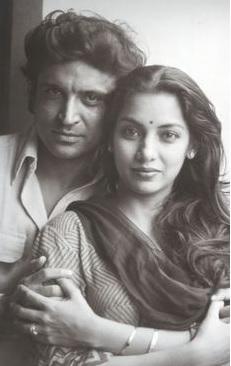 Today, Javed and Shabana have a wonderful marriage and an even deeper friendship. The poet-lyricist once said about his wife, "Shabana is basically my friend. We happen to be married. Our friendship is so strong that even marriage could not break it. We got married as people thought that you have to be married."
What wonderful thoughts!