TV/Streaming Reviews
Thora Sa Haq Episode 19: Revenge Takes On New Meaning When Zamin Is Attacked
In Thora Sa Haq, Imran Abbas and Ayeza Khan's tortured love story continues down its tumultuous path when Zamin is attacked on Rabia's command as a means of revenge
Thora Sa Haq continues to roll onwards in its dull tale of a man caught between two wives.  This show continues to rake in the ratings despite an illogical, irritating story with incomprehensible characters at every corner.  While discussing this show recently, a friend told me "I'm only sticking to it and watching Thora Sa Haq because I'm really invested in seeing Imran Abbas and Ayeza Khan actually end up together in a show.  They have never actually ended up together."  After hearing that, I realized it's true and if nothing else, that's one thing to look forward to?
In episode 19, Rabia (Saba Faisal), proving to be the plotting, conniving mother-in-law from hell, has a moment where she has nothing but revenge on her mind.  Quite honestly, Rabia needs a job as she is seen in every single scene pacing the room in anger, constantly fuming over Zamin's married life, his actions of betrayal, his "badtameezi" and basically his every move.  If she weren't his mother-in-law, one would imagine Rabia to be Zamin's psychotic stalker.  It's not possible to dislike Saba Faisal's portrayal of any role, as she's just too good of an actress.  But that being said, Rabia is a mess of a character and all she really needs is to be shown the door by her husband and daughter.  Rabia asks Rafay (Shan Baig), her nephew, to prove his loyalty by helping her teach Zamin a lesson.  Rafay is truly made of the same cloth that his Khala is made from – he has absolutely nothing else to do with his life but obsess over what his cousin's husband is doing and obsess over the fact that he's doing it with a girl he liked – a girl who had absolutely zero interest in Rafay.  Of course, Rafay has revenge on his mind for the slap he was served by Zamin months earlier when Rafay had the audacity to enter Sehar's bedroom at night – a woman who was Zamin's wife.  Rafay has an ulterior motive for helping Rabia – revenge.  While Rabia (Saba Faisal) does ultimately backtrack from her words to Rafay and asks him to call off the attack, he informs her that it's too late and this Khala-nephew duo will soon have to pay for their actions.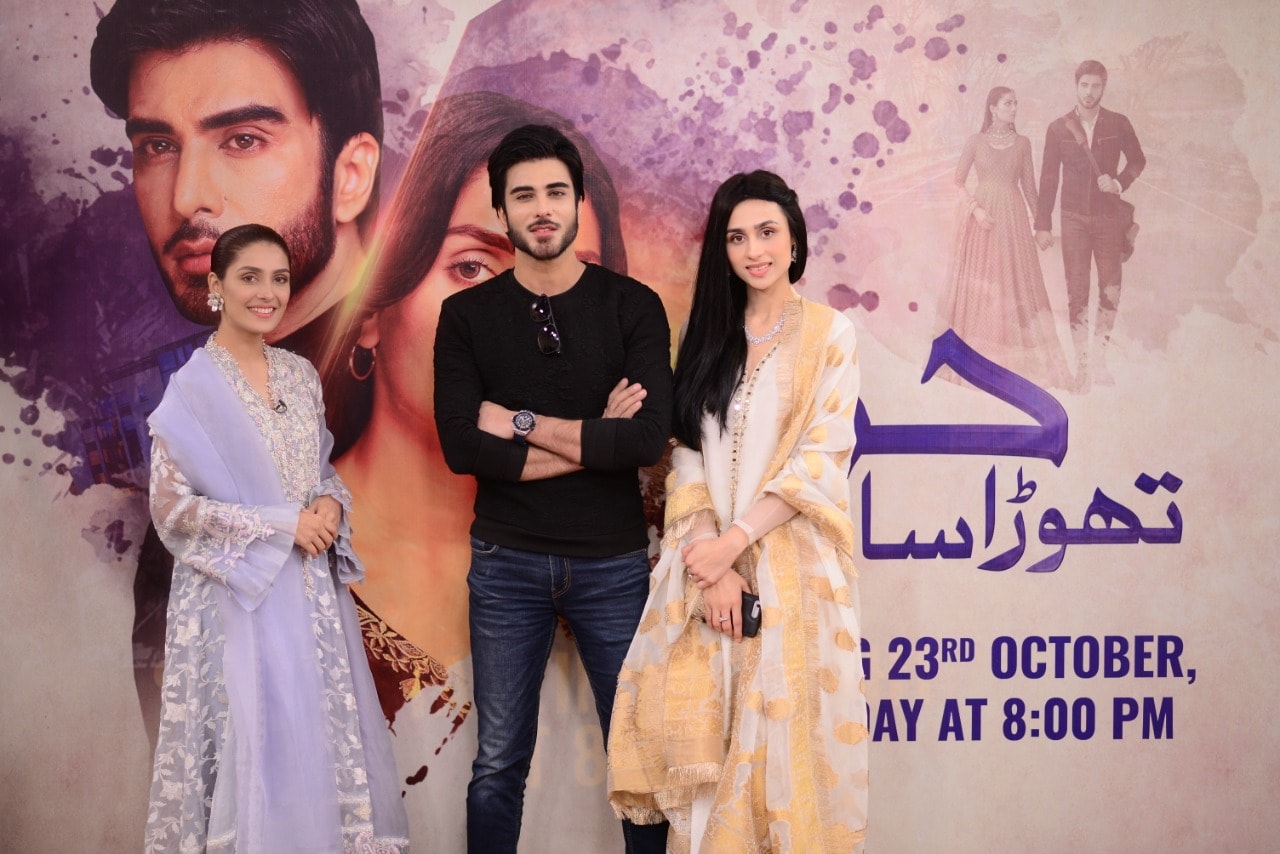 On the other end, little of interest happens between Zamin (Imran Abbas) and Sehar (Ayeza Khan), their story moving slowly.  Zamin continues to pursue Sehar and Sehar finally realizes that he deserves to be listened to.  While the two make plans together in a park, goons surround Zamin and beat him to a pulp – goons hired by Rafay and Rabia.  Sehar takes him to the hospital and sits by his bedside, proving to be a devoted wife.  On the other end, Munazza (Nida Mumtaz) confronts Rabia after overhearing her conversation with Rafay and informs her that she will no longer sit idle and support Rabia's actions, making it clear that she aims to expose her.
While up until now, it's been confusing as to who one is supposed to root for, with Hareem's (Mashal Khan) deceitful phone call, the writers have started to swing things in favor of Sehar.  It's unethical and morally repulsive to see a man like Zamin excuse his behavior and mistreat Hareem and even more repulsive to see writers try to paint Hareem into a "negative" corner despite being the innocent in the entire scenario.  Regardless, it's their show and they will do what they like, so the rest of us are along for the ride.  It's nice to see Sehar finally shed the sacrificial lamb attitude at least and it's also a relief to see Munazza finally standing up to Rabia.  While Hareem is a good person, her mother has been the cause of all her problems – and the entire family's problems.  Why the entire household allowed Rabia's bad attitude to run the show is beyond comprehension, but it's great to see that the hold she once had is now falling apart.
Episode Review:  1/5