Bollywood News
The Story Behind Sonam Kapoor and Mahira Khan's Bonding at Cannes Film Festival
The picture of Sonam Kapoor giving a peck to Mahira Khan has taken the internet by storm!
Sonam Kapoor and Mahira Khan presented one of the most endearing pictures of the ongoing Cannes Film Festival when a photograph was clicked of her landing a kiss on Mahira Khan's forehead after the red carpet arrivals. The photo took the internet by storm and everybody was seen rejoicing the reunion of sorts even on the red carpet. Sonam has been gracing the Cannes red carpet for several years now while Mahira was a debutant. Both the ladies are L'oreal Ambassadors and are attending the festival on behalf of the beauty giant.
However, there is yet another connection between Sonam and Mahira. Both have been linked with Ranbir Kapoor at some point in their lives! While Sonam was rumoured to be dating him during her debut film Saawariya (which was also Ranbir's first film), Mahira was linked with the Jagga Jasoos star last year when they were snapped in New York together, causing a huge controversy.
Whatever be the reason, Sonam was indeed gracious in greeting Mahira the way she did and the chemistry between the two ladies seems real and genuine! 
While the first image has had the internet talking, here is another picture which shows that they decided to follow each other on the red carpet of Cannes.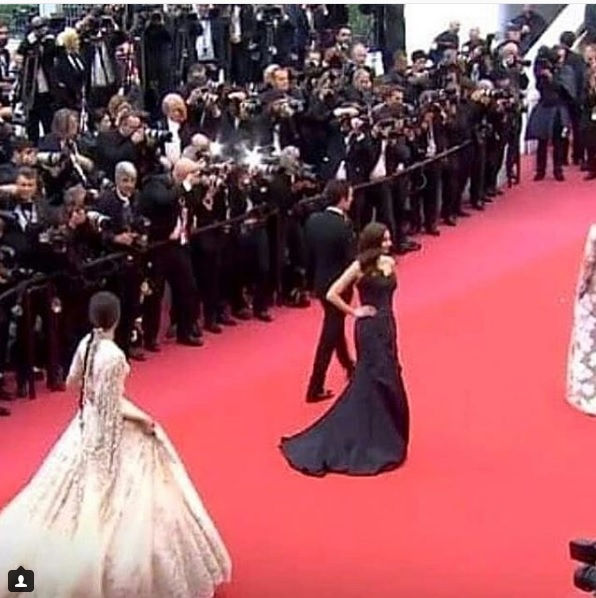 Mahira Khan
It is learnt that Mahira Khan congratulated Sonam on her recent marriage and both of them hugged and spoke for about 15 minutes.