Fashion
The Story Behind Christian Louboutin's Iconic Red Sole
The designer speaks about his love for India, exciting Indian collaborations and the Louboutin red sole
Undoubtedly the world's most celebrated footwear designer, Christian Louboutin was in Dubai over the weekend- wowing shoe fanatics in the city, with his gorgeous India inspired collection at Level Shoes in Dubai Mall.
In addition to his capsule collection for the "Dear India" campaign, the legendary designer spoke of his exciting upcoming collaboration with Sabyasachi Mukherji, along with his undying love for India. Christian's love for India was even more obvious, every time he spoke of his unique experiences and inspiration.
On His Love For India
Monsieur Louboutin spent months in India discovering cities and different cultures, being amazed along the way. He spoke of how he would wander into a store, pick up artefacts, letting them weave into his inspiration- sometimes even years later. Being a real estate enthusiast, buying a home in Hampi- an ancient village located at the South Indian state of Karnataka, is a dream- one that he plans to next conquer.
On How The Red Sole Came About
The red Louboutin sole quickly went on to become a cult, all the fashionistas around the world wanted to be a part of. With everyone pining for a pair, the red sole became synonymous to class and style and has maintained its status ever since. When asked of the history behind the legendary sole, the shoemaker had a rather surprising admission to make.
While we all imagine the reason to be well taught of and iconic, he revealed how the colour of the sole simply came about because he found black to be too boring. Speaking in more detail he shared the time when he was sketching his first pair of Louboutin's and felt like the black sole didn't do justice to the riot of colour and character of his sketch. He then quickly borrowed a tub of red nail paint for a model and began painting the sole and the rest as they say is, HISTORY!
His Iconic Collaboration with Sabyasachi
Christian took his love for India a notch higher and collaborated with Calcutta designer Sabyasachi Mukherji, to bring to life a collection that was traditional but held true to its Louboutin roots. The designer duo plan to travel to London, New York, Los Angeles, Hong Kong, Shanghai, Tokyo, Dubai, and Paris, between 11 October and 19 November this year, exhibiting their collaborative collection. Just like all his other inspiration, that came his way out of the ordinary, the designer explained how he casually strolled into a Sabyasachi store in Mumbai, bumped into the designer himself and the rest fell in place like it was always meant to be.
Having collaborated in the past too, the designers decided to make a mosaic of bits and pieces of material, to create an exclusive range of 15 women's shoe styles and four menswear styles. The combined collection also marks the 25th year of the Louboutin label.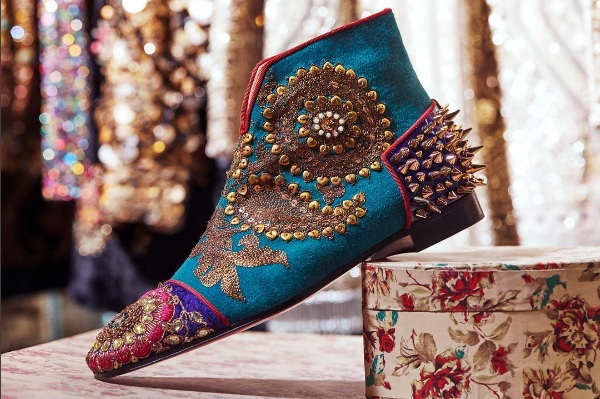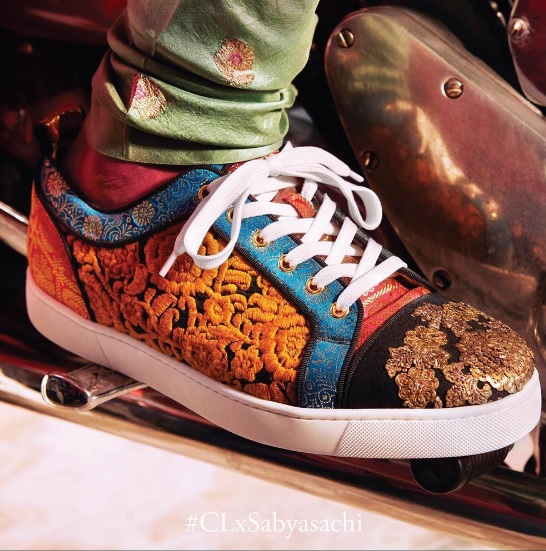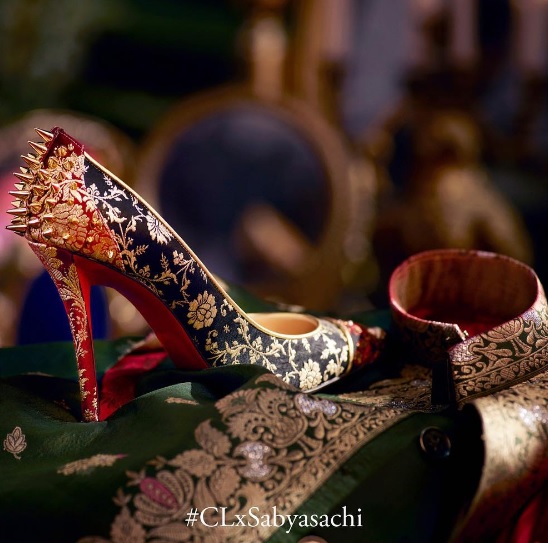 The bespoke range will be available at select stores around the world, one of which is Level Shoes, located at Dubai Mall.