Bollywood News
The Sadaf Khan Interview: ''Fawad's Opinion Matters to Me''
She is much more than a 'star wife'! Fawad Khan's better half gets candid...
She has always been reclusive and shy, preferring to shun the limelight even as her husband makes 'em go weak in the knees with his on-screen style and performances. But Sadaf Khan is not your typical 'star wife' (a term she dislikes by the way!). A hardworking entrepreneur, Sadaf brought her corporate experience to create the brand Silk by Fawad Khan which was launched recently in Dubai.
Now, for the first time ever, she opens up about life with Fawad, the pressures of showbiz and being mother to two boisterous munchkins. Presenting a few excerpts…  
How did you make a foray into designing?
Technically, I would not like to call myself a designer. I have a business degree and this is more of an entrepreneurship venture for me. Earlier, I had eight years of corporate experience with prime MNCs. With Fawad getting really busy and my kids growing up, it became essential that one of us be flexible. I always had an inclination of doing something related to fashion and I started the brand in 2012.
The main idea of naming it Silk was because Pakistan had too many Lawn brands.  I was doing something on a smaller scale but wanted to keep it premium; we registered the brand name, Silk, and the first venture we did was just a range of silk tunics, a fusion of eastern prints on western cuts, print blocking and stuff. It did well but we had to venture into different variety of fabrics. Gradually, it started developing and I started gaining experience as well. I don't have a store as yet, but I supply to many multi-brand boutiques in Lahore, Karachi and other metros, and now in Dubai.
What inputs does Fawad bring to it?
My general style aesthetic is more towards classics and not very flamboyant. But as a wife or even when I was his girlfriend, I noticed that men have a strong opinion on what they like to see on their women. Fawad is himself a very subtle man but he would immediately point out if I have too much make-up! So we thought we should have him as an endorsement of the ethos of the brand. It was natural to have him involved since I also run all my designs by him. Besides being an investor in the brand, he is also a contributing partner in a way to suggest what will aesthetically work and what not.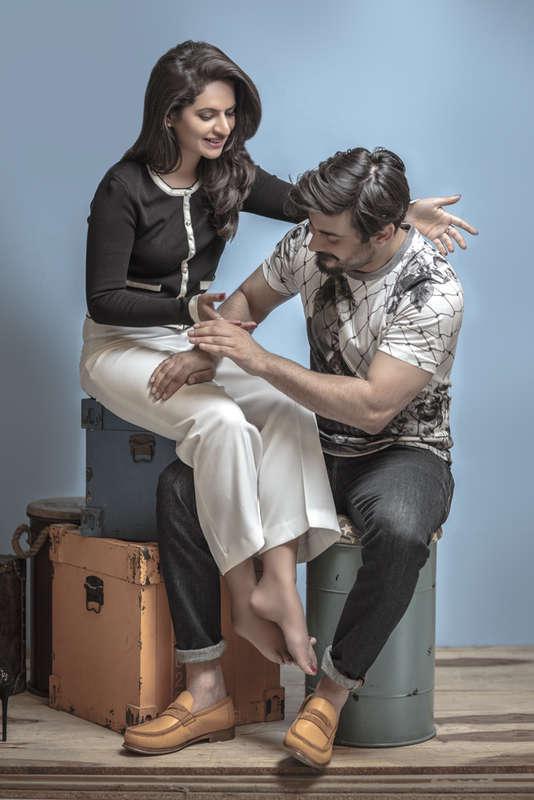 Sadaf and Fawad Khan 
Who are the designers you look up to, in the east as well as the west?
Back home, I think there is some fantastic, inspiring work going on, my favourites being Faraz Manan and Sabyasachi Mukherjee. In the West, I can't think of any one person but I love the aesthetics of Elie Saab.
What are the new trends we will see in your collection?
 I have done certain things like Kimono wraps – the top is a Kimono and we are doing a gharara pant with it. I have also made the collection to be breakable into parts. For instance, even in bridal wear, you can include a jacket over a choli which can be used again. Aesthetically, it's all very coherent.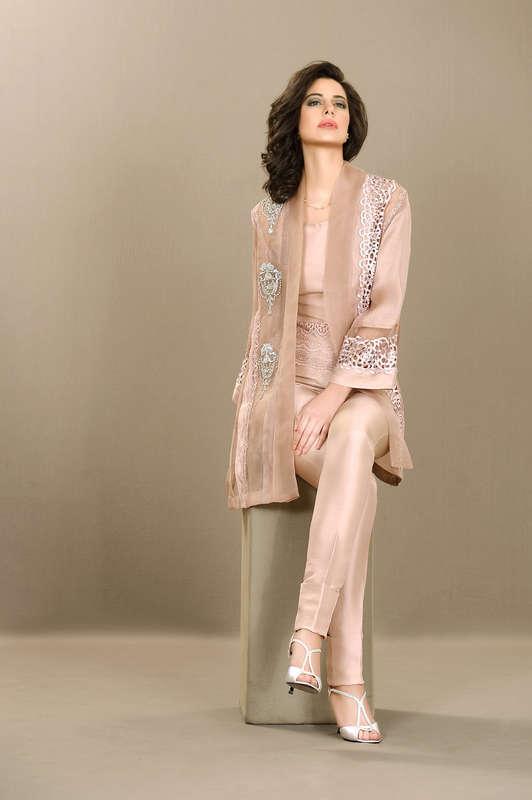 An outfit from the Silk by Fawad Khan collection 
Do you have creative differences with Fawad? Who wins the argument generally?
Of course we do! But we are very in tune with each other. I know what he likes now and generally, he agrees to what I like. He prefers keeping it simple; I think something he hates is women wearing red lipstick and red nail polish (laughs). On a serious note though, his opinion really matters to me.
Given Fawad's schedule, do you have time to sit together on the venture?
Life is easy now with social and digital media. He will whatsapp me from the store before he buys something and I whatsapp him if I make something new. So I don't think the distance or separation is that challenging. Anyway, he doesn't get into the nitty gritties but vets the overall product for me.
What's your favourite look of his on screen?
I think I loved him in Ae Dil Hai Mushkil, the rockstar look. Since I knew him when he was a real rockstar with his music band, it brought back a lot of memories.
On a scale of 1-10 how would you rate Fawad's sense of style?
10. Without the help of stylists!
Sadaf, what is the biggest challenge you have faced as a star wife?
I don't believe in the term 'star wife'. I don't know where it has come from or how it evolved. I am an educated person with a mind of my own. Sometimes I do feel it's overwhelming being associated to Fawad because people generally tend to discredit your potential saying, 'Oh you can do anything because of him'. You can do a one-time venture that way but unless you have talent backing it, you can't make a success of it. You can't make a business out of being a star wife. I guess the biggest challenge is proving yourself and creating a niche for yourself.
How is it being a mother to two children?
Elayna is just five months old, she doesn't know anything as yet. My son, Ayaan, 9, is a naughty child. He's more aware, he knows he can google himself and he's happy about it. Of late, he's also trying to be more private. For instance, he doesn't want his birthday parties online! He's aware of the consequences and that it is an invasion of our privacy. He doesn't want his baby sister's pictures to be splashed around. He gets attention but I think he's turning out to be a really good child.
When I had Ayaan I was working for a corporate. Ayaan was a very easy child and he's very independent now. The two kids have an age gap of eight years and it's exciting to watch them grow. I am still able to do what I want to do, it's flexible for me. So it's all working out well.
For the full interview, pick up your copy of Masala! now!
PHOTOGRAPHER: ABDULLAH HARIS FILMS; MAKE-UP: ADNAN ANSARI OFFICIAL; HAIR: RASHID SALON UNISEX