Bollywood News
The Sachin Tendulkar Interview: 'Acting Doesn't Come Naturally to Me'
However, Sachin Tendulkar will star in movie based on his incredible life. Lekha Menon with the legend...
He is the unlikely Bollywood celebrity. Though, truly speaking, his stature and persona is far greater than the greatest of movie stars. Legend Sachin Tendulkar is now on a new pitch as his movie Sachin: A Billion Dreams, a drama that captures his personal and professional journey, releases in the UAE (May 25, 2017).
For a generation of 90s and 2000s, Sachin Tendulkar was not just the name of a cricketer. The words represented hope, passion, love and nationalism. His retirement left a void that, frankly has not been filled even now (Sorry Virat Kohli and MS Dhoni!). But fans – and there are millions of them – will get a glimpse of his eventful life on 70mm through the film. Whatever be your opinion of him or the film, it cannot be denied that the cries of Saachin… still gives you goose bumps. So what makes him so endearing? Read on in our detailed interview with the maestro…
How does it feel being a movie star now?
I will always be a sportsman at heart! Acting doesn't come naturally to me so that was one of things I told the makers – as long as there is not much acting involved, you can capture whatever you want (laughs!). I wanted it to be as natural and normal as possible.
But the promotions, interview rounds, anticipation about the box office… isn't that completely new?
Well, I have been shooting commercials since 1990, so I have some idea of what to do in front of the camera (laughs). I have learnt some tricks! Cricket and all that happened around it, taught me a lot too.
Do you remember which was the first ad you shot for?
Luna! (The two-wheeler brand). That was the first ad I shot, in 1990.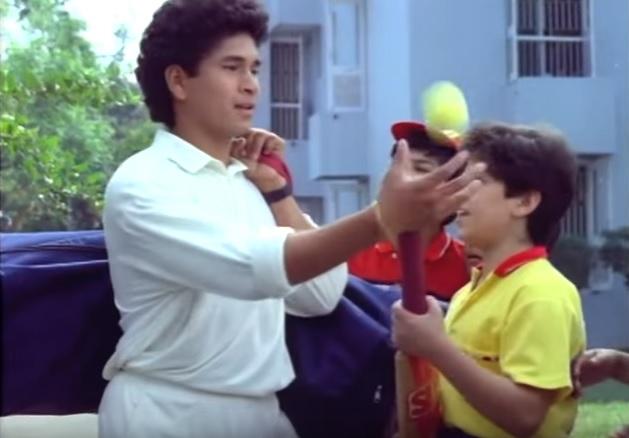 One of Sachin's first shoots for a band aid commercial 
It's said that in India, a boy either wants to be an actor or a cricketer. At any point of time, did you ever want to be an actor?
Haha no! I only wanted to be the first one… a cricketer. Cricket was always my first love, I loved other sports but cricket was something I wanted to pursue. I grew up living and breathing cricket, I couldn't think beyond it. I had two desires – one, to play cricket, and two, to win the World Cup for India.
Let's talk about your connection with cinema. As a child, were there occasions when you were tempted to bunk a practice session to watch a movie as most kids would do?
I wasn't allowed to bunk practice because my coach would come home or my brother would take me there. Yes, there were practice sessions I would think of bunking because my friends were going for a movie but I couldn't! At that time I would feel sad that I wasn't getting enough time to spend with friends but when I look back at all those sessions I didn't bunk, I realise I learnt so many things I wouldn't have, had I missed them. Those are the things that were very important for my growth as a cricketer. So, no I wouldn't bunk. I would feel like, but I wasn't allowed (smiles).
Which are the movies that you like to watch on the big screen?
All of them. I enjoy watching movies, the last I one saw was Lion and I also caught up with Sunny Pawar, the young actor in it. It is nice to meet the actors once you had watched the film.
Who are your favourite actors and actresses?
Amitabh Bachchan has always been my childhood hero and so is Madhuri Dixit.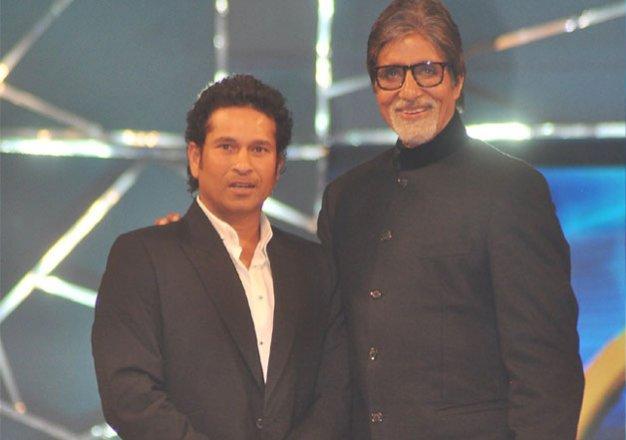 Sachin Tendulkar with Amitabh Bachchan
For a shy and reclusive person like you, how did you decide what parts to include about your life and what to exclude?
We wanted to show something to people which they have not seen or heard of. There are two sides to a coin and people have not seen the other side of the coin so I wanted to leave something behind for them when they leave the theatres. Yes, before putting out family videos, I spoke to my family to ensure they were comfortable. They too understand that people would like to know more about me and get closer to me and even I feel I should be closer to them. So we reached a meeting point where the audience feels they have got something to remember and we have also given something to them that we were comfortable with.
If you were the writer or director of this film, which is that portion of your life that you would like to revisit again and again?
The 2011 World Cup was really special for me and I am talking only about my cricketing career. Otherwise, there have been many private moments but when it comes to an on-field moment, it is priceless for me. The whole country came to a standstill. The celebrations thereafter were something else. The journey from the Wankhede stadium to the Taj Hotel which normally takes 10 minutes took us 2.5 hours to reach because of people on the streets and those hours were incredible.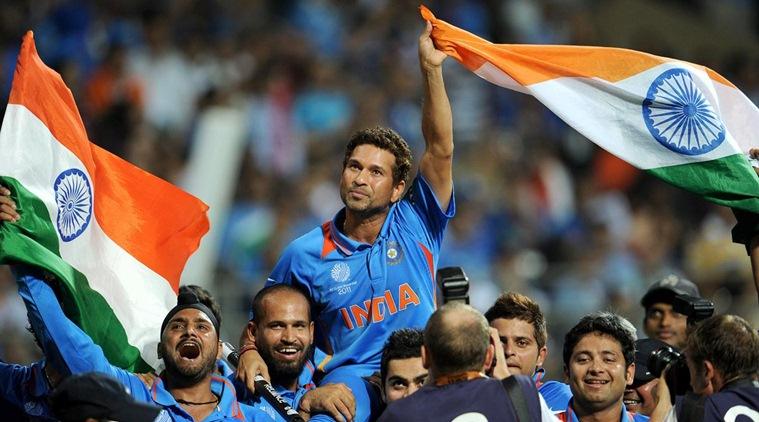 2011 World Cup Champions
Which other sportsperson's biopic would you like to watch?
Roger Federer
After the release of Sachin: A Billion Dreams, what kind of response would make you most happy?
I will be happy if people appreciate the hard work that has gone into it. Also, through this movie, I want to let the current generation know facts about the game and the passion it requires. When I started playing cricket, I didn't have these cars and other fancy things happening around me now.
I started my career travelling by buses and trains, carrying my kit around. There were occasions when I got pushed around. Sometimes I would miss the bus. My cricket started from there, but slowly and steadily it progressed. And it all happened because of the passion and love for the game. So, I hope that people, especially the young generation, whatever they want to be in life, realise that they need to be passionate. It should not be your profession, it should be your passion. The journey should begin from your heart and then, as time goes by, your brain starts guiding you to discover avenues to reach your destination. But whenever the journey begins from your heart, you're prepared to accept challenges and overcome those obstacles. However, if it begins from your brain and then you try to introduce your heart into it, that's when things don't work out.