The Chef's Palette- A New Live Cooking Studio at Fairmont The Palm
By Kareen Dsouza Monday, 23 October 2017
This is a must-try experience!
How does spending four hours in a fully equipped kitchen, with a chef to guide you around your own dedicated cooking station sound? Interesting right? That's exactly how I spent my Wednesday evening post work, and boy did I have a great time.
Being one that prefers to eat more than to cook, I was in two minds about this class. However, the serene location and the enticing idea of cooking a meal over bubbly won me over and I decided to give it a shot. Located in the lower ground floor of The Fairmont Palm Hotel, The Chef's Palette is a new cooking studio where one can enjoy cooking a meal with close friends and devour it right after.
We had Michelin star trained chef, Romain Van Durmen, helming our class and his culinary skills more than made up for the lack of ours! Our menu for the evening was Foie Gras with apple sauce, served with a side of foamy mash potato (with oodles of butter of course), and a perfectly crisped Brioche.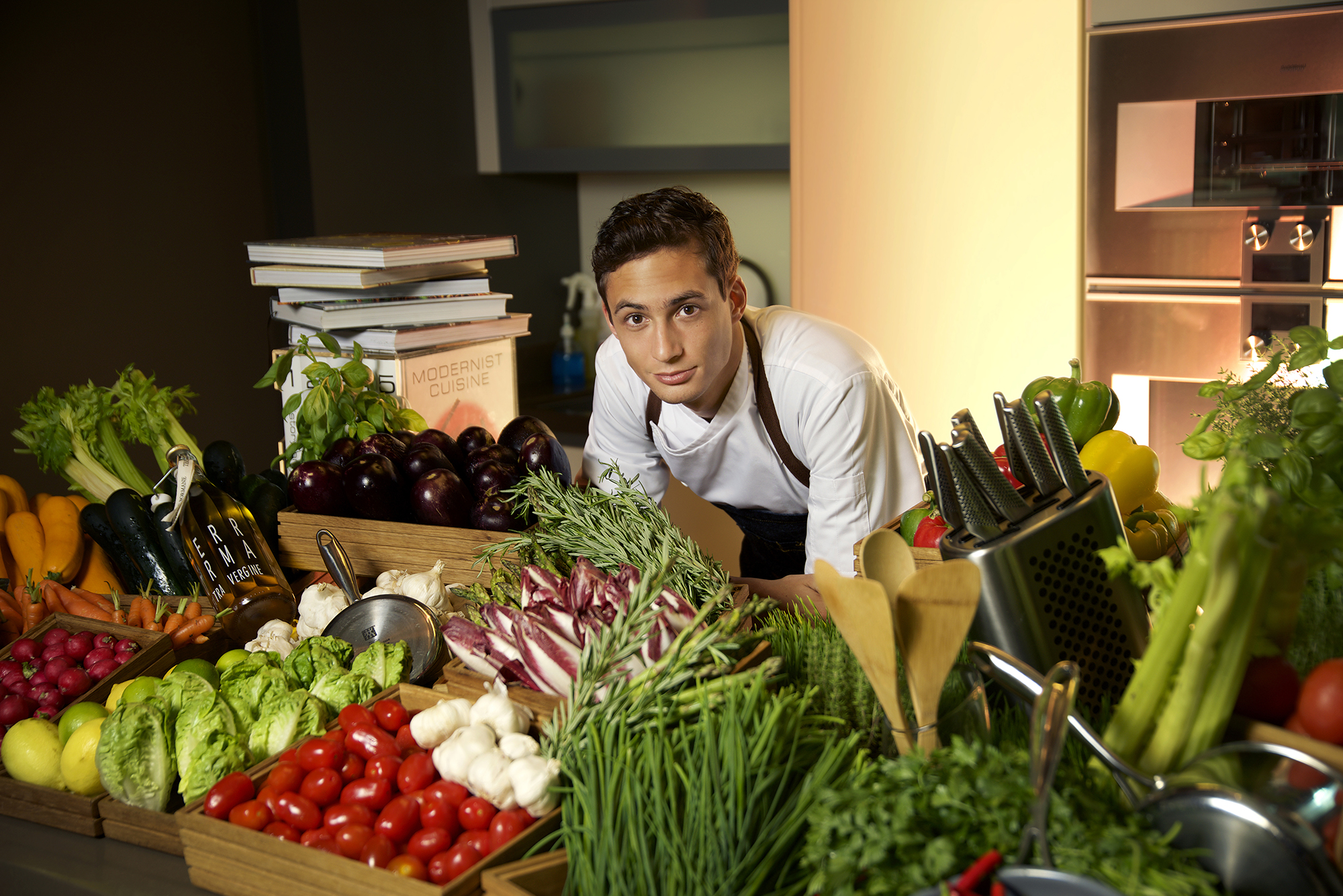 Chef Romain Van Durmen
Chef Romain seared the sliced Foie Gras right in front of us, as he whipped together the most creamiest mash I've ever tasted, attracting a whole lot of ooo's and aaa's from all of us witnessing his art. Needless to say, the Foie Gras was absolutely divine, with the mash and Brioche being stellar accompaniments. Next up was the Lobster ravioli. Being a true fan of the Italian cuisine, I was fascinated to know that I wouldn't just be cooking the dish with ready ingredients, but would be using lobsters as fresh as I've seen (moving claw alert) and making my pasta from scratch.
Our preparation for the entrée started off with chopping the ingredients, which we learnt to do like absolute pro's, all thanks to Chef Romain. After the chopping and slicing, we moved on to ready the lobster, with the help of the chef of course. Understandably, this was the highlight of my experience, bringing to life all those YouTube videos I've watched of fresh crustaceans being prepped to cook. The process was surprisingly simple and before we knew it, we had moved on to the last step of our meal preparation, which was making the pasta. Our hands washed, we dove straight into the puddle of flour and egg and mixed away. That being the easy part, the pasta took ages to make with several failed attempts- it was our first time after all. Once done, and quickly filled, we tossed the lobster stuffed ravioli into boiling water and waited anxiously to see the outcome of our hard work.
Much to our delight the results were outstanding and our self-prepared meal looked like it came straight out of Jamie Oliver's comfort food cook book. The ravioli was generously stuffed (since we did it ourselves), and the white sauce (prepared by chef himself), was simply outstanding, with the perfect balance of flavour.
If you often find yourself lost for experiences to try out in Dubai, I would definitely recommend collecting your closest bunch of pals and booking a cooking experience at The Chef's Palette. They have various options, all so tempting that we're definitely going back for more!
Info: For more information call +971 4 457 3457 or email palm.dining@fairmont.com
For all the latest Bollywood News and gossip, follow us on Twitter & Instagram, like us on Facebook and subscribe to our channel YouTube. New videos up every day!
Comments