Bollywood News
Television Actress, Divyanka Tripathi Trolled By 'Diet Sabya' On Instagram. Look Who Sprung to Her Defence
The well-known Instagram fashion page, 'Diet Sabya' called out Divyanka Tripathi for an alleged fashion faux pas
These days, celebrities get trolled for almost everything they do, right from the kind of clothes they wear to the choices they make - some choose respond while others ignore.
This time, one of the television's most popular actresses, Divyanka Tripathi Dahiya got trolled for an accessory she wore. The 'fashion plagiarism police' of Instagram 'Diet Sabya' pointed out that Divyanka had copied a maxi dress belt. The belt used by her stylist, Victor Robinson was by the brand Rimayu. But it was allegedly copied from popular designer Sabyasachi Mukherji's iconic belt bearing the 'Bengal Tiger' symbol. Here is the post - 
Divyanka's friend Ekta Kapoor, came in support of the actress. Ekta gave quite a fitting reply to 'Diet Sabya'. She hit back by showing how its logo is copied by some other account. Ekta wrote, "When u urself r a rip-off but get off on stalking n catching ripoffs. The irony is more amusing than the page itself wat say." Check out the post below: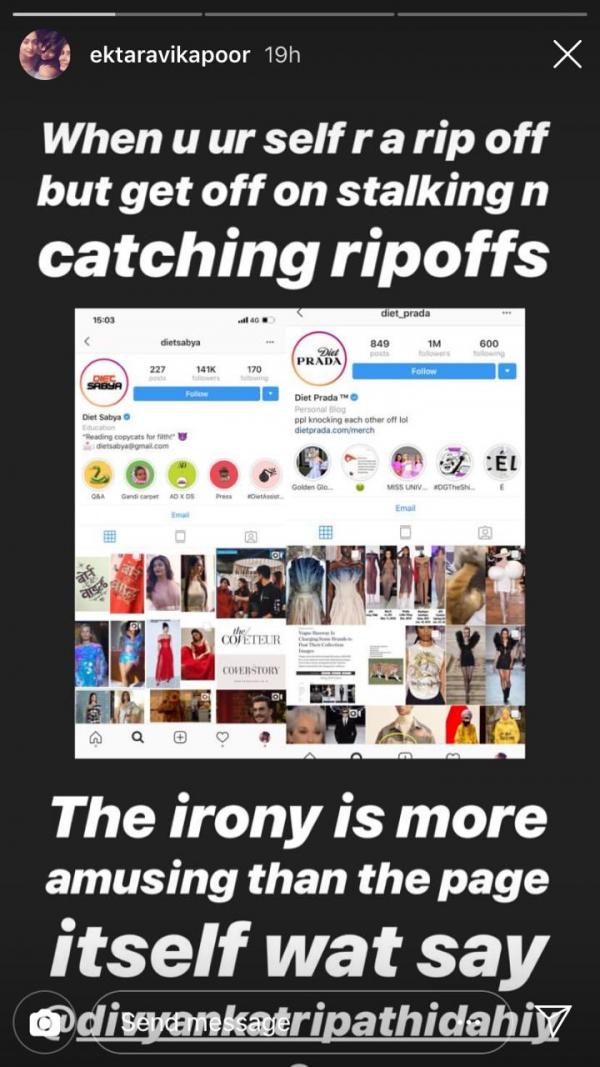 Screenshot of Ekta Kapoor's Instagram story
Not just Ekta Kapoor but Divyanka found support from some other users as well, one of who gave a long reply to Diet Sabya which was resposted by the actress with an explanation of her own. 
This is the user's response.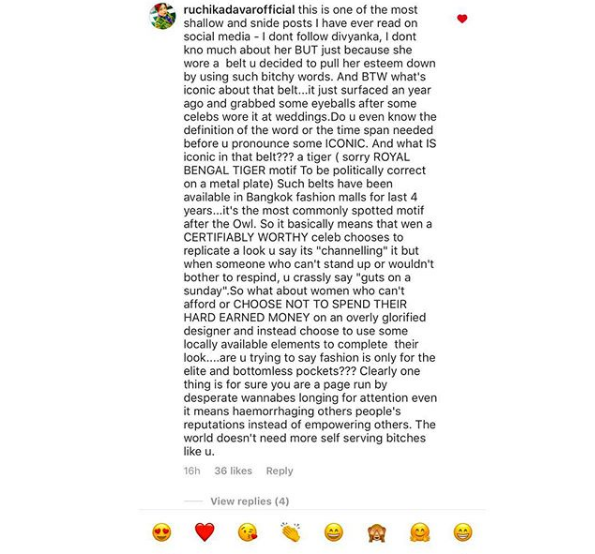 Take a look at what Divyanka then said...  
Last week, 'Diet Sabya' recently called out the label Purple Paisley for passing off Balmain's sequined dress as their own. The actress wore the outfit for Cosmopolitan India's cover shoot.