Celebrities
Tara Sutaria and Aadar Jain Spotted at the Movies Together
Tara Sutaria and Aadar Jain are often spotted spending quality time together at public places.
Tara Sutaria and Aadar Jain are the new it couple of Bollywood. While the two had a gala time at the wedding of Aadar Jain's brother Arman Jain's wedding with Anissa Malhotra, it is now time to get back to the regular life. Recently, Tara Sutaria and Aadar Jain were spotted at the movies together for some quality time together. Tara Sutaria is known to be dressed up properly at all times. She could be seen wearing a casual camouflage print cotton jacket with a white tank top and black leather pants. Aadar Jain also looked casual and comfortable in a denim jacket over a grey T-shirt and blue jeans.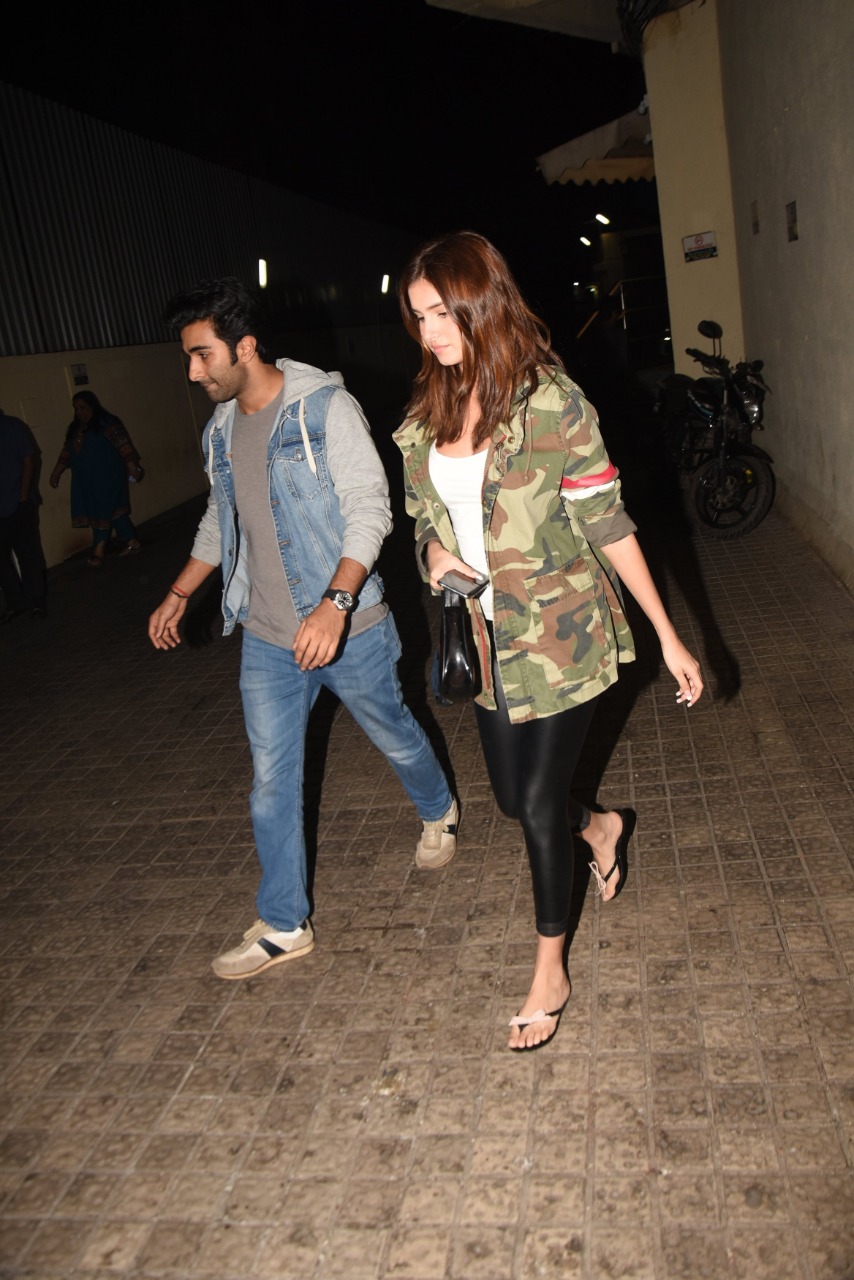 It's movie time for Tara Sutaria and Aadar Jain
Tara Sutaria and Aadar Jain have never openly spoken up about their alleged relationship but they have often made public appearances together. Tara Sutaria actively participated in Aadar Jain's brother Armaan Jain's big fat Indian looking her traditional best and dancing her heart out. Earlier, when Tara Sutaria was asked about her alleged relationship withAadar Jain, she had said that they both enjoyed spending time with each other. As young people, they liked going out and having food together because both of them were foodies.
According toTara Sutaria, Aadar was a special friend and the two had many friends incommon. They first met at a Diwali party.
Tara Sutaria has also been linked with the actor Siddharth Malhotra in the past.
Tara Sutaria made her Bollywood debut in Student of the Year 2 with Ananya Panday and Tiger Shroff.She was last seen in the film Marjaavan with Siddharth Malhotra. But not many people know that Tara Sutaria started her career with singing in childhood. Tara Sutaria has been singing professionally since the age of seven and has participated in many competitions and concerts. Her song 'Slippin' Through My fingers' became a part of Ashwin Gidwani Production of Bharat Dhabholkar's Blame it on Yashraj. Tara Sutaria has performed in solo concerts at London, Tokyo, Lavasa, and Mumbai.  She has also worked with big names in music like Louis Banks and Mikey McCleary.