Taimur Ali Khan's Painting - Check it Out!
Taimur Ali Khan is currently in quarantine with parents Kareena Kapoor Khan and Saif Ali Khan
Taimur Ali Khan, the tiny tot of Kareena Kapoor Khan and Saif Ali Khan, is the apple of everyone's eyes and not just that of his parents'. Mum Kareena Kapoor Khan broke many stereotypes during her pregnancy when she decided to flaunt it and work till the day of delivering the baby. Hence, even before coming to this world Taimur Ali Khan has been creating waves. When he was born, unlike most of the celebrity parents, Kareena Kapoor Khan and Saif Ali Khan decided not to keep their son away from media in order to give him a normal childhood.
Whether it is about Taimur Ali Khan's irresistibly cute looks or his parents' stardom, this tiny tot grabs the attention no matter where he goes and what he does.
These days Taimur Ali Khan is in quarantine with mum Kareena Kapoor Khan and dad Saif Ali Khan. Apart from planting with daddy, Taimur Ali Khan is also busy with the artwork. The proud mum Kareena Kapoor Khan recently shared an adorable piece of artwork by Taimur Ali Khan on her Instagram where he had painted icecream in bright colours. Kareena Kapoor Khan shared this photo with the caption, 'The world is your ice-cream, my love.' She also added the hashtags #InhousePicasso and #QuaranTimDiaries.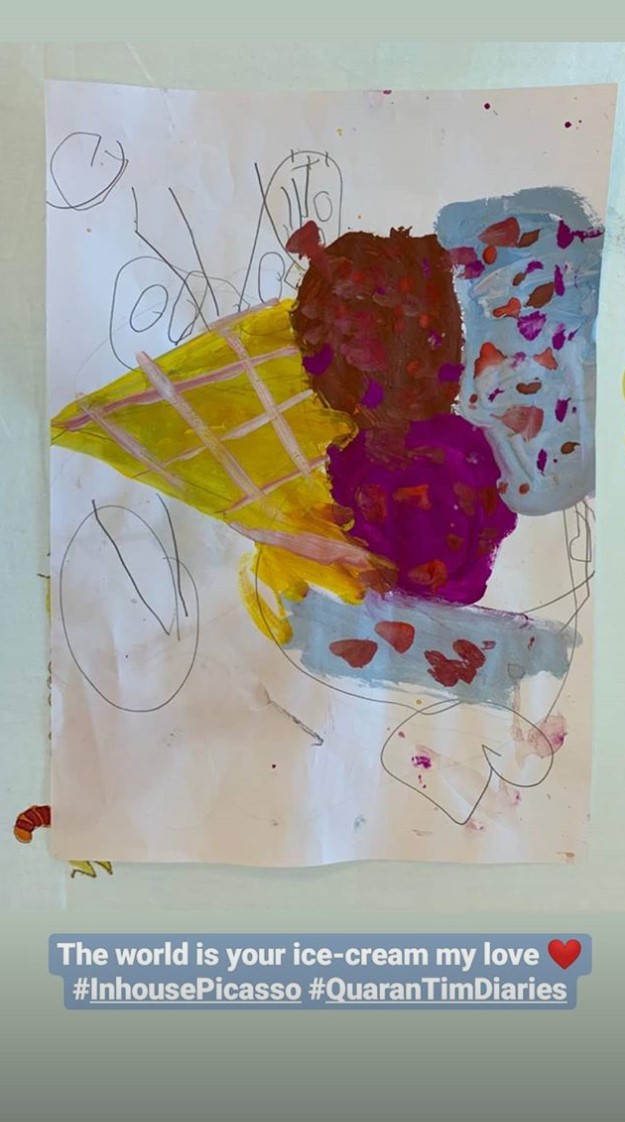 Well, looks like Taimur is certainly being the ideal toddler and not troubling his parents at all. A few days ago, Kareena shared how he was helping his dad in gardening activities as they lazed around the house. Taimur also accidentally made his television debut when Saif was giving an interview to a news channel on how he was spending his days in self-isolation during the lockdown.