Swara Bhaskar's 'Political' Birthday In Bihar
By Subhash K Jha Wednesday, 10 April 2019
The politically voluble Swara Bhaskar spent her birthday supporting the controversial CPI candidate Kanhaiya Kumar
The combustive strong-willed ball of fire Swara Bhaskar turned a year older on Tuesday April 9 and she found herself a unique way to make the day special. Swara flew to  Bihar to provide moral support to the CPI candidate, the controversial Kanhaiya Kumar as he filed his nominations papers for the Lok Sabha elections. Swara flew into Patna from Mumbai on Tuesday morning after bringing in her birthday with boyfriend writer Himanshu Sharma. She then drove with Kanhaiya Kumar to his constituency Begusarai where Kanhaiya filed his nomination papers.
Speaking from Begusarai, Swara said, "Yes, I am here to support my friend Kanhaiya Kumar." Swara was escorted to Begusarai by police personnel to ensure she was safe. Earlier during the week Kanhaiya Kumar's brother Prince had told a section of the press that several actors including Javed Akhtar, Shabana Azmi, Prakash Raj and Swara Bhaskar were expected to join Kanhaiya Kumar in Begusarai on April 9. However only Swara finally showed up.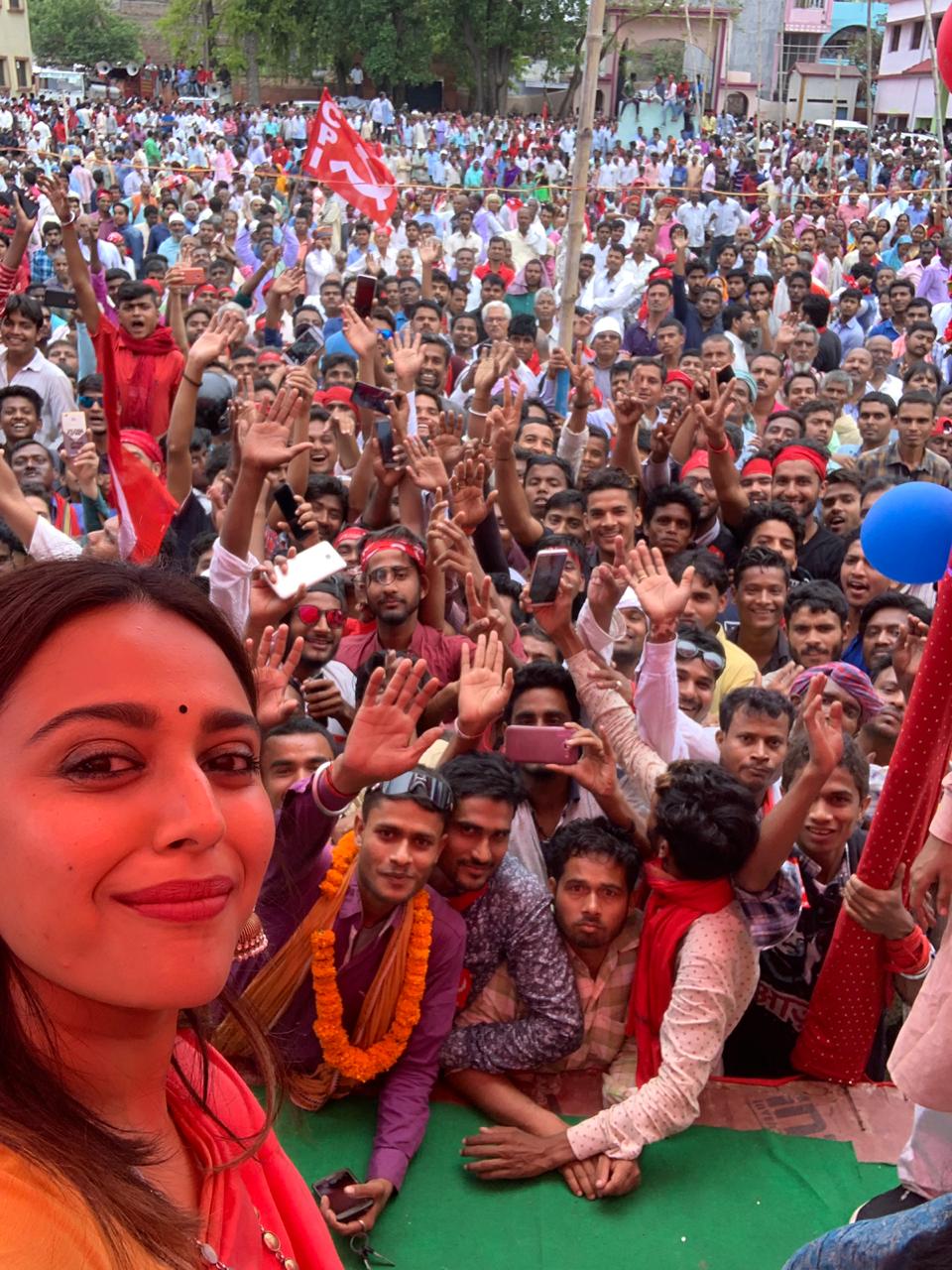 Shabana Azmi, who openly supports Kanhaiya Kumar's radical politics, is in London for the screening of a documentary Kaifinama directed by Sumantra Ghosal. Shabana  said, "I would have loved to be by his side but can't because I am in London. My message to Kanhaiya is this: fight the good fight, Kanhaiya. In you and your young colleagues, lies hope for a better tomorrow. Kaifi's lament 'Koi tto sood chukaye Koi tto zimma ley Us inquilab ka jo aaj tak udhaar sa hai,' amply applicable to you, Kanhaiya. Mujhe yaqeen hai woh sood aap chukaoge."
For all the latest Bollywood News and gossip, follow us on Twitter & Instagram, like us on Facebook and subscribe to our channel YouTube. New videos up every day!
Comments