Think Pieces
Sridevi: The Eternal Screen Goddess: Why This Biography of the Late Screen Goddess is a Must-Read
Sadiq Saleem reviews the 'Sridevi: The Eternal Screen Goddess' and chats up with author Satyarth Nayak on his best-seller
What a work of art and nature is Indian cinema! In the journey of over a century, she didn't age into a symbol or some citizen of the past, but reinvented herself with every moving image as we watched her, transfixed. And when we talk of cinema, rising from the ambitions of Dadasaheb Phalke to the modern weavers of dream, there was one woman who metamorphosed countless faces into characters caged in situations. She was extraordinary. She started at the age of four, went on to become the biggest superstar of all time across multiple Indian film industries, simultaneously. She stole the thunder from her male counterparts effortlessly. And when she came back to the screen after a hiatus, she ruled the hearts again; as if she had never left. It was an act of the will to watch anyone else while she was on screen.
She was none other than the iconic, Sridevi.
It is impossible to talk about Sri without mentioning the word 'enigma'. People who had worked with her have always testified that she had a switch within her which she would activate only in front of the camera; and once the director called cut, she would go back into her shell. Her co-artists have stated this on record that they never got a glimpse of the real person behind the star persona. Perhaps that  is why the recent biography by Satyarth Nayak Sridevi – The Eternal Screen Goddess has become a bestseller in no time. The book successfully encapsulates the life of Sridevi, right from the day she faced the camera as a child star up to the time when she turned into a mega star; the hiatus, the comeback, the final exit and the aftermath.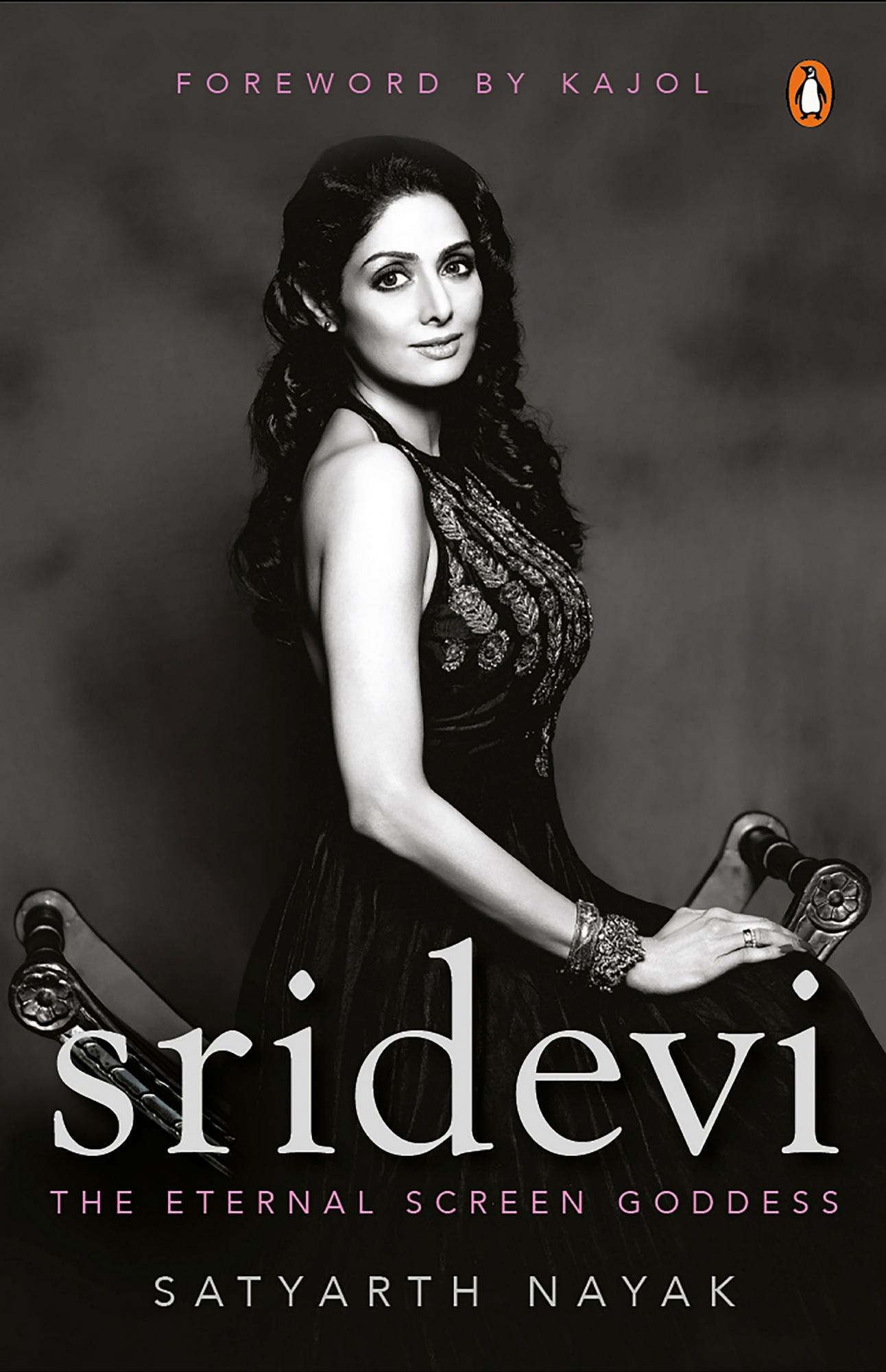 The book cover 
Why This Book 
"I had always been appalled by the fact that there was no elaborate book celebrating her prolific career," says Satyarth Nayak, adding, 'Hailed as India's First Female Superstar, she not only remains the longest running No.1 actress in Hindi Cinema but she was also the only true pan-Indian megastar by being No.1 in Hindi, Tamil and Telugu cinema. Her legacy spans fifty years and yet there was no book chronicling these legendary achievements. I guess Sridevi's massive body of work was intimidating for most writers and I am glad that I got the opportunity to celebrate her story. I watched as many as her films as possible across the five languages she worked in so that this became a comprehensive and definitive book on her. In the process, I also discovered many of her iconic performances that I had not seen before'.

The Stardom:
I was born in the 80s and had seen Sridevi from the lens of Bollywood only. This book was no less than an eye opener– that she had already created hysteria of sorts in the Telugu and Tamil industry in the 70s. Infact one half of the book is filled with her outstanding career in regional films.
Excerpt from the book :
'There had been female superstars, who ruled only Hindi cinema or who dominated only Tamil and Telugu box offices. No Actress so far had become number one in three industries simultaneously. No star had wielded such a pan-Indian appeal – not even Amitabh or the Khans, not even Rajni or Kamal, not even Chiranjeevi or Nag, Mommootty or Mohanlal. No male actor, despite all the gender privileges, had achieved what the Mai of Bollywood had. She had become India's first female superstar'.
The reign of Sridevi has been a record of sorts in the heroine sweepstakes. She has been at the top for the longest spell among Indian screen's queen bees. She successfully stormed the bastion of Hindi films with Himmatwala and became part of Jeetendra's Madras machinery which regularly cranked out formula films. With Sadma, where she played a child-woman she won her first National Award. The advent of Sri coincided with the end of the Hema-Rekha era. The Rati-Padmini brigade simply did not have impressive star value and the 5'7'' tall Sridevi soon dwarfed the competition.
In the late 80's, in films like Nagina, Chaandni and Chaalbaz, she played with an awesome array of expressions winning the audience and critics both. She was the highest paid actress of 80s which also got her a tag of 'Female Amitabh Bachchan'. Satyarth shares in the book how Yash Chopra once defended her Chandni's skyrocketing price.  "Putting her in a five-star hotel, paying for her airfare and other expenses is a package deal when you sign Sridevi. There is nothing surprising about it. Filmmakers know she's worth every penny they pay her, that is why they sign her, says Yash Chopra"

The Succession
They say that the wind blows the fastest on the top of the cliff. The 90's had not been very kind to Sridevi. Films like Lamhe, Khuda Gawah and Gumrah though running testaments to her talent, proved to be economic non-performers and finally the debacle of the extravaganza Roop Ki Rani Choron Ka Raja forced the queen to abdicate the throne. But her fire was yet un-doused. The prowess was still unmatched. It was truly ironic that Bollywood of the 90's almost did not know what to do with a talent like Sri.
As Mahesh Bhatt expresses his regrets in the book: 'Back then, we just could not rise to her potential. There was a universe buried inside her, but we just could not explore those depths. We neither had the imagination nor the courage to create roles worthy of her'.
Sridevi was too big for run-of-the-mill characters. Her quest for heroine-oriented scripts continued unabated as she signed films like Army but that did not perform too well at the box-office. Satyarth, in his book mentions that this was also the time when her mother, who was her only pillar of strength, had suffered a seizure and was diagnosed with a brain tumour. In a bizarre case of medical negligence, the doctors in New York had operated her mother on the wrong side of the brain. 'It is unpardonable. Today, when I look at her, I feel so guilty, there are so many good doctors in Madras whom I could have taken her to. In the US, I felt so frightened, lonely and lost'.
Amidst all this chaos in her personal life, she finished shooting of her last South Indian film Devaraagam against Arvind Swamy and tasted blockbuster success again with the release of Judaai.
The Comeback:
Satyarth says, "Not many know that such was her star power in Bollywood that she was respectfully addressed as 'Mai'. She is also the only heroine who made a triumphant comeback post her marriage, thus shattering Bollywood rules again".
This is true. In 2012, after a long hiatus, Sridevi's film English Vinglish was screened at the Toronto International Film Festival (TIFF). As Satyarth mentions in the book: ''Tears streamed down Sridevi's eyes. The applause seemed as if it would just not end. The film had just got over and an audience of 2000 were cheering for almost over ten minutes with a standing ovation'.
Gauri Shinde shares an interesting anecdote from the making of that iconic café scene. 'We were losing day light and had to wrap the scene fast. I was worried if the rush would affect Sri's performance. In that limited time, she delivered something which was beyond my imagination. She just took what was on the paper to another level. Even that Barista women who had to be rude to her in the scene was in awe of Sri and kept thanking me for making her perform with such an outstanding actress.'' The book also sheds light on the projects she was considering, her involvement in her daughter's debut film and how she felt that Baahubali was not a missed opportunity for her.
The Queen Exits:
"It was on a Sunday that the world woke up to the death of Marilyn Monroe, It was on a Sunday that it woke up to Princess Diana's passing. And it was a Sunday on 25 February 2018 when the world woke up to the tragic news of Sridevi's sudden demise the previous night'' reminisces Satyarth Nayak in his book.
The biogaphy also gives a detailed account of her demise and the aftermath. That freakish coincidence in the form of a tweet from Amitabh Bachchan somewhere around the same time in India 'na jaane kyun, ek ajeeb si ghabraahat ho rahi hai'. How everyone from Naomi Campbell to Christian Louboutin to the Academy Awards platform sent their condolences. How the Canadian newscasters remembered those 'magical eyes that took up half of her face' to the somber Amul banner that prayed 'RIP Mrs. India' and how the irresponsible Indian media stooped to its lowest that night.
Satya wishfully states in the book that 'Owning fifty out of hundred years of Indian Cinema, playing granddaughter, daughter and lover to the same actor; playing heroine to both the father and son, playing the leading lady for over two decades and returning after fifteen years with sorcery intact, Sridevi, almost had us believe that she was timeless, ageless, deathless and an eternal force of nature that would keep going. But perhaps she was born to die young'.
When houses are built, there is a customary ritual of taking a brass container, placing it in a few coins, the day's newspaper, photographs and it is buried on the site. It is a time capsule which is unearthed after a passage of time. Satyarth, I believe has done something similar with this book. He has capsuled an icon for prosperity. This book will serve as the most authentic reference point whenever generations would want to find what a force of nature Sridevi was.
AUTHOR-SPEAK: SATYARTH NAYAK SHARES HIS EXPERIENCE:  
I am ecstatic that the book has been getting a wonderful response from readers. Many keep tweeting to me to share how much they have loved the book because it reveals so many unknown things about her. For many, it has also been an emotional experience to relive Sridevi's fascinating journey that culminated with such an untimely end. One fan actually wrote to me saying this book has become like Bhagvad Gita for him! That her admirers have loved the book is the biggest reward for me. The reviews have also been fantastic, and we have already entered the bestseller list on Amazon. My favourite part of the book is how Sridevi challenged patriarchy in the Indian film industry. She had the guts to refuse films opposite Amitabh unless she had an equally solid role. Amitabh had to woo her by sending her a truckload of flowers to finally get her to act opposite him in Khuda Gawah. It just shows that she was always someone who flowed against the tide. She respected her own stardom and talent and wanted to remind the audiences of the true glory of an Indian film heroine. She became the 'hero' of her films and raised the status of the Indian film heroine to a whole new dimension. Today we talk about misogyny, sexism and toxic masculinity in the industry and Sridevi had battled it all in the eighties and emerged more powerful than her male co-stars and was even paid more than them. It's even more relevant today and I want it to be a big take-away for the readers of this book. She not only empowered her audiences but also became a messiah for the LGBT community worldwide. She was the only star who could be No.1 in Hindi, Tamil and Telugu industries. By becoming a truly pan-Indian megastar, Sridevi achieved what many of our biggest heroes could not. She will forever remain an inspiration for generations of actresses to come.
Sadiq Saleem is a Dubai based writer who has also contributed to the book 'Sridevi The Eternal Screen Goddess'. He can be contacted on www.sidsaidso.com