Bollywood News
Sonam Kapoor Wishes Malaika Arora a Happy Birthday
Sonam Kapoor has snubbed the rumors related to the rift between her and Malaika Arora by wishing her a happy birthday
Sonam Kapoor, who happens to be the favorite cousin of Arjun Kapoor, wished Malaika Arora a happy birthday. In her Instagram stories, the Neerja actress showed a beautiful photo of the two giggling at a wedding. While Sonam Kapoor was dressed in a white top and pleated skirt, Malaika Arora can be seen dressed in a white sari wearing traditional jewels. Both the ladies dressed in white with bright lips and happy vibes make this picture the perfect wish for Malaika Arora's 46th birthday.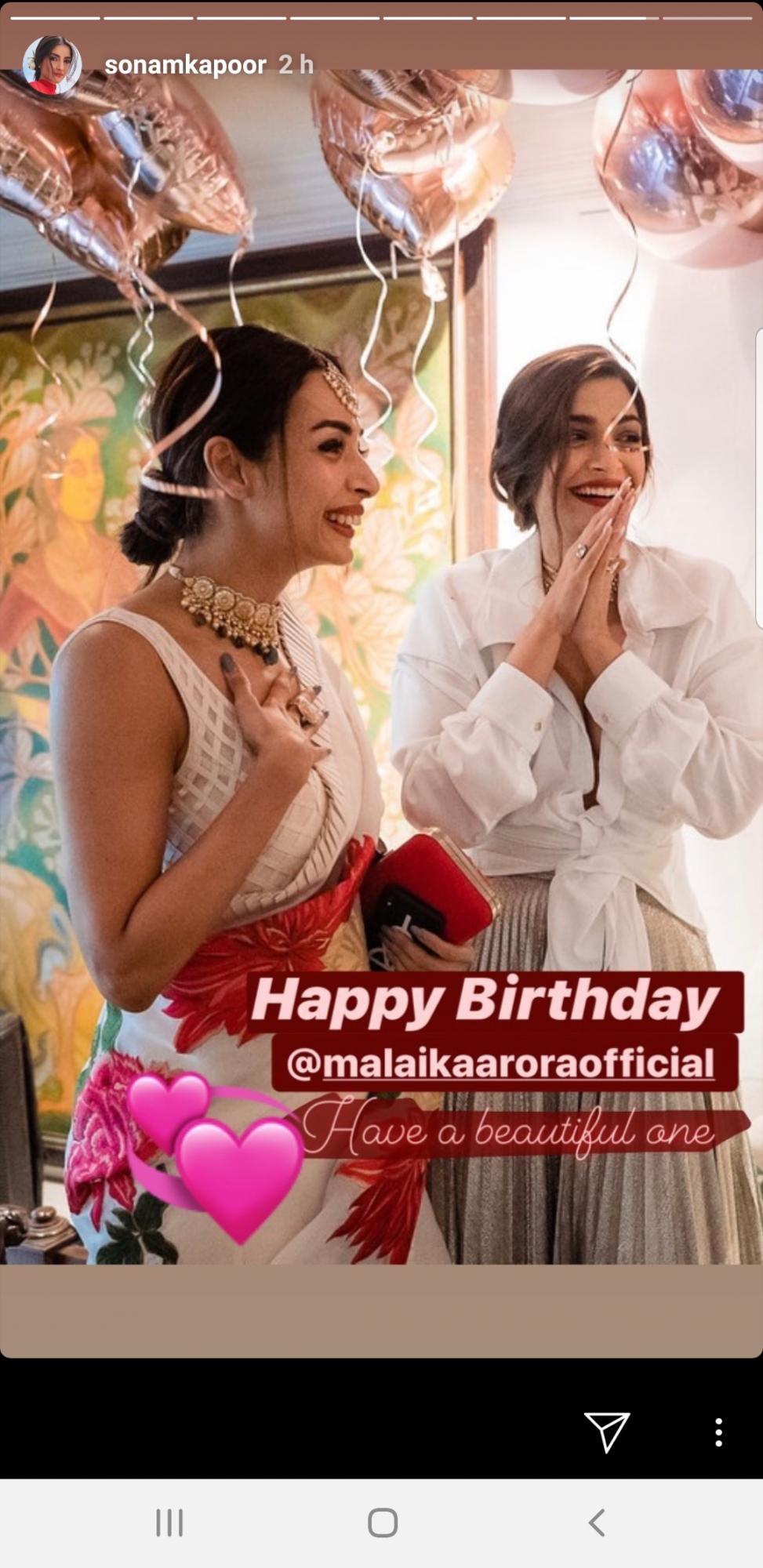 It was earlier said that Sonam Kapoor was not in the favor of her cousin Arjun Kapoor marrying Malaika Arora/. Although the couple has often mentioned that they have no plans of getting married for now, it was said that some members of Arjun Kapoor's family were not in the favor of Malaika Arora. However, Anil Kapoor, Sanjay Kapoor, and Janhvi Kapoor share good vibes with Malaika Arora and hence she also attended Anil Kapoor's 62nd birthday party. Arjun Kapoor's sister Janhvi Kapoor and cousin Shanaya Kapoor were  spotted at Malaika Arora's birthday party but Arjun's sister Anshula Kapoor and father Boney Kapoor were nowhere to be seen.
Arjun Kapoor's uncle Sanjay Kapoor and his wife Maheep Kapoor also attended the grand birthday bash of Malaika Arora at JW Marriott in Mumbai. Sanjay Kapoor and Maheep Kapoor often hang out with Malaika Arora and Arjun Kapoor. In fact, Maheep Kapoor is a close friend of Malaika Arora and they are seen together having fun times with their group of girls.
Sonam Kapoor has rubbished the rumors of their conflict proposed by the media by posting this adorable birthday wish. Sonam Kapoor and Malaika Arora share the common love for fashion as the two are among the most stylish and glamorous celebrities in the industry. Malaika Arora celebrated her 46th birthday at JW Marriott Hotel last night which was attended by many big names in the industry. According to Malaika Arora, she was celebrating her birthday in Mumbai after 6-7 years.