Bollywood News
Sonam Kapoor Has a Scary Experience in London!
Sonam Kapoor shared on Twitter that she had a scary experience in London while she was taking a taxi. Read details below
Sonam Kapoor is an outspoken Bollywood star who has had an eventful career. Last year she starred in the film The Zoya Factor alongwith Dulquer Salmaan. Sonam played Zoya Solanki, a girl who is facing a hapless career and a disappointing love life. She also encounters disasters wherever she goes. While Sonam's love life in real is quite a dream, Sonam did face a small disaster while she was in London.
The Khoobsoorat actress shared on Twitter how she faced an unstable cab driver while she was in London. The cab service reached out to her and asked her what was the issue and she stated that she tried reaching out to the cab's service but she kept being disconnected by bots. Another user, who stated she frequently used the cab service asked her what was going on, Sonam replied that the cab driver was unstable and was yelling and that Sonam was 'shaken' by the end of it.
When the cab service asked Sonam if she could send them a message directly, Sonam responded with a robot emoji.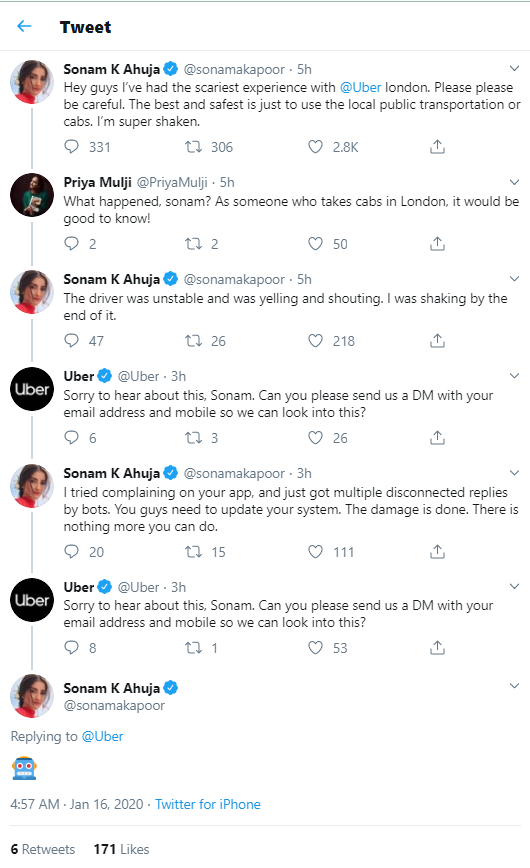 Sonam Kapoor's Twitter exchange with a ride sharing app
Cab services can be scary especially if you're traveling alone. Sonam mentioned in her earlier tweet that the best way to go from one place to another is to use public transportation.
There have been various reports across the US/UK that cab drivers can be violent and sexually aggressive. Safety of passengers is now one of the key problems of ride-sharing apps which is why different apps use various methods to ensure that the customers have a safe experience. There are options of tracking the ride and sharing your tracking details in ride-sharing apps now in order to help customers feel secure. But it's scary nonetheless especially if you are a woman traveling alone. Here's hoping Sonam is okay and so are other women who have to travel alone.