Bollywood News
Sonam Kapoor and Anand Ahuja Wedding: What Went on Behind The Scenes
The Kapoor family gave their daughter Sonam, a wedding that was as memorable as it was spectacular
So Sonam Kapoor is Mrs Anand Ahuja now. The wedding which took place in  Mumbai on Tuesday afternoon was anything but low-key. There was  band, baaja, baraati and  yes, Ranveer Singh who arrived to onlookers  shouting, 'Tumhara shaadi kab hai?' All in good time.
The  turn-out for Sonam's wedding was far larger than expected. Earlier it was believed that it would be  a low-key affair  in deference to the recent tragedy of Sridevi passing away in Dubai three months ago.
Then,  at the last minute the Kapoor family decided to not hold back when it came to giving their daughter a memorable wedding. All sobriety forfeited, the entire family turned  up in shades of red, pink and green, in all their finery. Sonam's cousin Mohit Marwah during whose wedding  celebrations in Dubai, Sridevi breathed her last, was also present to cheer his sister. The dhol beats  could be heard  for miles as  the family decided to give Sonam a spectacular wedding. The guest list held no surprises.  Sonam's  besties Swara Bhaskar and Jaqueline Fernandez were among the early-birds while Ranveer Singh made a fashionably late entry.  Boney Kapoor (in a pink Sherwani) arrived with his two daughters Janhavi and Khushi with his  faithful politician-friend Amar  Singh  by his side. Throughout this unfortunate  time  of bereavement and crisis Amar Singh has  stood by Boney like a pillar of strength.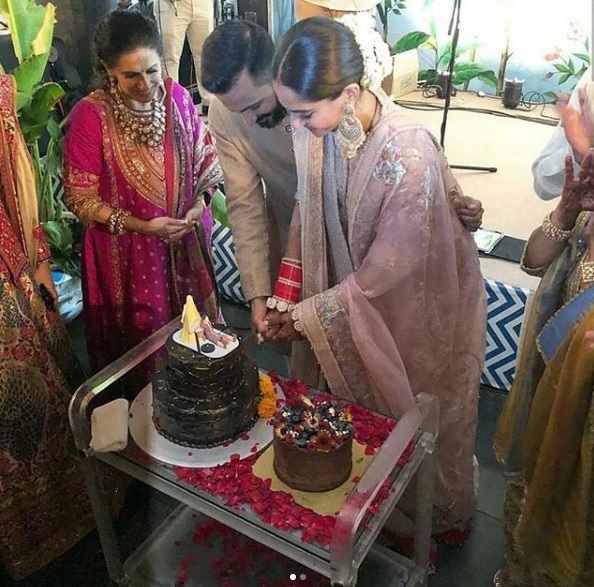 Though the  Bachchans make it a  point  never to attend any function where  their former  friend and confidante Amar  Singh attends,  this time  they made an exception. Amitabh Bachchan and son Abhishek with swanky pugdis  tied to their heads to indicate they are from the bride's side, made their presence felt. Abhishek's sister Shweta  looking radiant, was also present. But the other ladies  of  the  house Jaya Bachchan  and bahu Aishwarya were  conspicuous  by their absence. Saif and Kareena and  the new superstar of their family Taimur showed up hours after landing from London. They made a quick entry and  exit. Most of the  other guests stayed the entire time. A guest spoke to this  writer  from the  wedding saying, "It's as big as any Punjabi wedding. I don't know what  Sonam meant when she said she would like them to avoid extravagance. Everything was done on a  lavish scale."