Sonakshi Sinha Twirls for the Cameras During Mission Mangal Promos
By Masala Web Desk Wednesday, 14 August 2019
Sonakshi Sinha looked totally gorgeous during a recent promotion event for her upcoming film, Mission Mangal. The actress was the picture of femininity and grace in a flowy dress as she posed sweetly for the cameras.
Sonakshi Sinha is currently working hard as the promotional cycle for her upcoming film Mission Mangal is in full swing. The film, which is based on the true story behind the Mars Orbiter Mission, India's first interplanetary exhibition to Mars, stars Sonakshi along with an ensemble cast as a group of scientists who attempt to achieve the significant feat. While out on a press tour for the film, Sonakshi was spotted dressed to the nines in a gorgeous feminine look!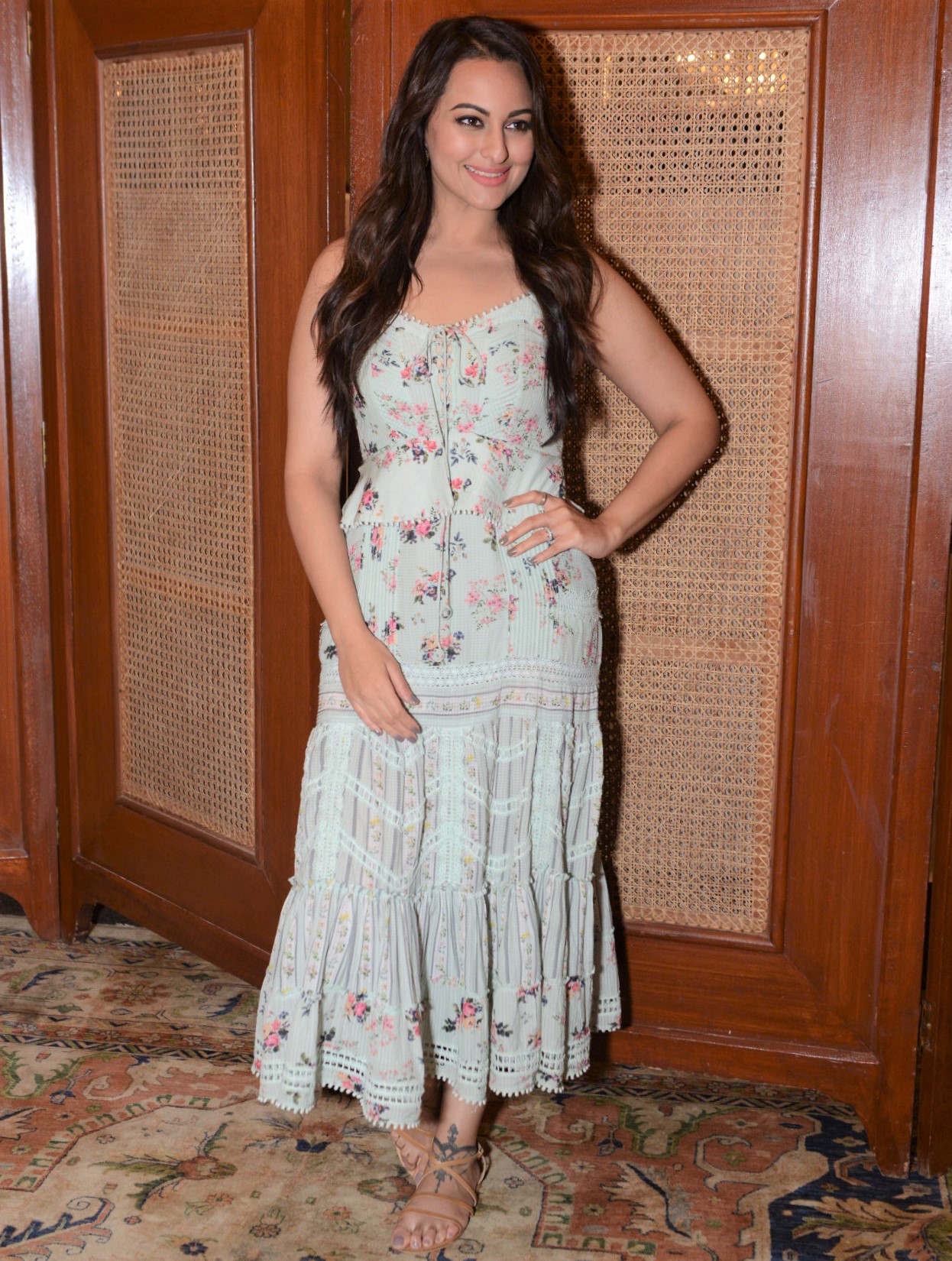 Sonakshi's dress comes from the designer label Hemant and Nandita and complemented the actress' gorgeous looks perfectly.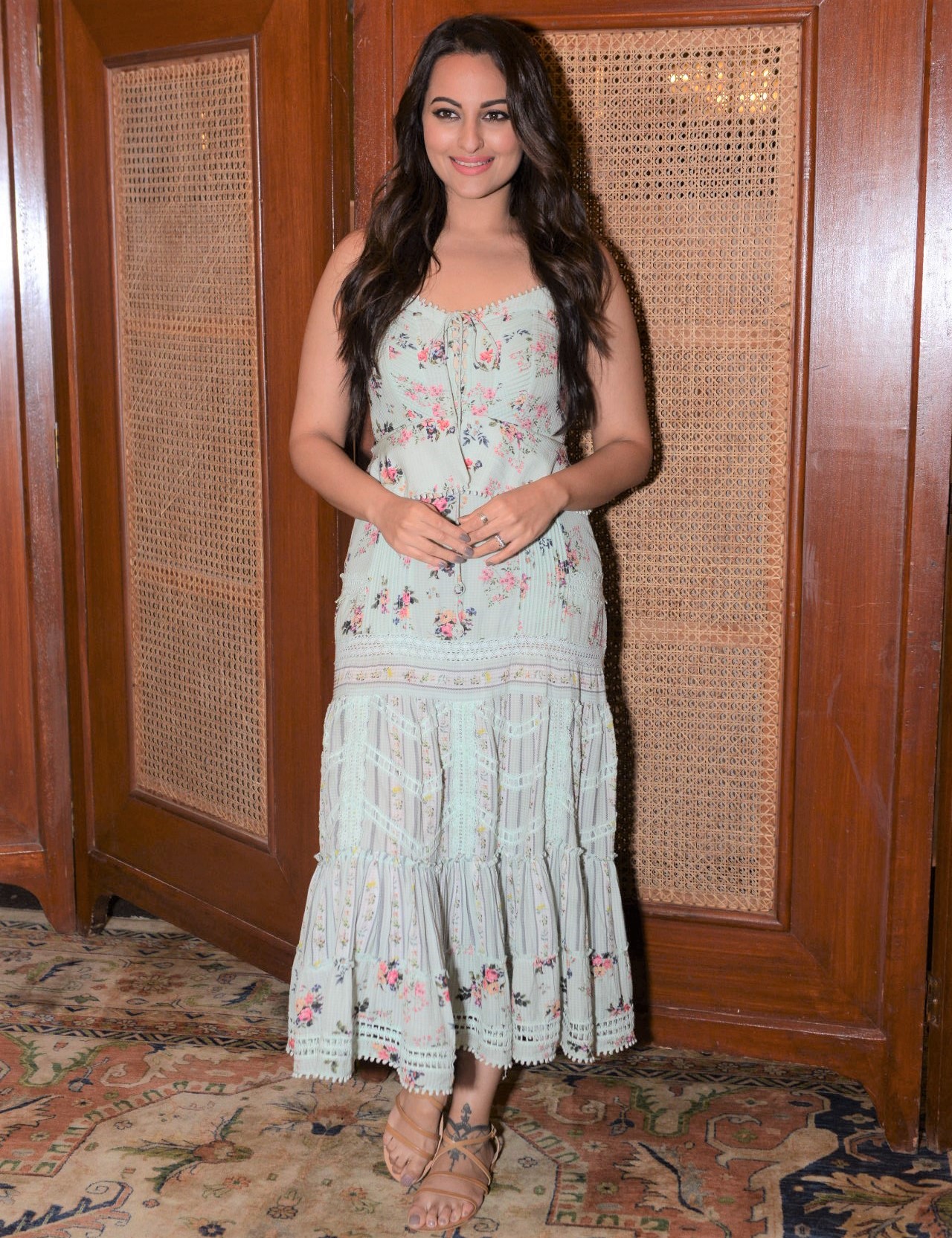 The ensemble was done up in pale blue and designed with delicate floral patterns throughout, making it the perfect choice for a summer's day.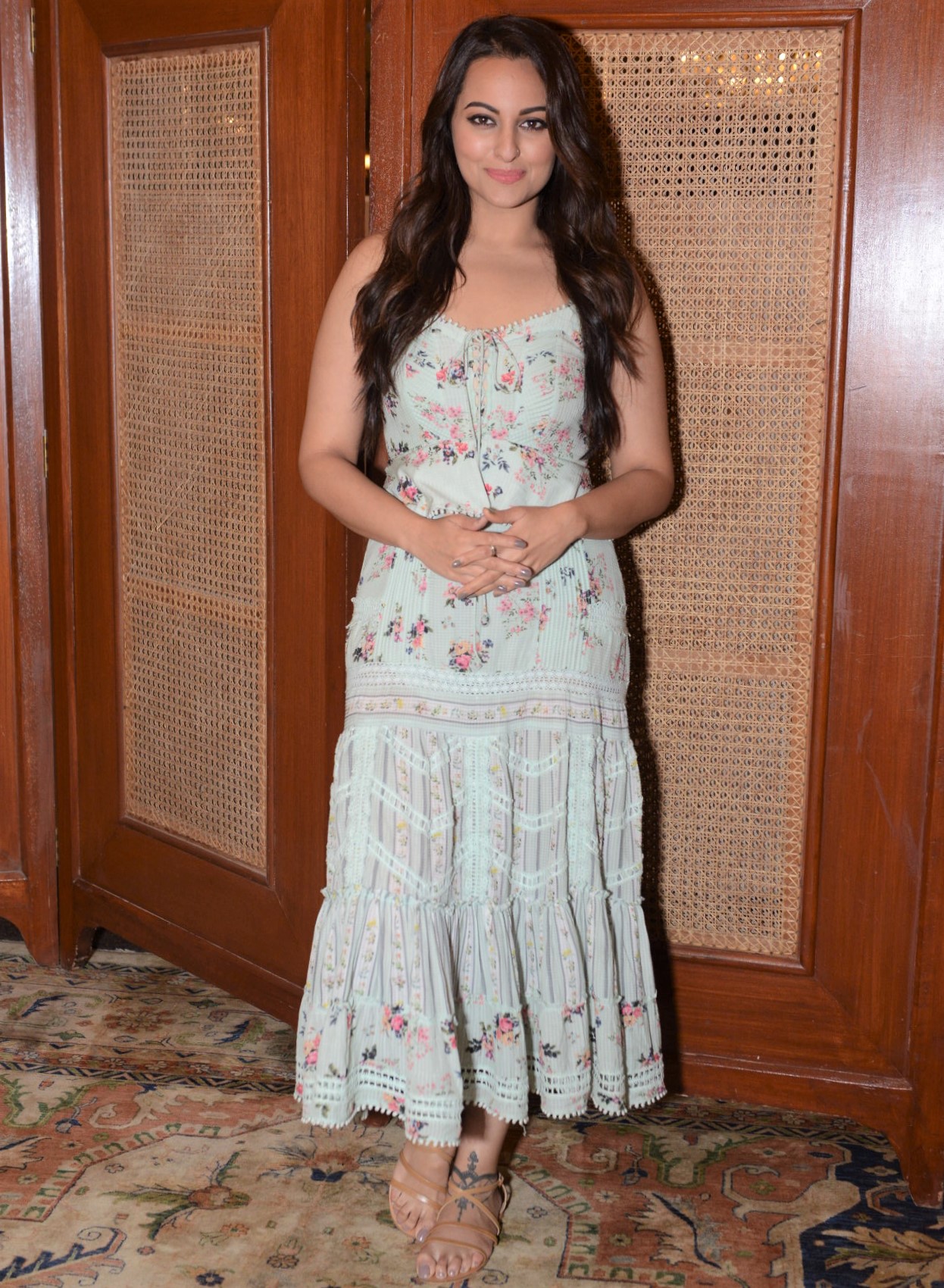 Sonakshi's accessorizing was kept to the minimum, as she only had on a pair of nude sandals and a few rings, so as to not distract from her outfit.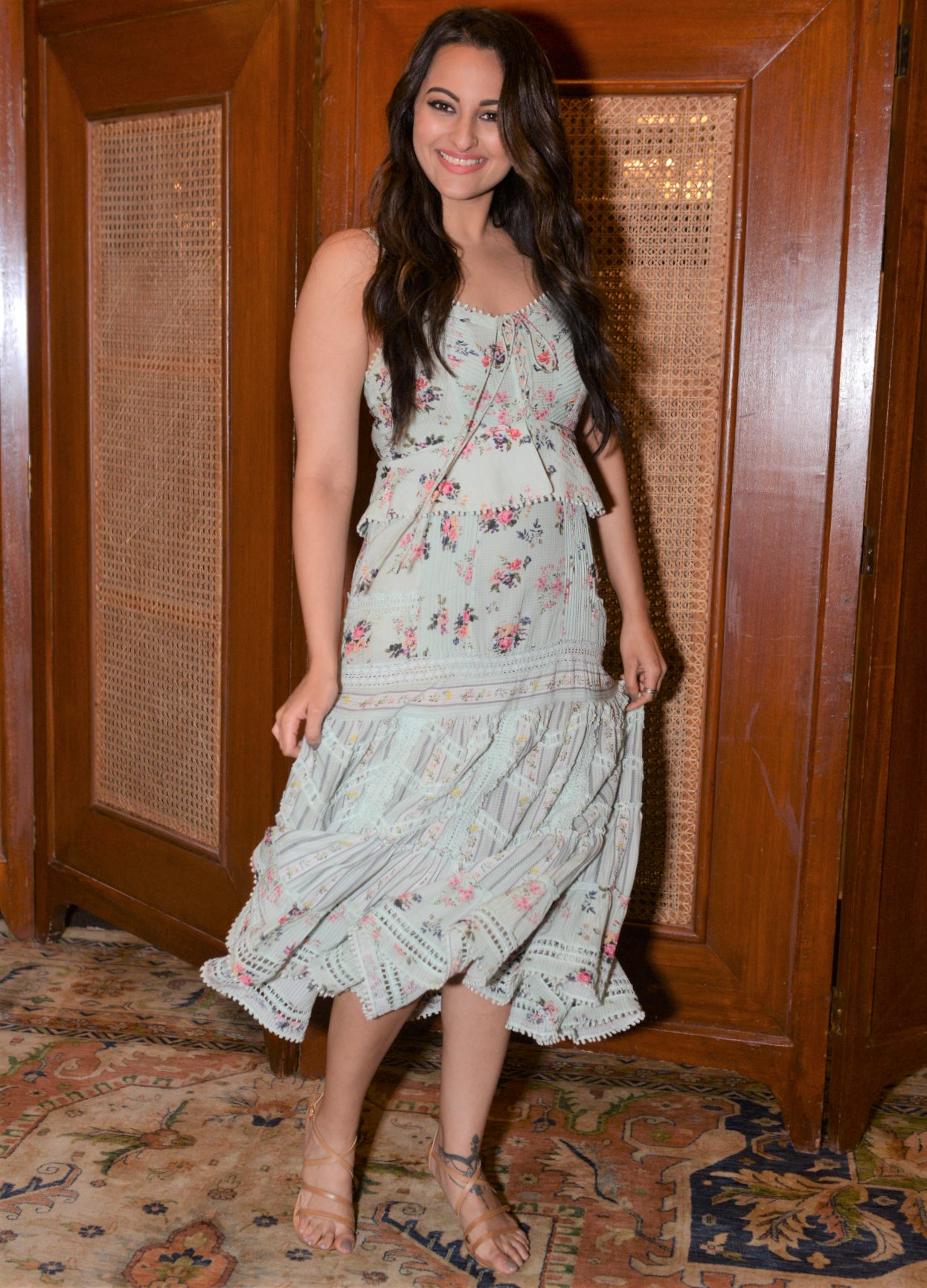 The actress had some fun while posing for the cameras and twirled her dress happily as she smiled brightly.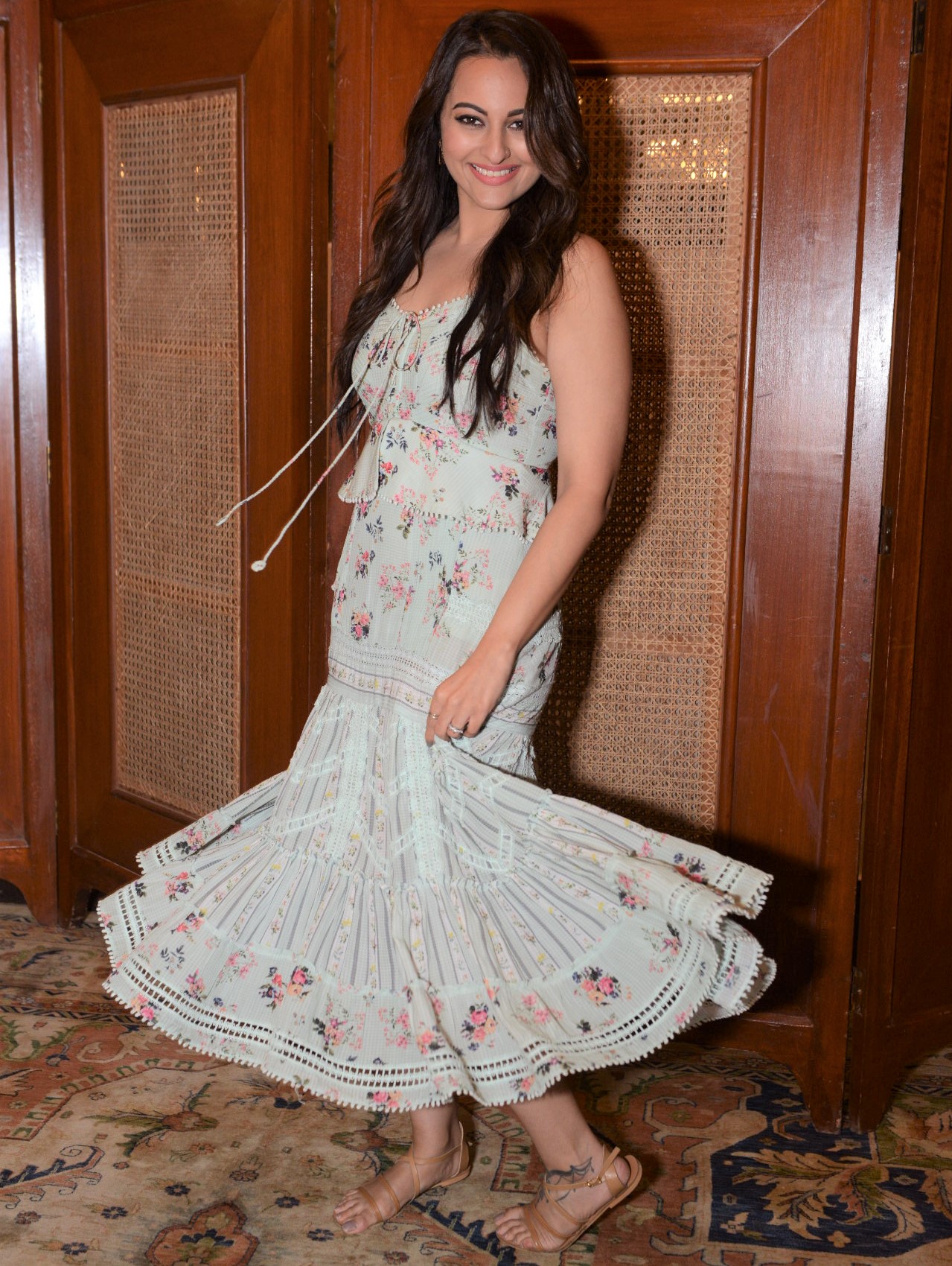 We can't get over how adorable Sonakshi looked! The actress is more often seen in edgy, tomboyish looks so the dress is a nice change of style.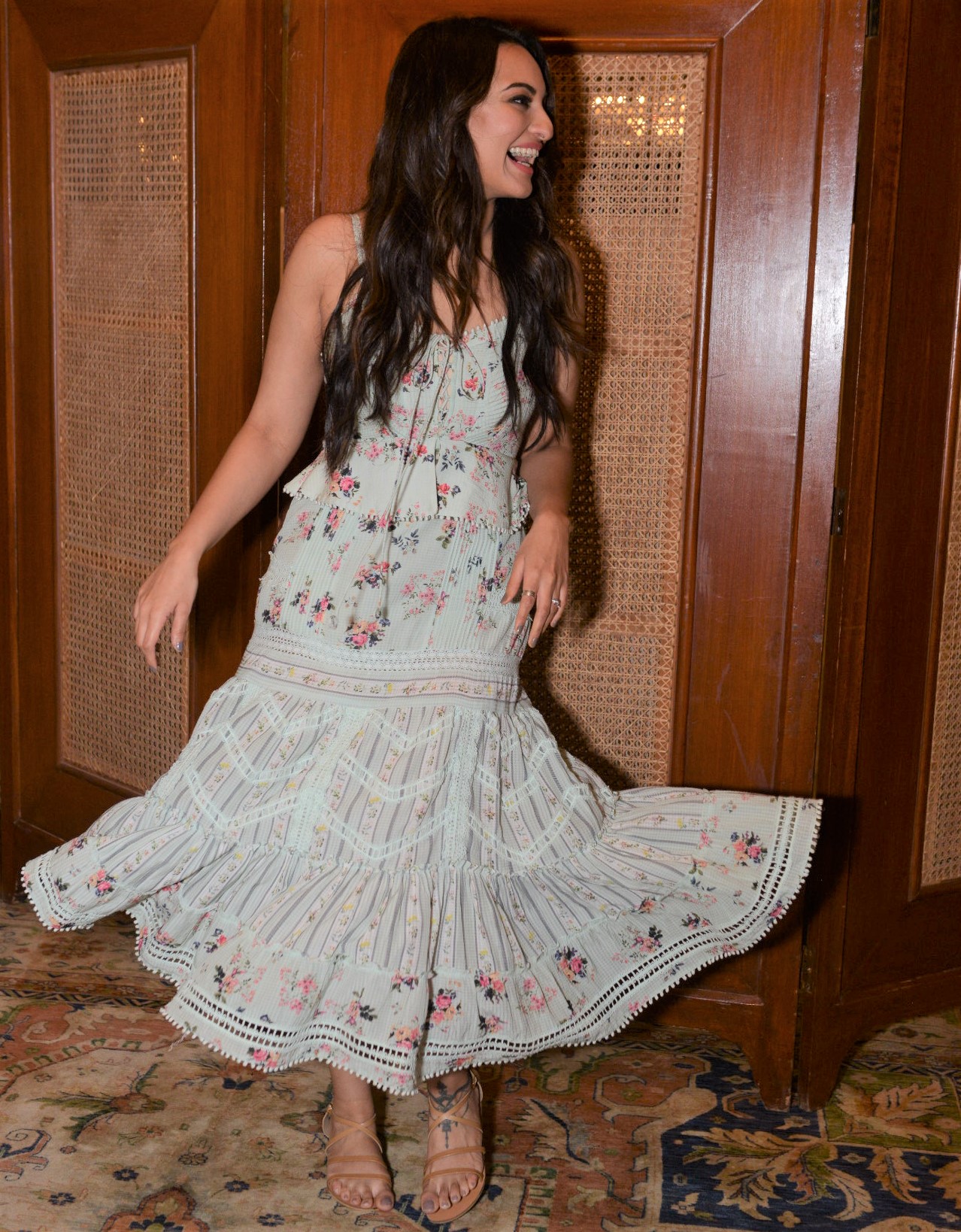 Mission Mangal releases in theatres everywhere tomorrow and is expected to be quite the hit at the box office, as well as with critics and audiences alike. The film's ensemble cast includes Bollywood superstars like Sonakshi along with Akshay Kumar, Vidya Balan, Taapsee Pannu, and many more. The cast certainly seem to have gotten close while filming and often posts snaps of themselves hanging out behind the scenes.
Sonakshi has been working on projects back to back, as her last film Khandaani Shafakhana came out just over a week ago! The flick followed the story of a girl, played by Sonakshi, who ends up running her maternal uncle's sex clinic in a small town. During a recent interview, Sonakshi touched on the idea that she is prone to taking on "women-centric" roles and voiced her opposition to the term. "I just want this whole thing of calling a film led by a female artiste 'woman centric' to go away because when an Akshay (Kumar) or a Salman (Khan) does a film, no one calls it a male-centric film. A film is a film. Period. We should stop categorising them. We should treat them as equals," said Sonakshi.
For all the latest Bollywood News and gossip, follow us on Twitter & Instagram, like us on Facebook and subscribe to our channel YouTube. New videos up every day!
Comments