Bollywood News
Shweta Bachchan's Children Celebrate Diwali like Grandmother Jaya Bachchan
Shweta Bachchan attended the Bachchan Diwali bash with her children Navya Naveli and Agastya Nanda. Here are the details
The Bachchan family hosted a grand Diwali bash at their residence Jalsa which was attended by almost all leading names of the industry. From Mukesh Ambani to Shah Rukh Khan, everyone joined the Bachchans on the auspicious occasion of Diwali and shared the joys and blessings alike. The event was not all about friends and film fraternity but also about the family. Shweta Bachchan attended the Diwali with her children Navya Naveli and Agastya Nanda. Both the children are studying in the US but celebrated the traditional festival with family in Mumbai.
In a recent picture clicked at the occasion, Navya Naveli and Agastya can be seen color-coordinated with their maternal grandmother Jaya Bachchan. The three dressed in white but in their own respective styles. Jaya Bachchan wore a white embroidered sari with her hair tied back in a bun while Navya Naveli dazzled in a sparkling white skirt that she teamed up with a funky silver blouse with three-dimensional details.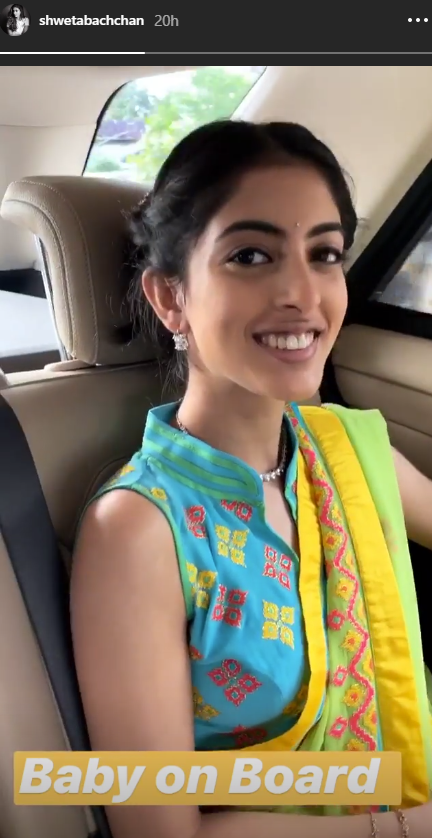 Navya Naveli complemented her festive look with a white textured shrug worn on one shoulder. The shrug looked inspired by the traditional dupatta but had a modern twist to it. Agastya wore an embroidered white kurta with churidars. Shweta Bachchan, on the other hand, wore a red sari with a colorful embroidered blouse.
Earlier, Shweta Bachchan had also shared pictures of her children on her Instagram account wishing everyone a happy Diwali.
Shweta Bachchan, the only daughter of Amitabh Bachchan and Jaya Bachchan, got married young. Unlike her brother  Abhishek Bachchan who pursued films, Shweta Bachchan did not join Bollywood. Although she did a few modeling projects much later in her life, that was it. Shweta Bachchan is married to Nikhil Nanda, the grandson of the legendary actor Raj Kapoor. She now owns a clothing brand and is also the author of a book. Shweta Bachchan has two children Navya and Agastya who are now studying in New York. Many speculations were made about Navya Naveli's debut in Bollywood but Shweta Bachchan always brushed any such news aside.