Bollywood News
Shocking! Alia Bhatt's Sister Reveals Her Struggle With Depression From the Age of 12!
Alia Bhatt's sister Shaheen opens up about her condition and how she dealt with depression!
Alia Bhatt's reticent and introvert sister Shaheen Bhatt has revealed that she's been suffering from depression since the age of 12. "I've lived with depression since I was 12 years old and since then I've been suicidal on more than one occasion. I've experienced the sheer terror of contemplating a life filled with unrelenting anguish, and I've been consumed by the terrifying thought of having but a single means of escape from a bleak, unbearable future," she writes in Vogue.
"A year and a half ago I chose to talk about my own experiences with depression on social media and even though I had never hidden that facet of my life, I was concerned about the judgement I would receive. Social media has given rise to a dangerous tendency to airbrush and filter our personal lives. There is so much value placed on false ideas of positivity and emotional prosperity that we present our lives as immaculate highlight reels entirely devoid of substance, and altogether devoid of the aches and pains of what it means to be human. There is strange irony in the fact that we live in such hyper-connected times, but we use that connectedness to actually communicate less and less. We rarely know what is going on with people, even our friends, until they post about it on Facebook or Instagram and even then, it is often written off as a means of getting attention rather than a cry for help or attempt at transparency that it really is. It is no wonder then that most people living with depression and other mental illnesses are afraid to admit they're suffering or seek help," she added.
You can read he full piece HERE.
Alia Bhatt took to social media to applaud her sister. Here's her tweet.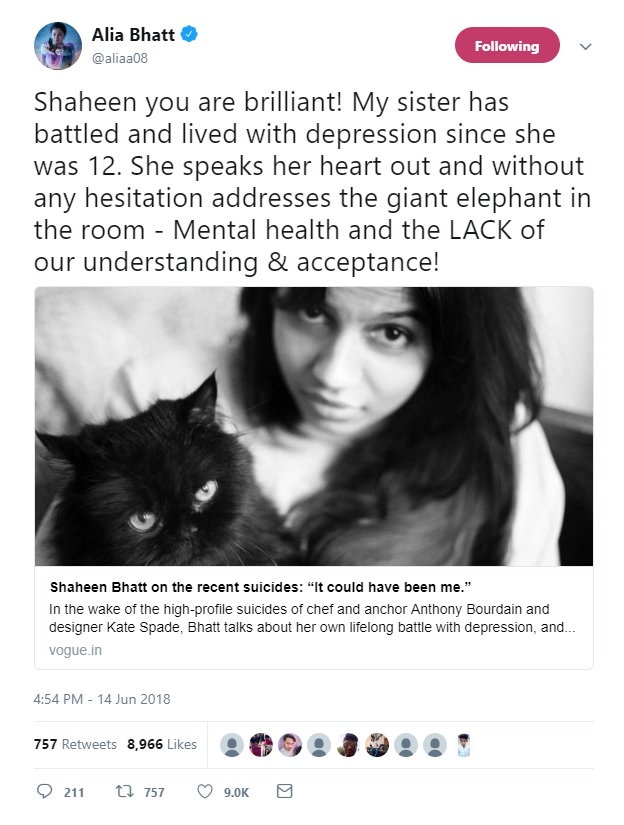 The most shocking part of the blog was when Shaheen goes on to add how she had been suicidal on more than one occasion. Speaking so openly and honestly about depression take courage, and Shaheen seems to have mastered it!