Bollywood News
Shilpa Shetty Kundra Misses the Old-School 90s Love: There is Too Much Pressure on Relationships Now
Shilpa Shetty Kundra feels that the social media world has made everything too complicated today. She believes there is no charm in relationships now and there is no "playing hard to get"
Actor Shilpa Shetty Kundra is all set to make her acting comeback with the Sabbir Khan-helmed action film Nikamma. While she is elated to be back on the big screen, the starlet feels that the social media world has made everything too complicated today. At the same time, she believes people are putting so much pressure on their relationships in today's time. Shilpa, who enjoys a blissful and happy married life with husband Raj Kundra, divulged details about her love beliefs in a recent appearance on an episode of VOOT's fitness chat show TikTok presents Work It Up with host Sophie Choudry.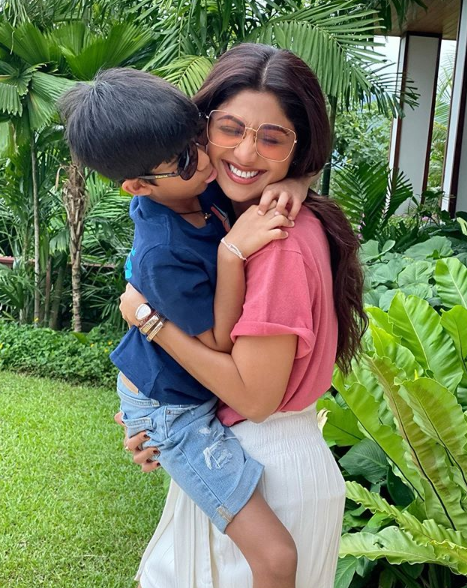 During the course of the conversation, Shilpa agreed with the fact that love was simpler in the 1990s. "We didn't have phones. Mobiles came in the late 1990s or I would say early 1990s, around 1996 if I am not mistaken and trust me it was very unaffordable. It was really expensive," she said. When questioned if she feels love in the 1990-era was simpler, Shilpa said, "Yeah, the way we dialled the person and left blank calls. I just feel it was simpler."
Picture credit - Shilpa Shetty's Instagram handle
She continued, "I don't know, I can't even describe it. Life is just so complicated today; we just complicate it for ourselves. And also there's so much pressure today on relationships. But I think you just have to go with the flow." Meanwhile she also feels there is no "playing hard to get" anymore and so the charm in relationships is not as much as it used to be back in the day. While many made several assumptions for the reason behind her 13-year sabbatical from acting, the diva recently revealed that it was all "self-imposed and well thought out". More importantly, there were times Shilpa felt like she was being forgotten. "You miss it when you miss the limelight, you feel like you are losing out on fame and people are forgetting you. I never missed it because I was still doing television. The sabbatical that I took was self-imposed and thought of," she concluded.