Bollywood News
Shilpa Shetty Finds the Energy While Performing Aarti Inexplicable!
Shilpa Shetty and husband Raj Kundra welcomed Ganpati Bappa to their home for the tenth consecutive year. They always go for an eco-friendly deity.
Shilpa Shetty, who hosted a Ganesh Chaturthi Pooja at her place this year posted a video performing Aarti during the event. She can be seen performing the religious ritual with her husband Raj Kundra. According to Shilpa Shetty, the energy and vibe while performing the aarti is all positive.  In this video, her son Viaan could also be seen happily dancing around his parents. Viaan was appreciated and joined by father Raj Kundra while Shilpa Shetty continued performing the aarti.
According to Shilpa Shetty,
'Ganpati Aarti
Aarti time!
The energy is inexplicable while performing an aarti Love how the vibe all around becomes so positive.'
Shilpa Shetty and Raj Kundra welcomed Ganpati Bappa to their home for the tenth consecutive year. What makes Ganpati even more special for them is the use of eco-friendly deity. While the traditional practice was always making clay idol with organic paints, people have now even started making it out of plastic using high gloss synthetic paints which pose a threat to the environment.
The family wore identical yellow clothes designed by the designer Punit Balana.
In her own words,
'And .... My GANNU RAJA is back
The remover of obstacles and Lord of success.. May He bestow us all with His blessings this Ganesh Chaturthi.
While I'm spiritual and celebrate all festivals, I'm also responsible towards Mother Earth and we have continued our tradition of having an #ecofriendlyGanesha idol.
Ganpati Bappa Morya'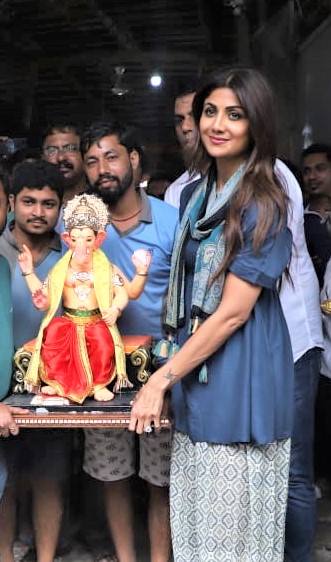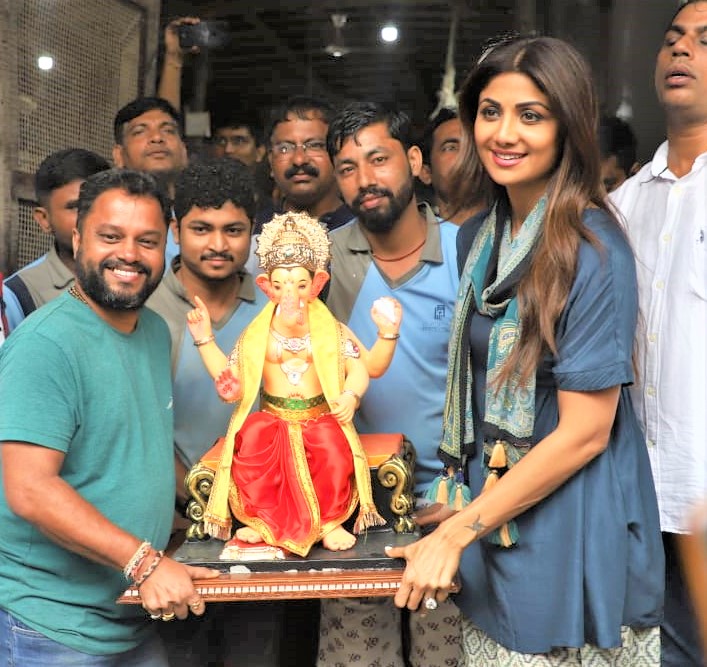 Shilpa Shetty welcomed Ganpati Bappa for the tenth consecutive year to her house. Ganesh Chaturthi or Viyanka Chaturthi is celebrated to mark the birthday of Lord Ganesha. People bring the deity of the son of Lord Shiva and Goddess Parvati to their house and pray to it for as much as eleven days. Lord Ganesha is considered the symbol of wisdom, prosperity and good fortune. At the end of this festival, the deity is immersed in water.
.