Bollywood News
'She Got Emotional At Her Bidaai': Anand Rathi, the Photographer at Sonam Kapoor's Wedding Reveals How he Snapped THOSE Awesome Pics
Still gushing over the images from the much-talked about Sonam Kapoor and Anand Ahuja wedding? This is what went into capturing them
"Still recovering," laughs photographer Anand Rathi, when we ask him how he's coping post his mammoth project – capturing the most talked-about wedding of recent times, that of Sonam Kapoor and Anand Ahuja. #Sonamkishaadi captivated fans across the country, and you almost felt you were part of it, given the plethora of pictures and videos flooding your social media timelines.
The credit for most of them goes to Anand, a self-taught photographer with a journey spanning across 16 countries and five continents. His CV says he has been responsible for introducing cutting edge technology into the business that includes India's first 360 degree wedding film, chroma key stop motion videos and super slow motion video booth. Well, he and his team certainly put all those skills to good use as the pictures (at least the ones that were released to the media) show some absolutely adorable, candid and aww-worthy moments of the bride, her family and her A-list friends.
Photographer Anand Rathi
Sonam in fact, even thanked Rathi and his team in a lengthy Instagram post, for clicking those moments for posterity. Of course, it was certainly not an easy task to ensure that all the rituals, emotions and functions were snapped in the right way, at the right time but Rathi is a veteran who is unfazed by the pressure of big functions. "We have done some really huge weddings of industrialist families though this one was really special," he says. Special it certainly was, considering that the biggest stars of Bollywood had congregated at one venue and were seen letting their hair down in the most unaffected manner.
Rathi met the Kapoor family around two to three months before the wedding. "I had a meeting with Sunita Kapoor (Sonam's mother) and Rhea (her sister) who were planning the entire event. Rhea has a keen eye for visuals and we really clicked well. Our brief was clear: Sonam has been photographed enough in her lifetime. But this was her wedding, a very personal occasion. So we had to look for the purest form of photography that is non-posed, unplanned and something that seizes the emotion of the moment," he says. His first meeting with the bride herself was a few weeks before the wedding amidst her super tight schedule (she was also preparing for Cannes Film Festival and the Veere Di Wedding promotions). But as Rathi found out, the actress was supremely easy, quite unlike other nervous bridezillas. "She was bride-chilla," he quips. "Brides often go through a lot before their big day. But Sonam was always happy and bubbly, something you don't expect from such a big celebrity. The only time she got really emotional was during her bidaai."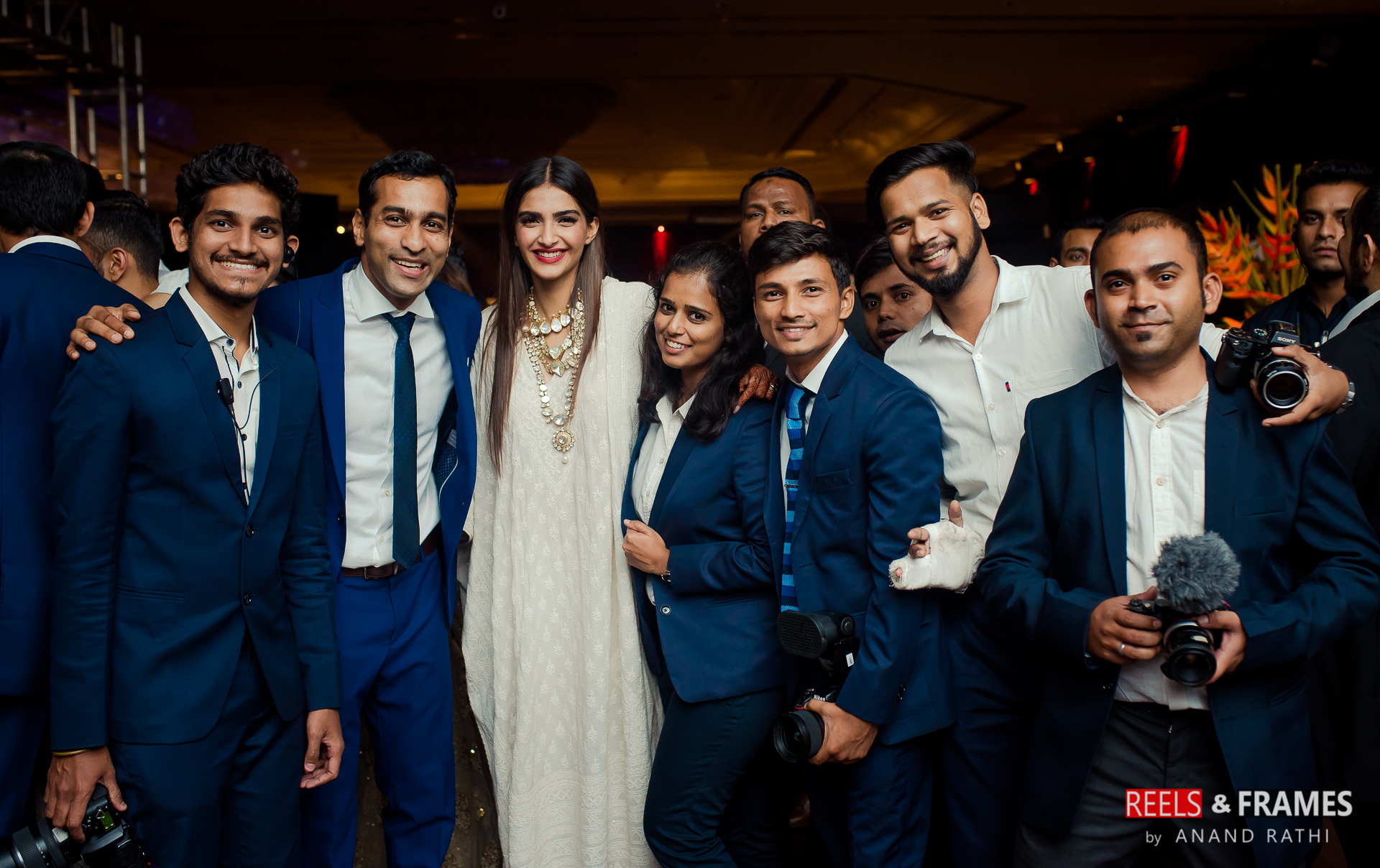 Sonam Kapoor with the whole team
The three days were complete madness though fun. From a team of around 14 people, there were constantly 8-9 members including photographers, cinematographers and production crew, doing the rounds of the venue. For most of the ceremonies, even the lensmen followed the dress code.
What stood out for Rathi the most about Sonam's wedding was the fact that it was an extremely chilled out affair. The happiness and the candid smiles that were seen on those Instagram posts were very much real; nothing appeared 'rehearsed' or fake. The cocktail, especially, was a revelation he says. "There were about 600 people at the venue out of which 400 were top Bollywood stars. We expected it to be one big, fat page 3 affair. But no! It turned out to be a big fun party. The way Shah Rukh Khan, Salman Khan, Ranveer Singh and Anil Kapoor danced, they looked like teenagers! It was a sight I will never forget. We had front row tickets to the craziest party in town," he laughs.
He especially recalls the Salman moment. "It was completely unplanned. No one even knew Salman was in the room. Anil and Shah Rukh were dancing their hearts out and suddenly Salman joined them on stage. But that's Salman for you… spontaneous and unpredictable." Another factor that made this wedding different, says Rathi, was the simplicity of the entire affair. "I have attended events where the bride and groom make different entries for different ceremonies in new outfits and all that jazz. Here, Sonam and Anand made only one walk-in each day. Even during the main ceremony, she was led by her brothers and it was all so natural."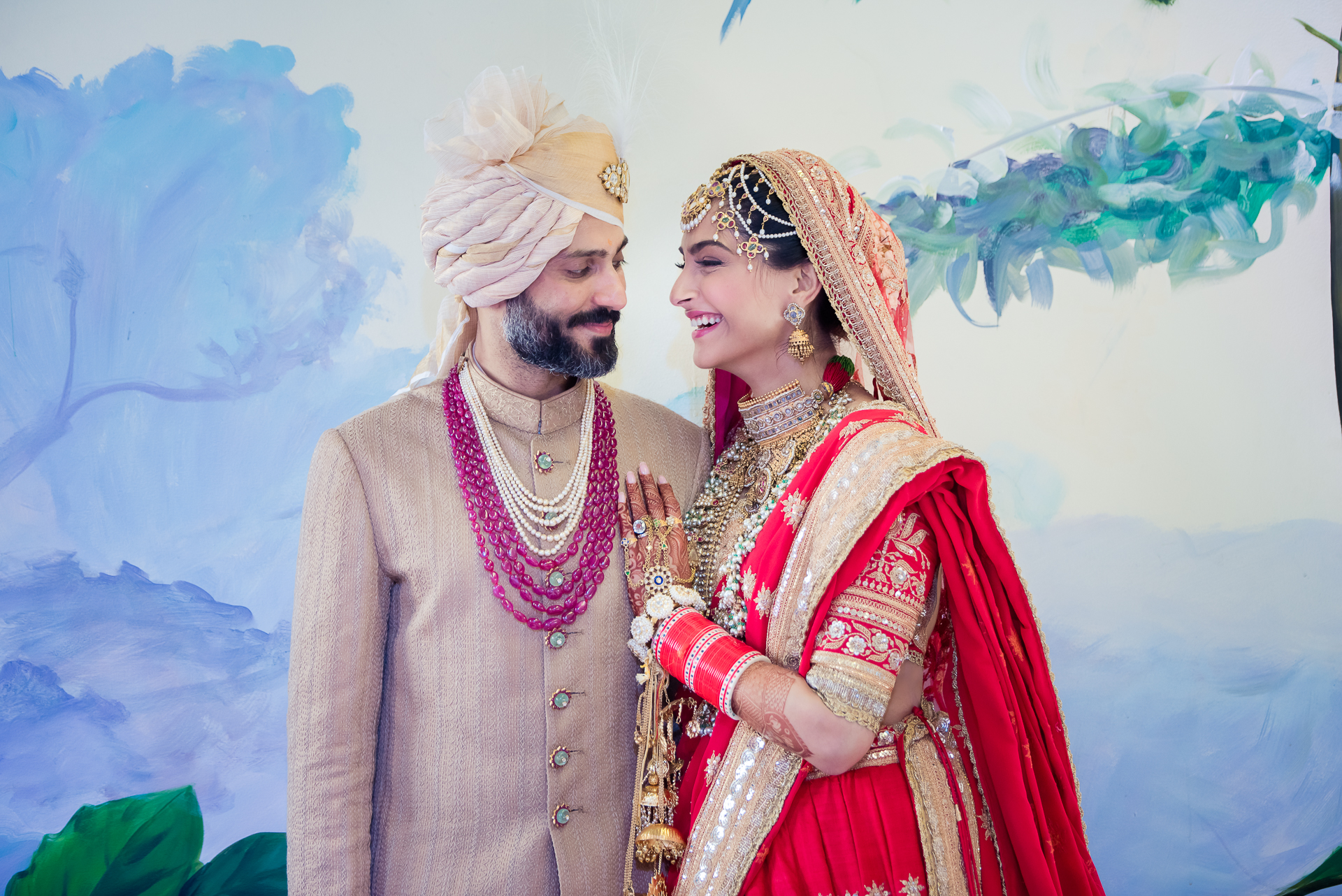 The venues made a difference too. Sans the trimmings of big hotels or properties, the mehendi was held at an apartment in the BKC area, the wedding was at her aunt's home in Bandra and the cocktail was at the Leela hotel. For the evening party, the venue had been transformed by the planners with an art deco theme, photo-booth, tastefully done food counters and the like. "I wish more people thought of the venue they had chosen, they were just perfect," says Rathi.
The result was that the Sonam wedding was a beautiful event where things worked to precision, the guests had a great time and there were genuine smiles all around. The pics say it all. Rathi spills the tips to getting wedding photography right. "The trick is to be visible only when you need to. Clients don't like cameras to be in their face at the same time, they are human and want to see the emotional quotient of a wedding captured. So it's best to tell them beforehand that you will be entering their physical spaces at a very emotional time in their lives."
"Most importantly," he adds. "I feel, they should keep it simple and non-pretentious. Things will fall into place on its own."